With an estimated 3.2 million homeless cats and kittens entering shelters across the U.S. each year, finding a forever home is hard enough for each one.
When two cats are best friends, and just can't be split apart, finding a family willing to take both of them makes the search for a home much more difficult.
That's the issue with Charlie and Linus, two gray tabby cats who aren't only best friends — they're brothers.
"Before we got them we learned that when they were babies they were kept in a one-room area without a lot of socialization," Amy Rogers, a foster mom with Animal Allies of Texas and the foster mom to Charlie and Linus, told The Dodo. "They were shy, timid and skittish."
But slowly, the two brothers started to feel comfortable in their foster home. They arrived at the foster home with their sister, Peppermint Patty, who was adopted earlier this year. And they got to know the three other pet cats and dog at the Rogers household.
"Our Great Pyrenees plays the part of dad to all the cats," Rogers said. "Charlie and Linus were shy at first but now make themselves right at home. Charlie likes to help fold clothes ... or maybe I should say unfold clothes. He'll jump right up in the middle of your stack and dig in. Give him a pillow case to crawl in and he's in heaven."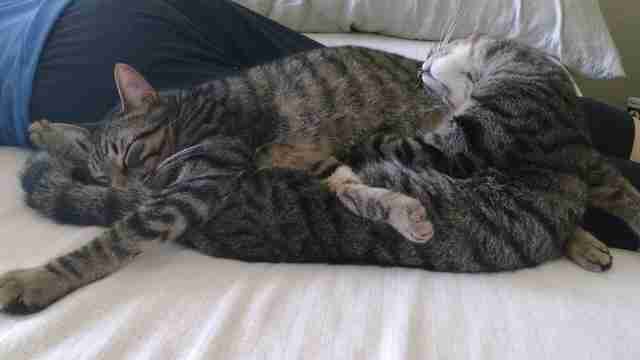 But as much as the two boys have branched out, found new interests and made new connections, nothing comes close to the bond they share.
"They love sleeping together and they come running if they hear the other one meow," Rogers said. "Two peas in a pod, those two."
Needless to say, it would be impossible to split them up.