Tiny Dog's Been Looking Out For His Big Sister Since The Day They Met
They just had a bit of bad luck — but are hoping to stay together forever.
There was something about Miss Piggy that Elizabeth Frank couldn't figure out. While Frank knew with absolute certainty that the pit bull mix had come from a loving home, Miss Piggy was skittish and fearful around people, cowering whenever someone raised their hand.
"Her fear wasn't just shy timidness," Frank, founder of Mr. Bones & Co., a rescue group in New York City, told The Dodo. "She was just flat-out fearful. If you walked toward her, she would run for cover or she would pancake, which is when a dog flattens themselves to the floor."
Miss Piggy (Frank calls her Miss P) and a Chiweenie named Happy had come into the care of Mr. Bones & Co. after their elderly owner — a woman named Agnes — had fallen ill.
"Typically, we don't take 'owner surrenders' because nine out of 10 times, the owner is lazy and they decide they don't want a dog anymore," Frank said. "But in this case, their former owner was getting sicker and sicker. It looks like she'll end up in assisted living in the very near future, so she started working to find someone who would take her dogs. When we heard her story, we absolutely said 'yes.'"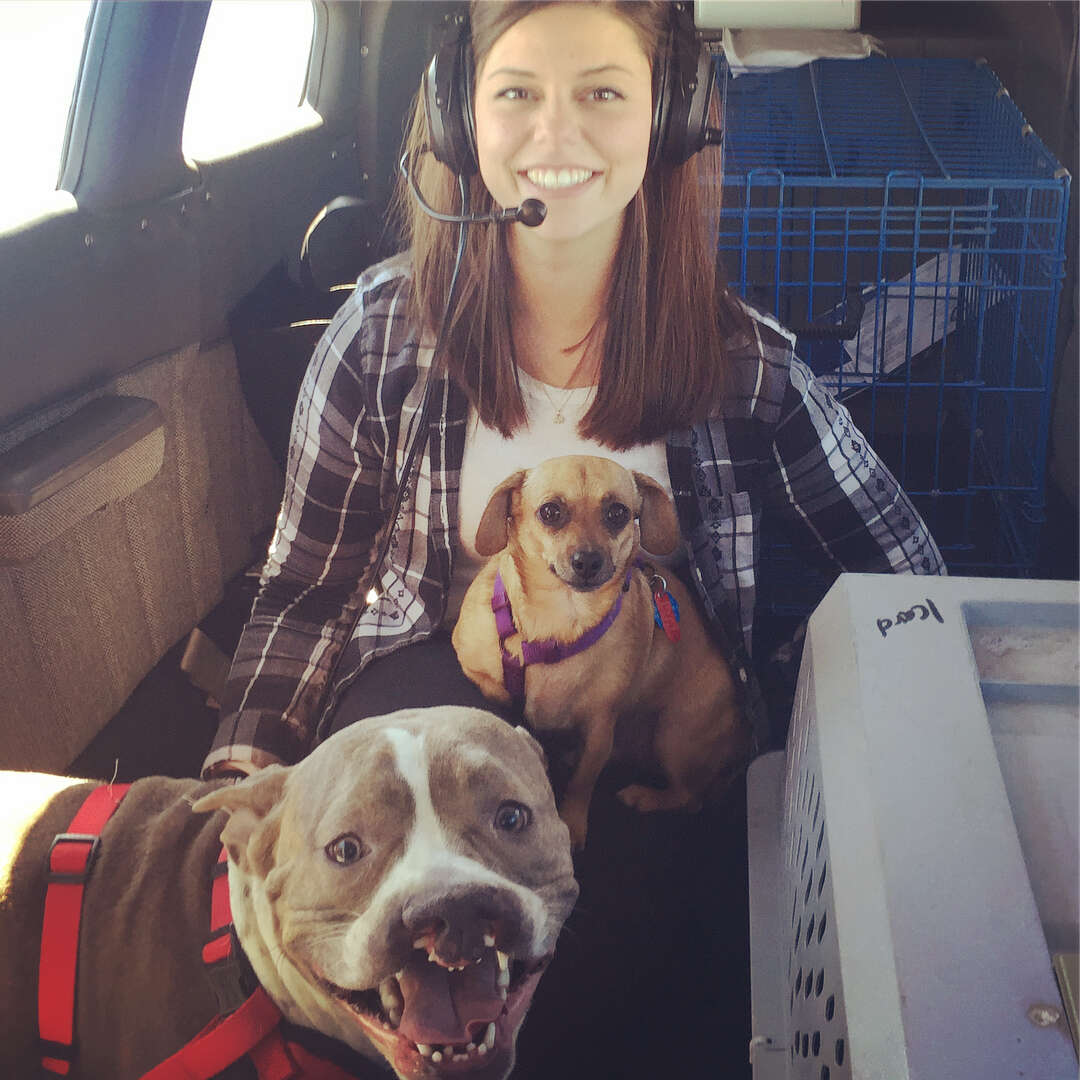 Miss P and Happy turned out to be a very unique pair.
"Miss P has a double cleft palate, so she's very unique looking, and we think she's absolutely beautiful," Frank said. "She's got a little hodgepodge of teeth all over the place, and so sweet."
"Happy is literally the exact opposite," she said. "He's so sassy, and has enough confidence for both of them. He is the mayor of the two of them. He's like Mr. Popular, and he acts like a big dog."
Despite their differences, Frank could see that the dogs were very bonded. "They're like the odd couple, and it's so funny," Frank said. "They're just great. They're wonderful dogs."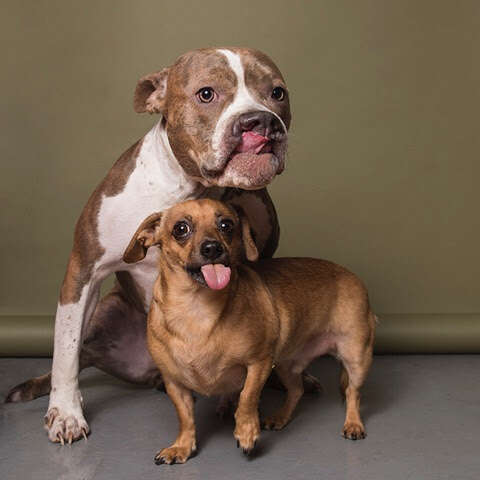 But she couldn't understand why Miss P had so much fear.
"It didn't make sense, so I dug through her records," Frank said. "This owner was such a good owner that she gave us two thick folders of vet information and everything. And as I'm going through her folder, I noticed typical pit bull breed registration papers that we see a lot of backyard breeders use."
Since the owner was so sick, Frank hadn't spoken with her directly. But she found the woman's number and decided to give her a call.
"She was this sweet, sweet woman who sounds like she could be your grandma," Frank said. "I tell her who I am, and she starts to cry. She's just grateful that her dogs aren't sitting in a shelter. And I told her that they're together in foster care, and we're going to adopt them out together."
When Frank asked about Miss P, the older woman told her a sad story.
"She told me that she had a family member who knew someone who was a backyard breeder, and he had a reputation for being not such a nice person," Frank said. "And they happened to be over at his house about two years ago, and she immediately saw this little puppy who had this cleft palate, and she had asked if she could have that dog."
The man initially said no, but then something changed his mind.
"He literally kicked the dog across the room at her," Frank said. "She said his exact words were, 'You can have this dog. I can't sell her because her face is so fucked up.' When this little old lady tells me this, she starts crying on the phone. Then I start crying."
After being rescued from the backyard breeder, Agnes gave Miss P the best life she possibly could. But Miss P never forgot what happened to her when she was a puppy.
"I'm sure that whatever [Agnes] saw was the tip of the iceberg," Frank said. "This dog is so imprinted on."
Luckily, Miss P had Happy to depend upon — they walked together, shared food and snuggled on the same dog bed.
"They grew up together and they are so bonded," Frank said. "There is only one other case where I've seen a dog so dependent on another dog."
"I could be anthropomorphizing this, but I do believe that [Happy] is aware to some degree that she needs him, and that he needs to be confident for her, even though he is one-eighth of her size," Frank added.
Since Miss P and Happy are so close, Frank is determined to find them a home together, no matter how long it takes.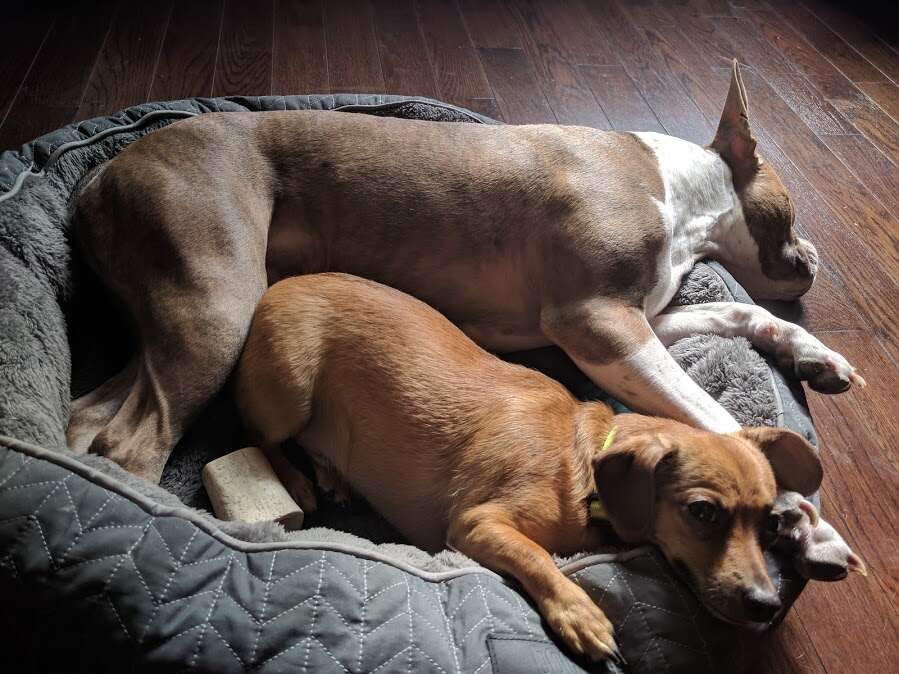 "Taking two dogs and requiring that they be adopted together is one of the hardest placements to find, but we're committed to them, especially realizing how much Miss Piggy depends upon Happy, who is like this tiny, chunky little therapy dog," Frank said. "After I saw these dogs together, I promised [Agnes], 'Even if we have these dogs in our program for a decade and I have to adopt them myself, they're not getting split up.'"
Frank wants to quickly get the duo into a forever home as it takes a little while for Miss P to trust people.
"Her adopter really needs to be dog savvy," Frank said. "We need someone who is so patient and who understands that trust may take some time … and who is going to allow Miss P to open up in her own time. It happens fairly quickly. It's only been a week, and she's already very bonded with her foster mom, and she's just started letting the foster dad pet her without cowering."