Blind Dog Refuses To Go Anywhere Without His Best Friend
"We have never — in our 30 years of rescue — seen a bond like these two."
To say that Stevie and Jimmy are bonded is an understatement. The two dogs just wouldn't be able to function without each other. Stevie, who is a blind Shar-Pei, is particularly dependent on Jimmy, a senior Chihuahua.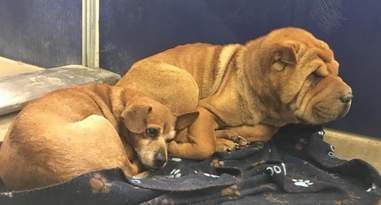 California Shar-Pei Rescue
"We have never — in our 30 years of rescue — seen a bond like these two," Neda Rosa, board member and volunteer for California Shar-Pei Rescue, told The Dodo. "And it's interesting because it's like Jimmy the Chihuahua knows his partner is blind, and he's taking care of him. He's just stuck to him like glue. He's constantly grooming him, and he showers his face nonstop. And he just wants to be with him."
California Shar-Pei Rescue
Earlier this month, Jimmy and Stevie were picked up as strays in southern California and taken to Ramona Humane Society. Sadly, no one came forward to claim the pair, even though it seemed likely that they'd once lived in a home together.
Not long after their arrival at the shelter, a photo of the two dogs grabbed the attention of the team at California Shar-Pei Rescue, who decided to rescue them both.
"We are a breed specific rescue, so we only rescue Shar-Peis," Rosa said. "But when we saw how bonded these two dogs were, we thought that there was absolutely no way we could leave his little friend behind."
California Shar-Pei Rescue
Jimmy, who is about five years older than Stevie but much smaller, spends a lot of time caring for his little (big) brother.
"He's just constantly next to him, and he stands in front of him," Rosa said. "He's like his protector, and you can tell that they've had some time together. And Jimmy is always licking [Stevie's] eyes, and he's always taking care of him and doesn't want to leave his side."
California Shar-Pei Rescue
Stevie and Jimmy are now living at the small shelter run by California Shar-Pei Rescue, where they'll stay until they find a forever home. Any potential adopter needs to understand Stevie's health problems, Rosa said. Besides being blind, he's started having seizures, and will probably need to be on medication for the rest of his life — but despite it all, he's so worth it.
California Shar-Pei Rescue
And, of course, the dogs must be adopted together.
"These two will only be adopted out as a package," Rosa said. "We will not separate them. Ever. So it's going to take a special person who is looking for a package deal."