Little Blue Senior Dog Found Roaming The Streets All Alone
"We were mystified, but our vet helped us figure out the blue color (we think)" 🤔
When Max was first found, abandoned on the streets of Massachusetts, his rescuers were incredibly confused. The poor little dog was clearly very old and completely blind — and he had blue fur.
A blue dog roaming the streets by himself was definitely quite a sight, and as soon as he was found, he was quickly taken in by Scituate Animal Shelter. After being examined by a vet, it was determined that Max was around 10 years old, and besides a bad ear infection, was actually in fairly good health. All that was left to figure out was: Why on earth was this sweet senior dog dyed blue?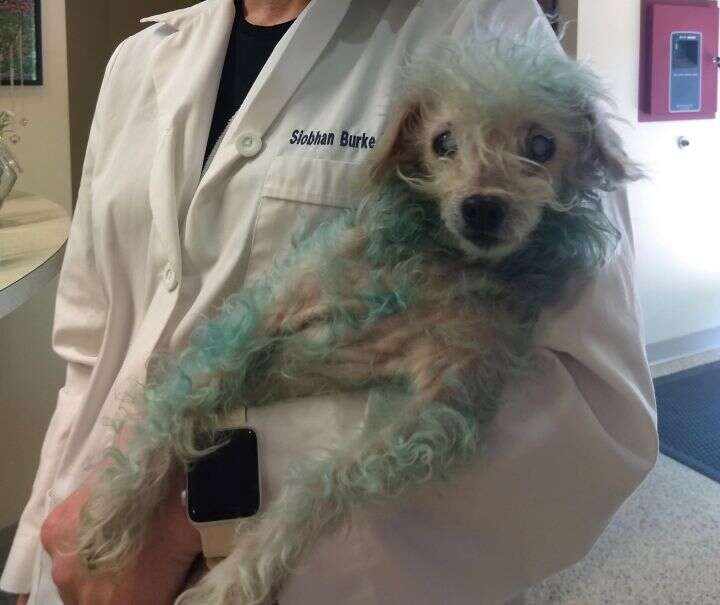 "Max was bright blue pretty much everywhere but his face," Lisey Good, president of the board of directors for the Scituate Animal Shelter, told The Dodo. "We were mystified, but our vet helped us figure out the blue color (we think). We believe he had recently been treated for a severe flea infestation, using a flea 'bath' that can dye certain white coats blue. We aren't sure, but it seems to make sense given the fact that we could see he had recently had fleas, but didn't have any when he was found roaming the streets."
It seems that someone had been trying to treat Max for fleas, but somehow, he'd ended up all alone on the streets anyway.
In order to get rid of his unique blue coloring, Max's rescuers gave him a bath and a much-needed trim. Afterward, he looked so much healthier and seemed a lot happier and more comfortable as well.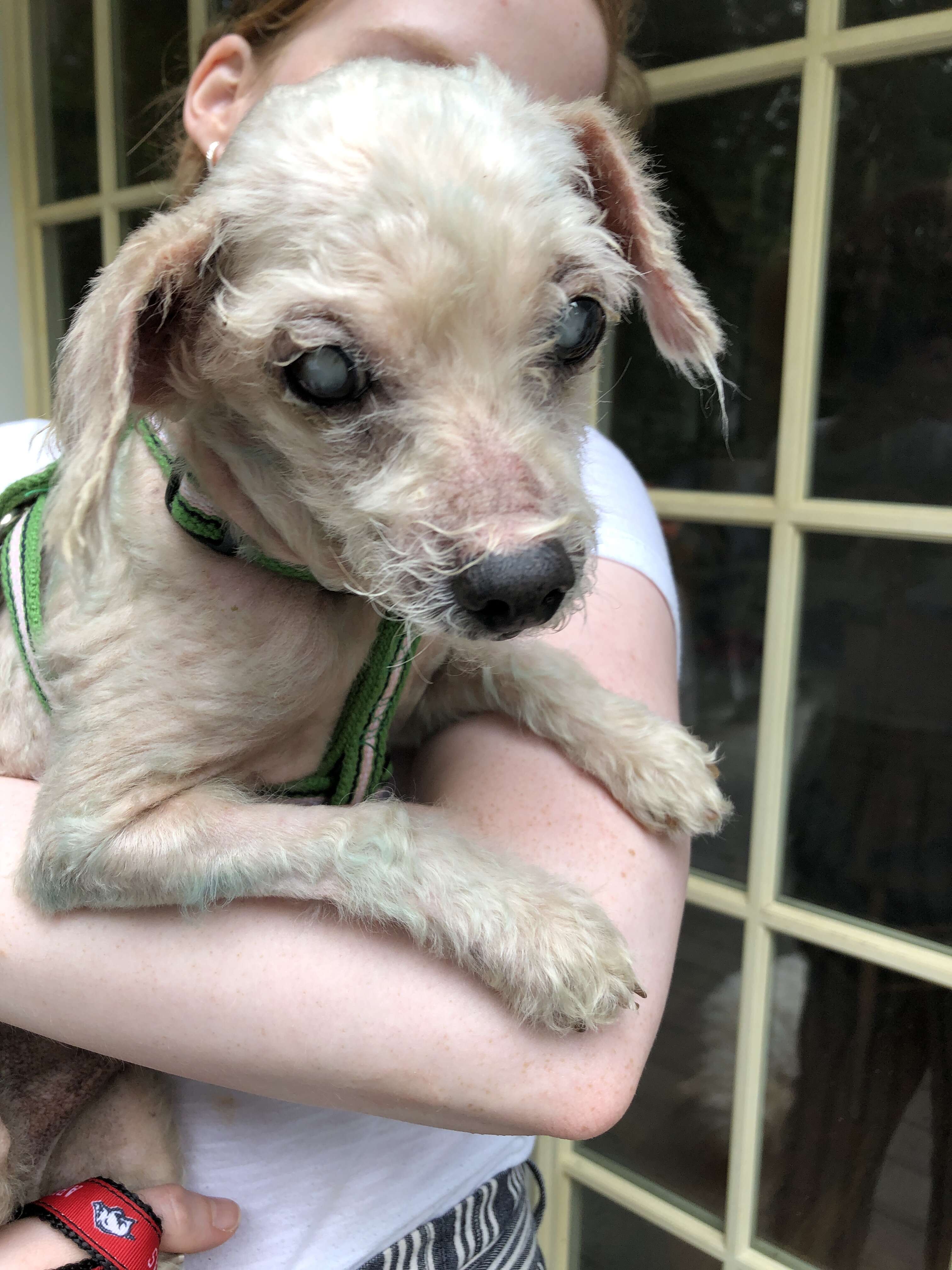 "You could tell Max was thrilled to be cleaned up after his bath," Good said. "The blue color came out pretty well and he got a trim which also helped. He loves being held, and can definitely sense when someone is in the room with him. The company soothes him."
Despite his age, size and blindness, Max actually has a very big personality, and so far has loved every dog and person he's had the pleasure to meet. Since he is a bit fragile, though, Max was placed in a foster home to make him a little more comfortable, and so far he's been loving every moment of it.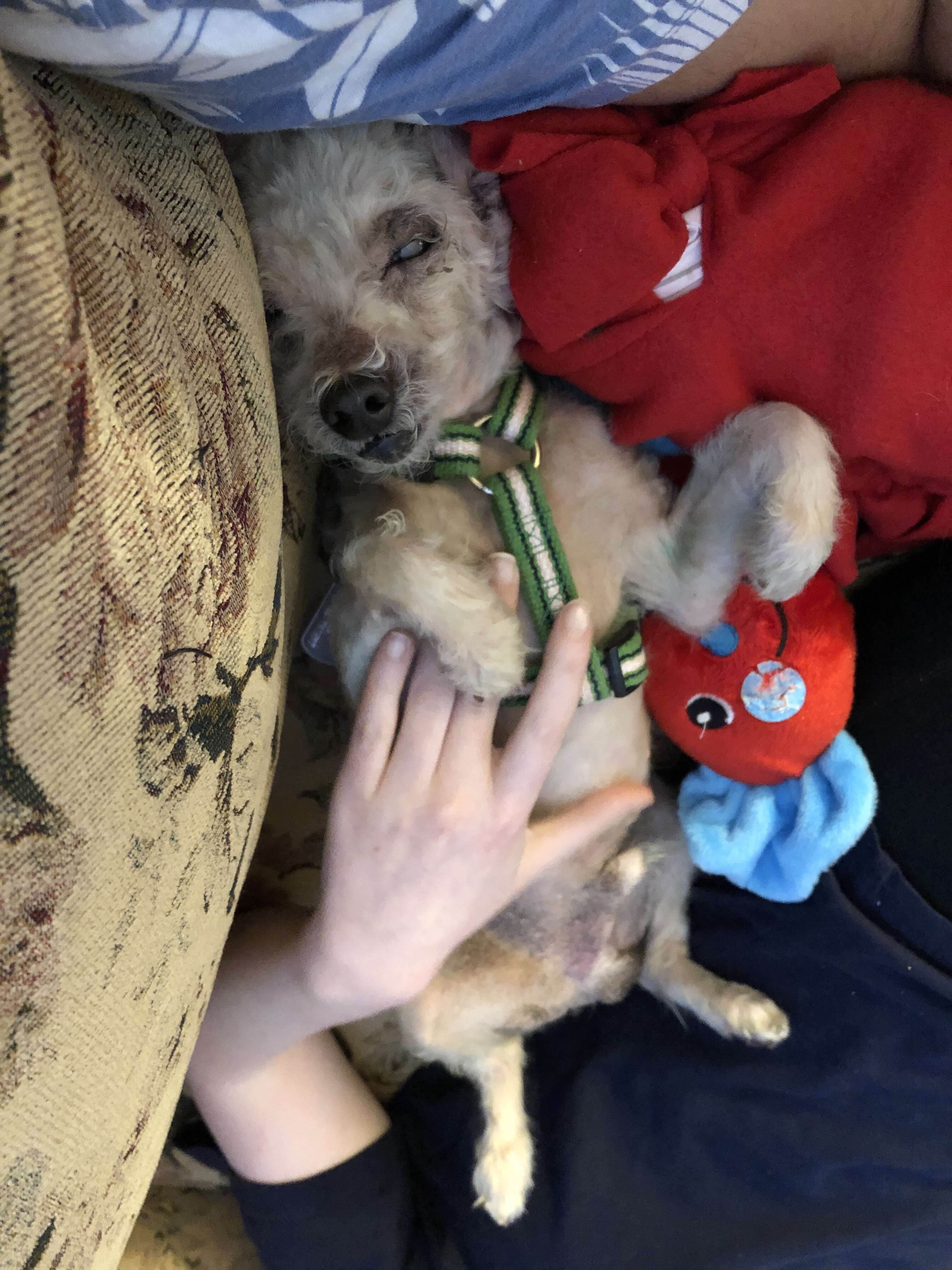 Max may be a blind senior dog, but he wants and deserves a home just as much as all the other rescues out there. His new friends are hoping that very soon, he'll have a forever home of his own, and his days of being alone and blue will be behind him.
"[He's] our favorite blue dog, who also happens to be our only blue dog," Good said.