Family Dog Out On Walk Sniffs Out A Tiny Blind Kitten
"The kitten … stood there stunned, like he was confused or lost."
Rose Jenkins had just finished walking her dog, Jai, and they were heading back to their condo. As they wandered down an alley to reach their door, Jai suddenly pulled on his leash.
"I thought he caught the scent of some food, but it was different," Jenkins, who lives in Bangkok, Thailand, said. "He was jumpy and startled, which surprised me. I didn't know if it was a rat … or what it was."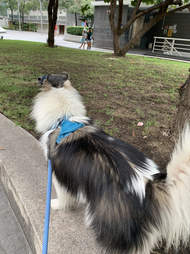 Rose Jenkins
Then Jenkins spotted a tiny black and white kitten hiding between the wall of an abandoned hotel and some old pipes. Jai may have startled the kitten because he ran straight into the hotel wall and froze.
"The kitten … stood there stunned, like he was confused or lost," Jenkins said. "I immediately noticed his ribs and how skinny he was."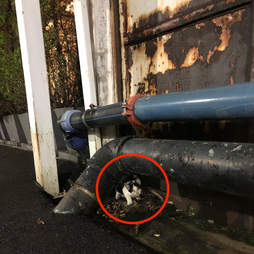 Rose Jenkins
Jai struggled against Jenkins' hold on his leash, but Jenkins knew he didn't want to hurt the kitten.
"He loves kittens," Jenkins said. "He was the best foster mom for kittens when we had a litter before they were all adopted. He was very curious, but I didn't want him to make the kitten run away, so I left the kitten there to run Jai back upstairs to our condo and crossed my fingers and prayed the kitten would still be there when I got back downstairs. I yelled for my husband to bring me a cat crate and a blanket. He said, 'Oh no, what did you find now?' I said, 'Jai found a kitten!'"
When Jenkins returned, the kitten hadn't moved.
"He was just crouched and turning his head from side to side, maybe trying to get his bearings," Jenkins said. "That is when he 'looked' right at me and my jaw dropped — he had no eyes!"
Rose Jenkins
The kitten was also clearly terrified — Jenkins could also see his ribs moving up and down as he breathed quickly.
Before the kitten decided to flee, Jenkins knelt down and gently draped a blanket around him. Then she scooped him up, put him into the crate and carried him up into her condo.
After rescuing the kitten, Jenkins took him to the vet.

| Rose Jenkins
But the kitten was very sick — he was covered in fleas, his eye sockets were badly infected and he had a terrible smell. He needed to get to the vet straight away.
She tried to get a taxi, but each driver she spoke to refused to take her and the kitten to the vet. So she opted for the subway, even though animals aren't allowed on the trains.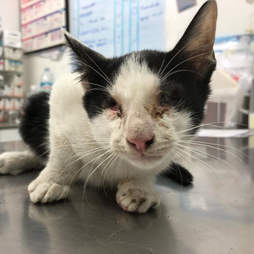 Rose Jenkins
"I hid him in a backpack that I carried frontwards on me," Jenkins said. "I snuck past security guards and on the train, the whole time praying the kitten wouldn't cry for the 10-minute ride."'
Jenkins made it to the vet clinic 10 minutes before it closed, but the staff still received her and the kitten, now named Aldous.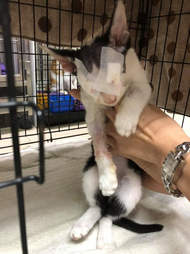 Aldous after he had surgery on his eyes

| Rose Jenkins
"All the vets came into the room and were in awe of little Aldous," Jenkins said. "They couldn't believe he had survived as a blind kitten."
"They immediately gave him IV fluids and flea treatment, then began cleaning out his eyes," she added. "He was so sweet and calm … responding to our touch and purring. He was too skinny and too weak to do surgery right away, so the vets waited for three days of fluids and good food. On the fourth day, they put him under sedation and did surgery to clean out his eye sockets, remove the tear duct, and sew the eye sockets closed."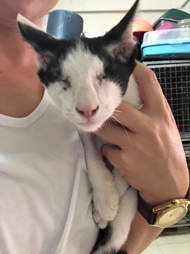 Rose Jenkins
Jenkins visited Aldous every single day at the vet, and tried to figure out the best plan for him. As much as she wanted to keep Aldous herself, she had several dogs, including Jai, and she doubted Aldous would enjoy living with them in her condo.
She reached out to PAWS Bangkok, a local rescue group, and the team agreed to pay for some of his medical treatment, and help find Aldous a home — and he did find the best possible family.
Aldous snuggled against his new sister, who is also blind

| Rose Jenkins
"Many people kept up with the story and followed his progress, but one family stood out," Jenkins said. "Ethan and his girlfriend said they had a blind female cat and would love to give her a playmate. They knew exactly how to care for a blind kitten and were more than willing to give it the time and dedication needed. The first day they sent us photos and I couldn't help but cry. The sister cat took Aldous under her paw and put him to sleep by cleaning him. Aldous began following her around and learning how to 'cat.'"
Jenkins couldn't be more pleased with how everything has turned out.
"The most amazing part of this story is how I could have missed this sweet kitten by just a minute," she said. "I walk the same route and same time every day and had never seen him before. He is such a survivor. Living alone in a dark, scary world — starving, blind, and covered in fleas."
"Now, he is living the dream life with a family who adores him," she added. "I'm so glad he made it as long as he did, and gets a chance at a bright, new life! The life every animal deserves."