Blind Dog Who Lived On The Street For 10 Years Had Never Been Touched
Now he loves getting attention ❤️
For nearly 10 years, Pharaoh lived on the streets of Los Angeles all alone. He wandered around a neighborhood where the residents kept him fed, but no one was sure if he'd ever had a home at all. He never got close enough to let anyone touch him, and at some point the poor dog went blind, making his life on the streets even more difficult.
Finally, someone decided to do something about it, and contacted Hope for Paws to see if they could help poor Pharaoh. Rescuers drove out to the neighborhood he lived in and eventually spotted him slowly walking along a sidewalk. They could see that his eyes were cloudy, confirming that he had little to no sight.
Rescuers Lisa Arturo and JoAnn Wiltz began tossing food at him, hoping to earn his trust …
… but every time they tried to get close to him, he would back away, so scared of letting anyone near him. Pharaoh had been on his own for so long that he had no idea how to trust people.
The women followed him around for a bit as he slowly wandered along, drinking from puddles and keeping his distance from his rescuers …
… until finally, one of them was able to sneak up behind him and slip a leash around his neck.
Poor Pharaoh was so terrified once the leash was around him, and he tried desperately to break free. His rescuers were able to get him safely into their car, though, where he began to calm down and relax a little bit.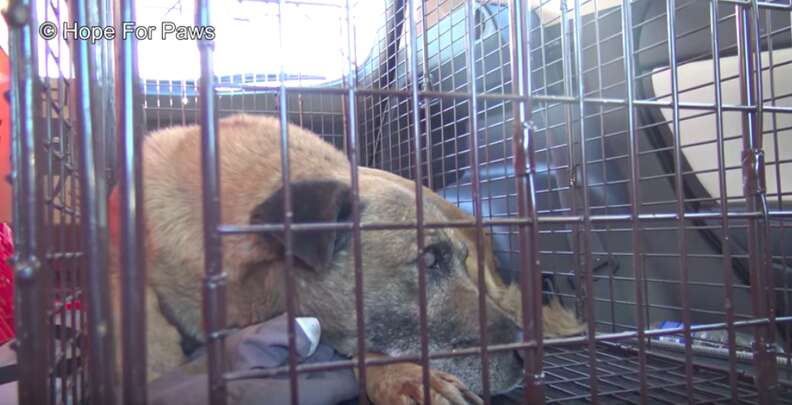 After being looked over by a vet, Pharaoh was taken in by Frosted Faces Foundation, a rescue for at-risk senior dogs. Even once he was in the care of the rescue, it took Pharaoh a while to warm up to people. He had been alone and confused his entire life, and his rescuers knew that overcoming his anxieties would definitely take some time.
He still struggles a little with walking on a leash …
… but he now has a bunch of dog friends, and loves getting attention from his rescuers.
One of his new dog friends, Duncan, is also a blind dog who was rescued by Hope for Paws, and has been helping Pharaoh learn the ropes and navigate around his new home.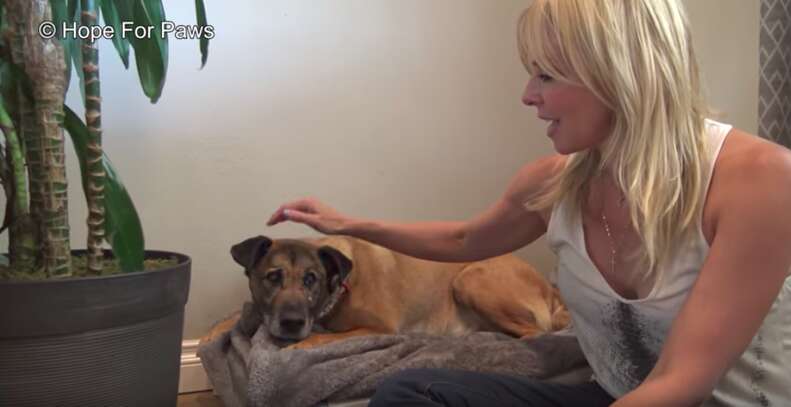 Pharaoh had an extremely hard life, but staff at Frosted Faces are hoping he'll learn to relax and trust a little more every day, and enjoy the remainder of his golden years to the fullest.
Watch the full video of Pharaoh's rescue below: