Blind Puppy Who Only Has 5 Years To Live Gets The Perfect Mom
"I know that I can stuff 15 years' worth of love and adventure into that compressed timeline."
Kristin Worman has been a dog foster mom for a few years now, and knows that with each dog, she'll eventually have to say goodbye and watch them go off to their forever homes. With some dogs, though, it's a little harder to let go.
Worman started fostering a puppy named Rambo through Alaskan Animal Rescue Friends as an emergency foster when he was 8 months old. Rambo is a very special little dog. He has a type of dwarfism called oculoskeletal dysplasia, making him prone to hip, elbow and spinal issues. He's also almost completely blind. Despite his issues, though, Rambo is a sweet, upbeat puppy, who loved his foster home from the moment he arrived.
"When I first brought him home, one of my dogs immediately befriended him, and I think that helped him to get over some of his timidity," Worman told The Dodo. "He seems to have developed a sense of where everything is in the house, and really does get around quite well."
Worman has two other dogs, both foster fails, named Maddy and Willow. Willow, a husky/shepherd mix, and Rambo were best friends from the moment they met, and spend all day playing and hanging out together. Despite being blind, Rambo has absolutely no problems tearing through the yard chasing after Willow, and his mom is always amazed with how able and confident he is.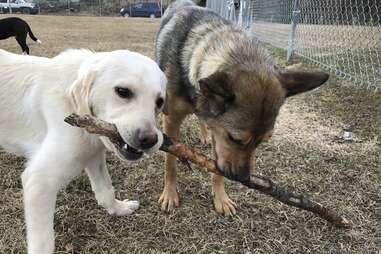 "Watching him navigate the world is really neat," Worman said. "In a new place he is cautious and moves a little slowly, but as long as he knows that I am close, he's pretty confident. He has no idea that he's not what other people would consider perfect."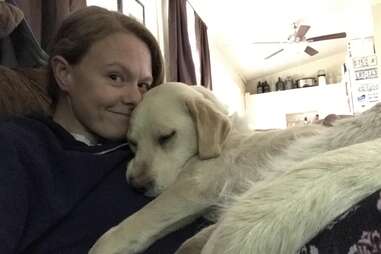 After only a few weeks in his foster home, Rambo was already thriving. Because of his issues, one might think that Rambo would be a lot of work or have a lot to learn, but as his mom soon discovered, he actually has so much to teach everyone around him.
"I think that the biggest change has been in me," Worman said. "I had to learn that he was going to be OK, even if he did bump into things from time to time, it doesn't slow him down at all! He is joyful, and he is just like any other 8-month-old Lab puppy. He is a happy dog that just wants to play and be close to his people."
Due to Rambo's dwarfism, he tends to get tired much faster than the average puppy his age, and needs to take frequent breaks so that he doesn't get too sore. One of the big challenges his mom faces is trying to keep him calm and quiet sometimes, when all he wants to do is run wild and explore the world.
Rambo's conditions mean that he has a lot of medical costs, and many dogs with his type of dwarfism are only expected to live around five years. Despite how wonderful he is, Worman knew that Rambo was quite a commitment, and she worried that another family might not be as willing to handle everything he comes with, especially knowing he might not live very long at all.
"His life expectancy is only five years, and I know that I can stuff 15 years worth of love and adventure into that compressed timeline," Worman said. "I knew that he was going to be one of those dogs that I would wonder about for the rest of my life if I let him go, and I couldn't imagine not having his little yellow body snoring next to me on the couch. So, I decided that he could stay with us forever!"
Worman knew it would take a special kind of family to give Rambo all of the love and attention he deserved, and she knew without a doubt that she and her dogs could absolutely be that family. After only a few weeks of being a foster, Rambo officially became a foster fail.
Now Rambo has found his forever home with Worman, Maddy and Willow, and even though forever might not last as long as it should, Worman knows she can make Rambo's time on Earth the absolute best it could ever be. He's so loved in his new family, and that's what matters.