Blind Dog Rescued From Warehouse Has Waited 4 Years For A Real Home
He just wants a family who will love him for who he is ❤️
Billy was rescued four years ago along with a bunch of other dogs who were all being kept in horrible conditions. He lived in a tiny cage stacked on top of many other cages in a warehouse, living an incredibly lonely life. He and all the other dogs were rescued and taken in by the RSPCA, and while the rest of the dogs have since found loving homes, poor Billy is still waiting. 
RSPCA
Billy is 7 years old, and due to a degenerative condition, he's almost completely blind. Shelter life is therefore incredibly stressful and confusing for him, and so the RSPCA found a foster family for Billy to stay with while he waits for his forever family to finally find him. 
Two years after being rescued, Billy was actually adopted, and staff were overjoyed that it seemed he had found his happy ending — but unfortunately, his family had to return him due to some health complications in the family. No one at the shelter can understand why poor Billy keeps getting overlooked, as to them, he is the absolute sweetest, best dog around.
RSPCA
"Billy is a favorite with all the staff and volunteers here," Tony Shaw, manager of the RSPCA South Godstone shelter, said in a press release. "He loves treats and attention and loves to play with toys. Billy loves long walks and playing and loves human company. He really would love someone to be around all of the time but can also be left for short periods." 
RSPCA
Little Billy is currently doing wonderfully in his foster home, and is proving more and more every day what an amazing dog he can be with a little love and attention. His blindness doesn't seem to slow him down at all, and he loves a good game of fetch, somehow managing to track down the ball every single time.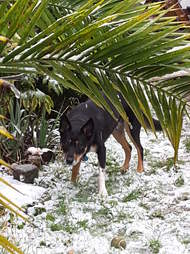 RSPCA
"He will need to live somewhere with a practically permanent layout so he can build a mental map of his new home," Shaw said. "He might need a little help to overcome hazards and any potential dangers must be thought about and managed carefully. Billy does cope incredibly well with his deteriorating eyesight and this does not hold him back! He is also learning lots of directional commands to help him, including 'left,' 'right,' 'slowly' and 'bump.'"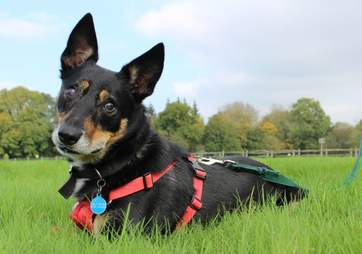 RSPCA
Billy would do best in a home with no other dogs (or a home with one older, calm dog), no cats and no young children. He would love to have someone home most of the time, so that he feels safe and comfortable. Billy spent the first part of his life neglected and unloved, and now, he just wants to know what it feels like to have a family who will love him forever.
If you're interested in adopting Billy, you can
contact the RSPCA
for more information.