Riley was found wandering the streets of Florida, all alone and very, very confused. The 10-year-old Boston terrier/French bulldog mix is completely deaf and partially blind, and would likely not have lasted alone for very long. He was picked up and taken to Orange County Animal Services, still incredibly confused — until someone decided she had to help him.
Ingrid Aguero was browsing the shelter's website one day when she saw Riley's picture. She had actually been looking to adopt a Boston terrier or a French bulldog, and was in a place in her life where she had the time to care for an older, special needs dog. Riley stole her heart instantly and she knew she had to meet him right away.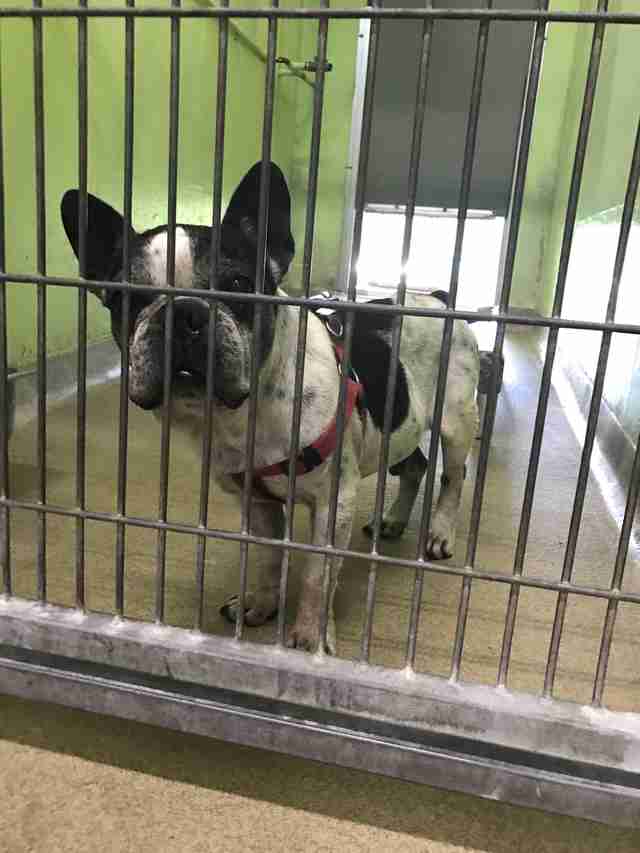 "It broke my heart to see an old dog, who should be living out his golden years being spoiled, to be alone and confused in a strange place wondering where his family is," Aguero told The Dodo. "Once I interacted with him at the shelter and was told he was deaf, a little blind, and how no one had come for him, I knew I had to take him home and make sure he never gets left behind again. I'm so glad I did because he's brought me more joy than I ever imagined."
Riley settled into his new home very quickly and began following his new mom everywhere she went. He was always happiest when he was around people and loved going places with his mom, but due to his age, breed and health issues, he tended to get tired, overwhelmed and overheated very easily. Aguero desperately wanted Riley to still be able to get out and see the world — so she came up with an idea.
"Since he's deaf, I wanted him to have a safe space when in public," Aguero said. "A stroller was the perfect solution. It keeps him cool in the shade and in a safe position so I can take him to as many places with me as possible."

Riley immediately fell in love with his stroller and now rides in it constantly. He loves people-watching and taking in the sights and smells all around him, experiencing life from the safety of his comfy ride. Riley has been through so much in his life, and he more than deserves to be pampered, riding out his golden years in style.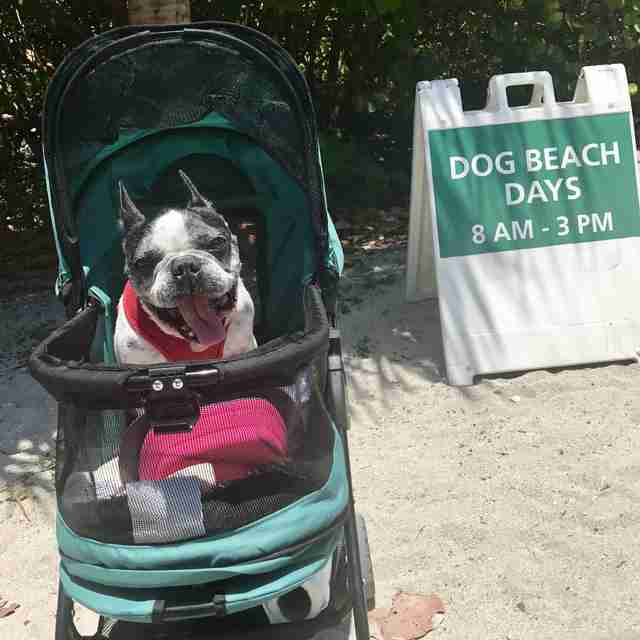 Riley's mom takes him everywhere with her now, from restaurants to different outdoor attractions, and is always delighted by how people react.
"It's amazing to see how well people respond to seeing Riley in a stroller," Aguero said. "They seem to get a lot of joy and amusement out of it. Some will come up to us and want to pet him and ask questions about him. Others have gone as far as taking photos with him in the stroller and have thanked me for letting them spend some time with him. People are intrigued and smitten."
When he's not strolling around, Riley loves to cuddle up anywhere there's a blanket. He's obsessed with blankets, and always manages to find the nearest one and sleep there for hours. He's loving every minute of his new life, far away from the streets where he was found, living out his senior years the way he deserves.
"I realize he may not have too many years left due to his age, and although I will be sad, I'll take comfort knowing I was able to give Riley the best retirement home with lots of treats and stroller rides," Aguero said.