Big Dog Can't Stop Worrying About Tiny Rescue Puppy
"She wanted to be next to Kendall, so she just squished into a tiny, little puppy bed, and just laid next to her."
For a 2-year-old boxer mix named Dolly, being surrounded by puppies is nothing new.
Ever since a woman named Jackie O'Sullivan saved Dolly two years ago, the caring dog has acted like a "mom" to about 30 foster puppies who were rescued from various places, from shelters, to Craigslist or even yard sales.
Dolly looking after a couple foster dogs at O'Sullivan's home

| Jackie O'Sullivan
"She's been a mother and a buddy to all the foster puppies who have come in [foster care]," O'Sullivan, cofounder of Rescue Dogs Rock NYC, a New York rescue group, told The Dodo. "She's very good and gentle with all of them, and I think people love seeing her with the puppies."
A lot of the puppies will run around and play and jump on Dolly, O'Sullivan explained, but when O'Sullivan brought home a tiny, 6-week-old puppy named Kendall, Dolly knew something was different about her.
Kendall, O'Sullivan's current foster puppy

| Jackie O'Sullivan
"[Kendall] reportedly had a seizure or seizures, and she wasn't able to stand or walk," O'Sullivan said. "I didn't witness any seizures myself, but she would do this shaking, trembling thing."
O'Sullivan tried to make her as comfortable as possible.
"I put her in my office, which is where I put all the puppies, and put her in a little bed," O'Sullivan said. "The moment she got in there, Dolly was whining to come in, and when she did, she came over to her, and was concerned and whining and walking around and sniffing her."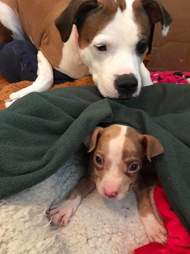 Dolly looking after Kendall

| Jackie O'Sullivan
The next day, O'Sullivan took Kendall to the vet to see what could be done to help her.
"They ran some blood work to see what was going on," O'Sullivan said. "Her electrolytes were off, so they sent her over to a specialist. And that doctor came back and said that based on the findings, it looked like somebody had given her marijuana, which obviously qualifies as a toxin."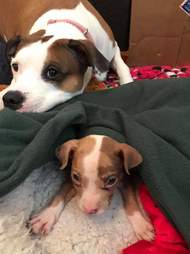 Jackie O'Sullivan
Marijuana isn't just toxic — ingesting three grams of THC for kilogram is a fatal combination for dogs. Since Kendall only weighed about 2-and-a-half pounds, O'Sullivan and the vets were astounded that she'd survived at all.
The vet gave Kendall fluids, but the little puppy still wasn't feeling well when she returned to O'Sullivan's home. Dolly picked up on this immediately.
"Dolly has big dog beds throughout the apartment, but she wanted to be next to Kendall, so she just squished into a tiny, little puppy bed, and just laid next to her," O'Sullivan said. "I don't think she knew how else to comfort her, but she knew she wasn't feeling well."
Dolly sleeping next to Kendall

| Jackie O'Sullivan
Kendall has been in foster care for a few days now, and she's already starting to feel better, O'Sullivan explained.
"She's still tiny and she's very thin, but she can stand and walk now," O'Sullivan said. "She's in better shape."
And O'Sullivan believes Dolly has a lot to do with Kendall's recovery.
Jackie O'Sullivan
"She definitely seems comforted by Dolly," O'Sullivan said. "She trusts Dolly more than humans. She just whined a bit and Dolly raced in to see what happened, and Kendall actually wagged her tail for the very first time."
"I think Dolly has a lot of compassion," O'Sullivan added. "That's just the kind of dog she is."