12-Year-Old Dog Decides To Adopt Orphaned Newborn Kitten
"He fell in love with her" 💕
Morgan McKenzie was walking around her property in Delaware when she heard tiny screams coming from a hollowed-out log. The voice belonged to a gray and white kitten who appeared to be all alone. McKenzie decided to leave the kitten where she found her just in case the mom returned.
As night fell, McKenzie checked the log once more and realized that the tiny animal needed her help.
"When it started to get dark, we went back to make sure she was gone, but we could still hear her little cries," McKenzie told The Dodo. "I was so glad we picked her up because I don't think she would have made it. She was only a day or two old. She couldn't see, her ears were still folded and she was starving."
McKenzie named the pocket-sized kitten Polly, after Polly Pocket. The kitten was covered with fleas, so McKenzie brought her inside and immediately gave her a bath in the sink. Just then, McKenzie's 12-year-old Lab, Paxton, came in to see what was happening.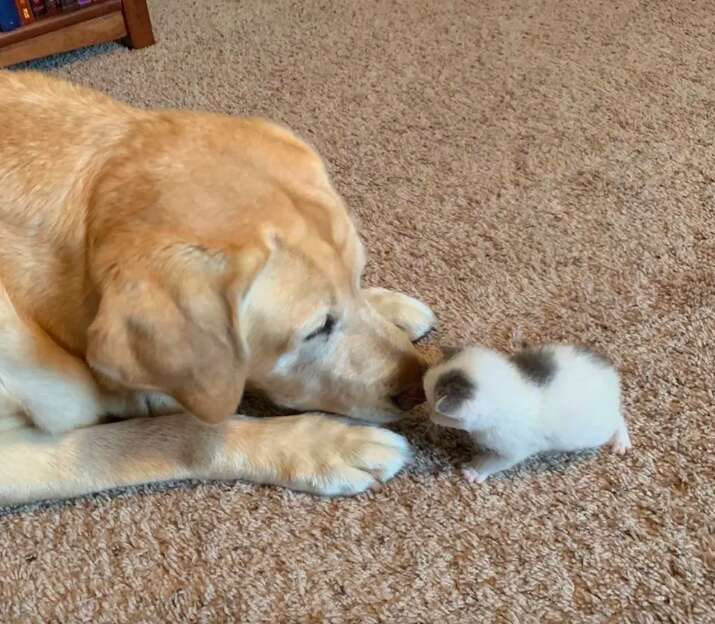 "Paxton got to meet Polly right after her bath," McKenzie said. "He fell in love with her at first because he got to clean her after every bottle feed and she loved it because she didn't know any different."
The large dog licking Polly clean was the first parental act the little orphan had ever experienced. With her eyes still closed, she couldn't see how big her new friend was — all she knew was that he took care of her.
"She used to stand as still as possible until she could hear his footsteps," McKenzie said. "She would go bolting over to where she thought she heard him."
It took five weeks for Polly's vision to become clear, and by then the two animals were completely in love. "I don't think she ever knew any better so Polly thinks this is all just normal," McKenzie said. "She grooms him, he grooms her. I don't think she knows she is a cat."
Whether cuddling on the couch, playing together or eating together — the duo couldn't be happier in each other's company.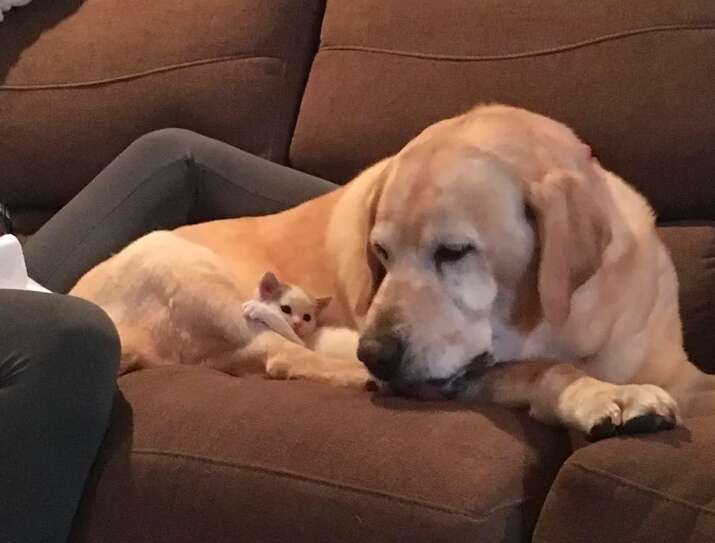 Polly is now 5 months old and Paxton is nearly 13 years, but their bond is still as deep as ever. And as Polly has grown and become more active, her pal somehow manages to have infinite patience for her — even when she steals his favorite toys.
"The two of them still adore each other," McKenzie said. "She's becoming more of the pesky little sister who loves to follow him around and attack the toys he is playing with."