Shelter Dogs Won't Let Go Of Each Other As They Wait To Find A Home
"Charity comforts the little one — she's like her pillow or something" 🐶💕🐶
For over a month, Charity, a bully mix, and Suzy Q, a miniature pinscher mix, have slept very closely together on the floor of the Jackson County Animal Shelter in Gautier, Mississippi.
When the two neglected dogs were dropped at the shelter by animal control on July 17, they had nothing but each other — but that made all the difference.
"They were in a place [before they came to the shelter] that was not suitable for animals and in really bad condition," Maridee Bond Mallette, adoption coordinator at the shelter, told The Dodo.
Charity had lost nearly all of her fur due to demodex mange, but she had Suzy Q to keep her warm. And the little dog was all too happy to forgo the cold floor of the kennel, instead using her best friend as a bed.
"Charity comforts the little one — she's like her pillow or something, and I don't think it bothers her at all," Mallette said. "With being in a cage, and the noise of the other dogs and the concrete floor, I'm sure they love being together."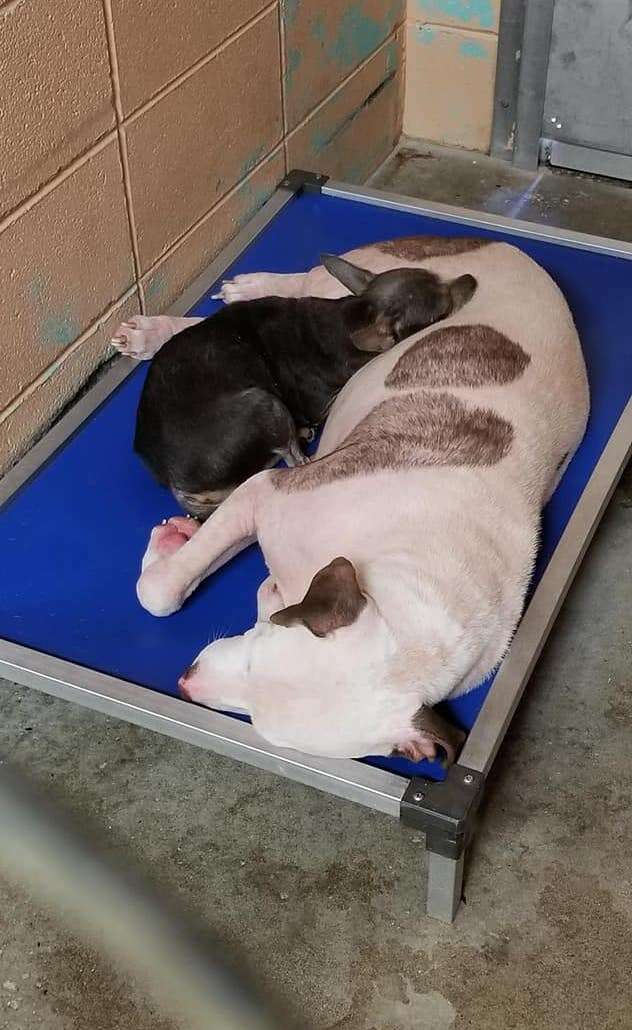 Charity and Suzy Q were put on medication and treated for fleas, and slowly began to gain weight. Throughout the process, the dogs never left each other's side, and shared everything they had.
"They eat together, sleep together and lay on each other," Mallette explained. "Charity will eat her food, and Suzy Q will eat her food, but then Charity will finish off Suzy Q's food."
But Suzy Q definitely doesn't let her friend push her around. "Suzy Q is the boss. It's hilarious," Mallette added. "Charity follows her everywhere."
After going through so much together, the dogs were finally healthy enough for adoption, but Mallette realized that finding a family could mean breaking the bond the two dogs had with each other.
Mallette couldn't stand the thought of the dogs being separated, so she decided to make a case for them on Facebook, posting heart-wrenching pictures of the odd couple.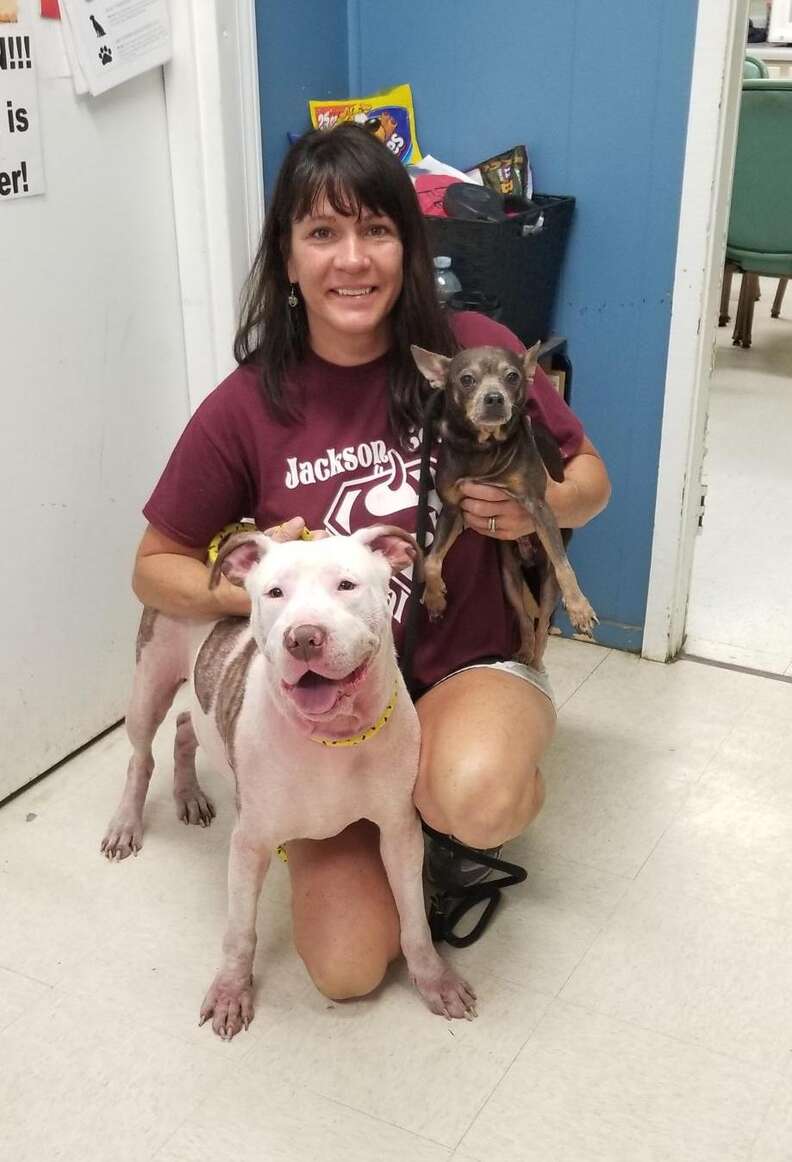 "When I walk by their cage they are always laying in different funny positions together. They love each other," Mallette wrote in a Facebook post. "It breaks my heart to see them taken away from each other. There are so many that come in like this and I just don't understand why people don't take care of their pets. I just wanted to show y'all how sweet they look together."
To Mallette's surprise, her Facebook plea worked.
Third Coast Animal Rescue, a nonprofit in South Alabama, saw the post and agreed to find Charity and Suzy Q a home — together.
While the two dogs are only beginning their journey to finding a caring family, between the two of them, there's more than enough love to go around.