Sweet Shelter Dog Gets Caught Sneaking Out Of Her Kennel
The look on her face when she gets caught 😂
World, meet Buttermilk — an adorable little shelter dog whose sweet, outgoing spirit can seem, at times, to be pretty uncontainable.
In more ways than one.
Isle Of Wight County Animal Shelter
The 12-pound beagle was recently rescued from a park in Virginia, where she was found living as a timid stray
. Afterward, Buttermilk was placed under the care of the Isle Of Wight County Animal Shelter, and there her real self began to shine through.
"She was scared of people at first," Tiffany Webb, the county's animal control officer, told The Dodo. "But she has such a sweet personality."
That, however, wasn't the only special characteristic she'd come to reveal to her rescuers.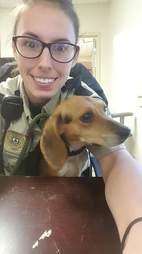 Isle Of Wight County Animal Shelter
One morning this week, upon arriving to open the shelter, Webb and her colleagues were surprised to discover Buttermilk sleeping outside her kennel. Initially, they figured the kennel hadn't been secured properly the night before, so they placed Buttermilk back inside.
That, of course, had not been the case. Soon, her caretakers had proof of what really happened.
"As the morning progressed, we saw her climbing out," Webb said. They decided to secretly film the escape attempt, both to show potential adopters what lay in store, and because it was pretty darn adorable — especially the part where Buttermilk realizes she's been caught.
The surprisingly agile Buttermilk wasn't hurt as she hopped back into her kennel (though she did get a quick checkup to be sure of that). Mostly, it was just her ego that was a little bruised. 
"She seemed to be more ashamed that she had been caught," Webb said.
Being such a friendly dog, it's thought that Buttermilk had simply wanted some more companionship, or perhaps just to stretch her legs. Ironically, her failed escape attempt may have actually worked out perfectly in the long run.
Isle Of Wight County Animal Shelter
Thanks to that video, Buttermilk's future is looking brighter than ever — and, with any luck, the same is true for other pets at the shelter.
"We have had many, many people interested in adopting her ... from all over the country and even in the UK," Webb said, adding that one lucky family has been approved already and will adopt her this week. "Our shelter is in a small locality so all this publicity is really wonderful for us, and we are hoping that, while she already has her home, it will lead to many other interests in our other dogs."