Dog Spent Years Living Trapped In This Old Rabbit Hutch
"I fell in love with Buddy immediately ... it was so clear that he wanted love and attention."
The beagles were locked up in rabbit hutches outside an abandoned house, and left there in the sun and rain and cold. About once a day, a man came to give the dogs food and water, but that was about it — the cages were never cleaned, and the dogs lived in their own waste.
A concerned resident named Kelly Gray had passed this property in Kirby, Ohio, on several occasions, and she was determined to do something.
One of the rabbit hutches that held the beagles; photo taken after the dogs' rescue

| HSUS
"There's a restaurant where we'd eat lunch regularly … and the house was right across the street from the restaurant, and the puppies were in all the cages behind that," Gray told The Dodo. "We just happened on them one day, and I kind of started watching it."
There were over a dozen beagles inside the hutches, which were made of wooden planks and mesh siding. Some of the hutches were elevated, but others sat on the ground. Whenever a person or car traveled down the alley beside the house, the dogs barked and cried for attention.
HSUS
Gray contacted the local sheriff's department and asked for help — but the sheriff's office said they legally couldn't do anything. And unfortunately, the Wyandot County Humane Society, the local rescue center, was unable to take action without approval from the sheriff's office to remove the dogs.
But Gray refused to give up — she contacted the sheriff's office again and again. "Every time they came out, they said, 'They have food, they have water, they have shelter. That's all they need,'" Gray said.
HSUS
This went on for about two years, according to Gray.
At one point, Gray even approached the owner, who would stop by to feed the dogs, and learned that he was breeding the dogs. He tried to sell one to Gray for $300. Gray eventually convinced the man to sell her a dog for $75, thinking she could help ease at least one dog's suffering — the dog, whom she named Winner, now lives with Gray. However, she never forgot about the others.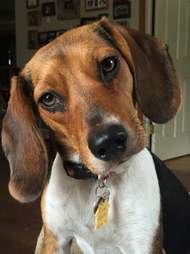 Winner, the dog Gray bought from the owner of the dogs

| Kelly Gray
In January 2018, Ohio got hit with severe winter weather — an event meteorologists refer to as a "bomb cyclone." Gray immediately thought about the dogs and went to check on them.
"It was so, so cold, and these little dogs had no straw, nothing in those boxes, and I thought, 'They're all just going to freeze to death tonight,'" Gray said.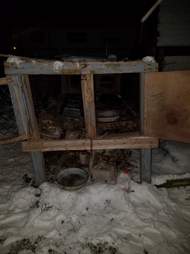 HSUS
Gray called the sheriff's office again, but they still refused to take action — so Gray garnered support a different way. "I put it on Facebook and I started calling the TV stations and newspapers," Gray said.
This seemed to do the trick because the sheriff's office finally took action — they authorized the Wyandot County Humane Society to confiscate the dogs, and the staff went to rescue the dogs that very night.
HSUS
"The situation was so dire, and it was so bitter cold," Lynda Balz, codirector of Wyandot County Humane Society, told The Dodo. "There was a dead dog, and all the others were starving, emaciated in various stages of huge discomfort … so it finally had to be addressed, which is great because we're always ready to help the animals or assist the sheriff's department in any way."
The shelter staff rescued 15 beagles, as well as a pit bull who was being used as a guard dog, and took them back to the rescue center. Shortly after, staffers from the Humane Society of the United States (HSUS) got in touch with the Wyandot County Humane Society, and asked if they could visit the dogs — HSUS was interested in highlighting the rescue as part of its anti-puppy mill efforts.
Buddy, one of the beagles rescued from the property

| HSUS
"It was definitely a puppy mill because they were actively breeding the beagles … and because he was selling the beagles for profit," Meredith Blanchard, public policy coordinator for HSUS, told The Dodo. "It was a sad story because neighbors were trying to get that puppy mill closed down for quite some time — for months — and it took this freezing cold storm to finally get some action."
While visiting the Wyandot County Humane Society, Blanchard got to meet Buddy, one of the rescued beagles.
Buddy sleeping on a carpet on the ground

| HSUS
"I fell in love with Buddy immediately," Blanchard said. "It was clear that the dogs hadn't had much socialization, so you never really know what to expect — if they'd be terrified or aggressive. With Buddy, it was so clear that he wanted love and attention. But he was also very scared about what we would do if he approached us."
Blanchard cuddling Buddy at the shelter

| HSUS
Yet Buddy was willing to put his fears aside to get some love from Blanchard. "He just oozed sweetness," she said. "He would curl his body up into a little ball, and he'd just walk toward you with his tail really wagging, and put his head in your lap and set it there."
Some of the rescued beagles with their adopters

| HSUS
Buddy eventually found a good home, and so did many of the others. Gray herself even adopted another one of the rescued beagles, a 5-year-old female she named Victorious (or Vi for short), who now lives with Gray's other beagle, Winner.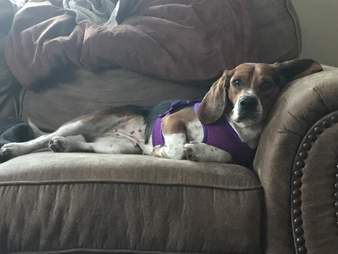 Vi, the second beagle Gray rescued

| Kelly Gray
"She's probably been in that situation her whole life, so it's taken her a little longer to adapt to living in the house," Gray said. "The TV scared her at first, and right now, we're having issues where she's afraid to go outside because of summer noises. But she's doing so much better. The first couple of days, she just cowered, but she's really a loving dog, and she's so smart and so sweet, and she's just the best."
To help shut down puppy mills like this one in Ohio, you can
add your signature
to the Stop Puppy Mills initiative.