Because of her miraculous recovery, a homeless dog has been dubbed "Cranberry, the Christmas beagle" by the staff at the veterinary hospital who saved her life — but not long ago, Cranberry was without a name and without a hope in the world.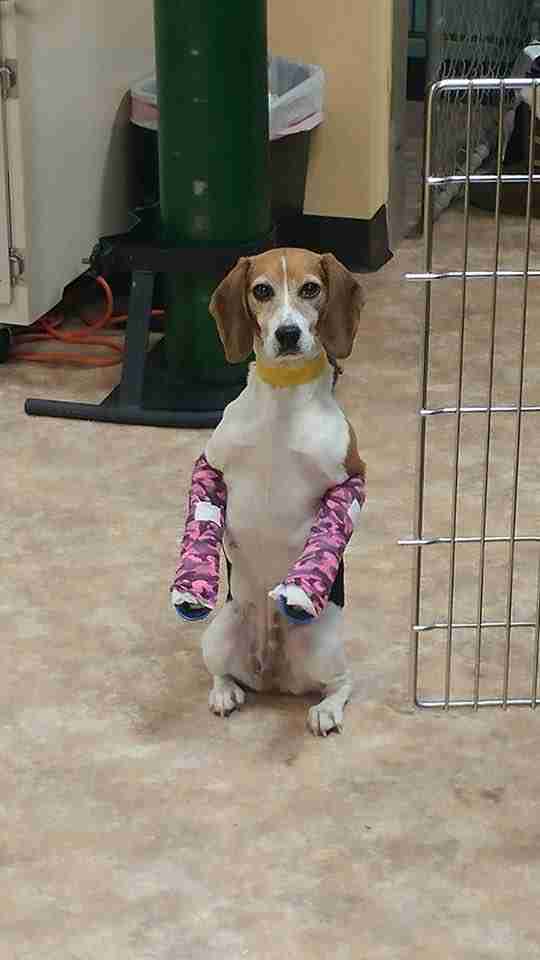 When the beagle arrived at Stark County Humane Society in Canton, Ohio, her legs were terribly broken and her life was in the balance — luckily, there was a program available for injured animals just like her.
"We have a project at our hospital called the For Paws project which takes in severely wounded or ill pets which are slated for euthanasia," Dr. Jennifer Jellison, a veterinarian at For Paws/Blue Cross Animal Hospital in North Canton, Ohio, told The Dodo. "She was brought directly to me, as her fractures were so severe."
But Cranberry's front legs suffered such severe fractures that it was determined surgery wasn't even an option. As an alternative, Dr. Jellison decided to try splints on Cranberry's little legs.
And despite the terrible fractures, splints seemed to actually start to work. Cranberry was able to start to hobble around.
"The fractures miraculously are healing," Dr. Jellison said, "and when we change the splints she is delicately walking!"
With splints on, Cranberry has started practicing running down the halls of the vet hospital when her name is called.
"Although she will never run like a beagle again I believe she will be pain free," Dr. Jellison said.
But physical healing isn't the only thing Cranberry needs to work on. Something seems to have happened to Cranberry in the past that makes her a bit skittish. Dr. Jellison believes Cranberry was either abused and dumped, or was abandoned after an injury for not being a decent hunting dog — but she has no proof. What's certain is Cranberry needs to get used to noises — she's prone to getting scared by them. And when given toys, it seems timid Cranberry doesn't even know what to do.
"We are working on meeting new people and getting used to toys," Dr. Jellison said. "Can you imagine? Afraid of a dog toy?"
The staff has started getting Cranberry used to ring tones from a cell phone, and she's already coping well with such sounds. She's also learning how to socialize with new people.
"She is so cute and she has a little following here," Dr. Jellison said. "People come to see her, bring her flowers, sit with her ... our clients have been amazing helping to socialize her."
The splints are expected to be removed in about a week, and soon after that, Cranberry will be looking for the forever home she always deserved. Dr. Jellison hopes she'll find a good home "with a lap and a fireplace."