Dog Immediately Thanks The Man Who Saved Him From Death Row
"Just the look in his eyes — it's as if he knows his life has been saved."
When Schenley Hutson Kirk saw a picture of Gregory on the euthanasia list at Franklin County Shelter and Adoption Center in Ohio, she knew she had to do something.
The little beagle had been found running astray in Obetz, Ohio, most likely abandoned by his owners, and appeared to be in perfect health — except for one little problem.
At the shelter, during his health and behavior assessment, his heartworm test came up positive.
While the 2-year-old dog was full of energy and extremely friendly, due to his medical issue (the treatment of which would cost $400, according to the shelter), he was listed as "rescue only." If he wasn't pulled from the shelter by May 3, the shelter wrote in a message to rescuers, his fate would be sealed.
Luckily for Gregory, Kirk and her husband Joe are the founders of Hound Rescue and Sanctuary and knew the little dog had so much left to give. They dropped everything to save his life — never expecting that the dog would thank them in return.
They were wrong.
"My husband took the day off work to drive to the shelter, while I stayed home to take care of the other rescue dogs," Kirk told The Dodo. "On the way back home, he decided he was going to take a couple selfies of our new rescue, which I got after him a little bit for since he's not supposed to take pictures while driving — but considering the photos he captured I couldn't complain too much."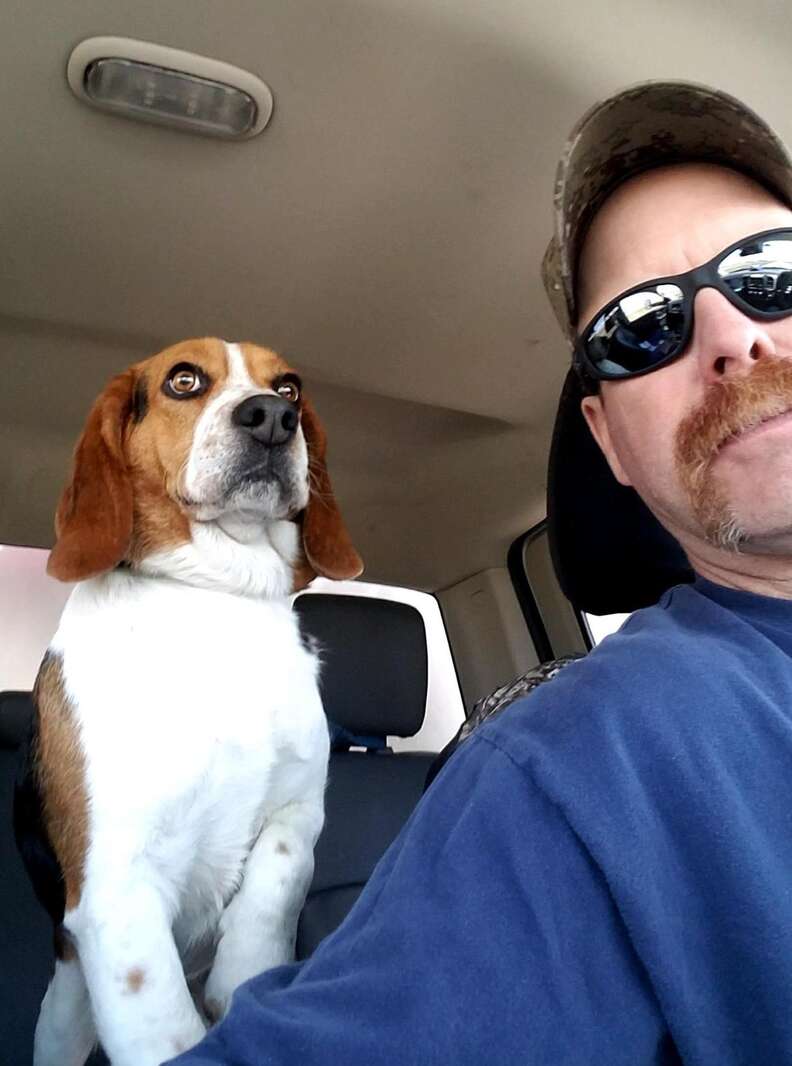 Though Gregory had only met Joe for the first time, he wanted to be as close as possible to his new friend during his two-hour-long "freedom ride."
Tethered in the backseat for safety, Gregory's leash was just long enough so that he could reach Joe's shoulder. When Kirk received Joe's text with the photos, she couldn't believe what she saw.
"[Joe] sent me three photos, and in the last one, little Gregory had leaned his head over, as if to say, 'You saved my life. I knew I was going to die at that shelter, but you saved me today,'" Kirk said. "And just the look in his eyes — the thankfulness, the appreciation and the love of this little dog — it's as if he knows his life has been saved."
Now happily recuperating in the Kirks' home, Gregory makes sure to continue to show his appreciation every day. "He is an absolute doll," Kirk said. "He's loving, affectionate, he loves to give kisses. Very well-behaved in the home."
While Gregory finishes his month-long antibiotic treatment and begins his heartworm medicine, he's learning basic commands such as sit and stay — and he already appears to be house-trained. "He's very laid-back, very happy-go-lucky, and his favorite thing to do is get lots of love from his people," Kirk added.
While it's impossible to know what Gregory's life was like before his rescue, for a lot of hounds and beagles in rural and southern Ohio, life is not easy. "Sadly, hounds get the stereotype that they're just a hunting dog and that's it," Kirk explained. "That they're smelly, that they're loud, and that's just not the case."
Kirk and Joe are doing everything they can to make sure that dogs who don't want to hunt can have wonderful futures as family pets — a mission that has been with Kirk since she was little.
"From the time I was young, I've known quite a few people who hunted, and over the years I saw the type of life that the hounds live," Kirk said. "A lot of them live outside, tied to a tree with a doghouse. The only thing they have in their life is that small area, and the time during hunting season is the only activity and type of affection that they get, which is very minimal from the hunters."
But every time Kirk looks down at Gregory lying on the floor next to her or following her from room to room, she has no doubt that he can look forward to a great second chapter of his life.