There's A Real-Life Batman Going Around Saving Shelter Pets
"It's not who I am underneath but what I do that defines me" 🦇
Not all heroes wear capes — but when it comes to helping animals in need, some really do.
That's what one homeless pit bull named Koko learned when the Caped Crusader himself changed her life forever.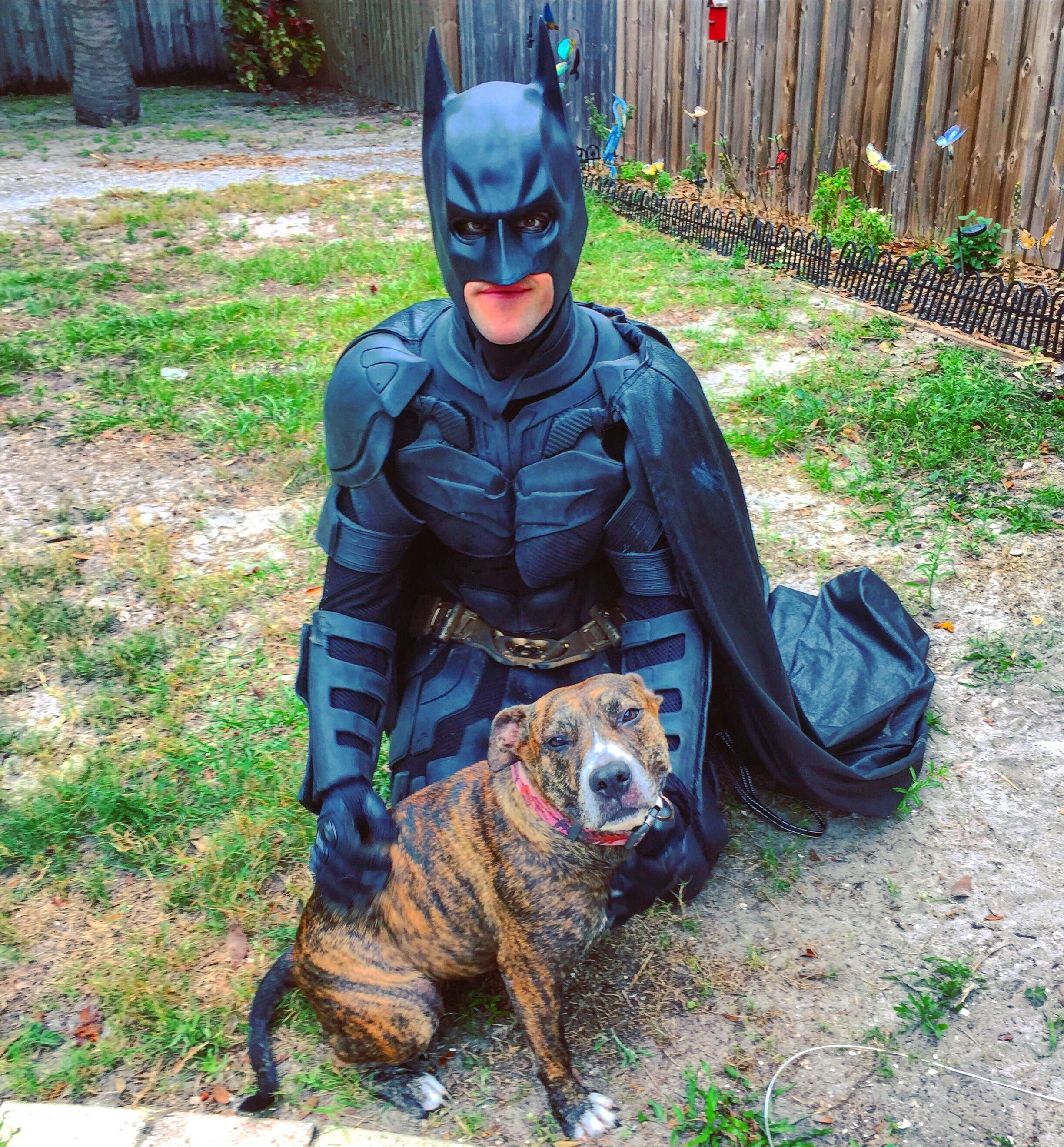 Koko arrived at the Pet Resource Center of Tampa as a stray. Day after day, she waited patiently for a family to choose her. But, before that day could come, she was put on the euthanasia list. With an hour left to live, Koko was pulled from the shelter by her foster mom and months later found a forever home in Gatlinburg, Tennessee.
The only problem? She had no way of getting there.
Enter the Dark Knight — otherwise known as Chris Van Dorn, founder of the animal rescue nonprofit Batman4Paws.
An eight-hour road trip dressed in an elaborate Batman costume is all in a day's work for Van Dorn. "I would say I'm just the middleman," Van Dorn told The Dodo. "The real heroes are the people giving these dogs a good, loving home."
Koko is one of many dogs and cats whom Van Dorn has helped transport from overcrowded shelters to the safety of their forever homes.
And while dressing as Batman isn't necessary to save an animal's life, it has helped Van Dorn open up a dialogue about the importance of adoption and fostering.
"The costume just makes everybody happy and smile," Van Dorn said. "It's special to see Batman walking around, and when they find out that he's doing a good deed in the world they get even more excited."
"It kind of just came as a way to embody all the good I wanted to do in the world," he added, "and make it easy for people to talk to me right off the bat."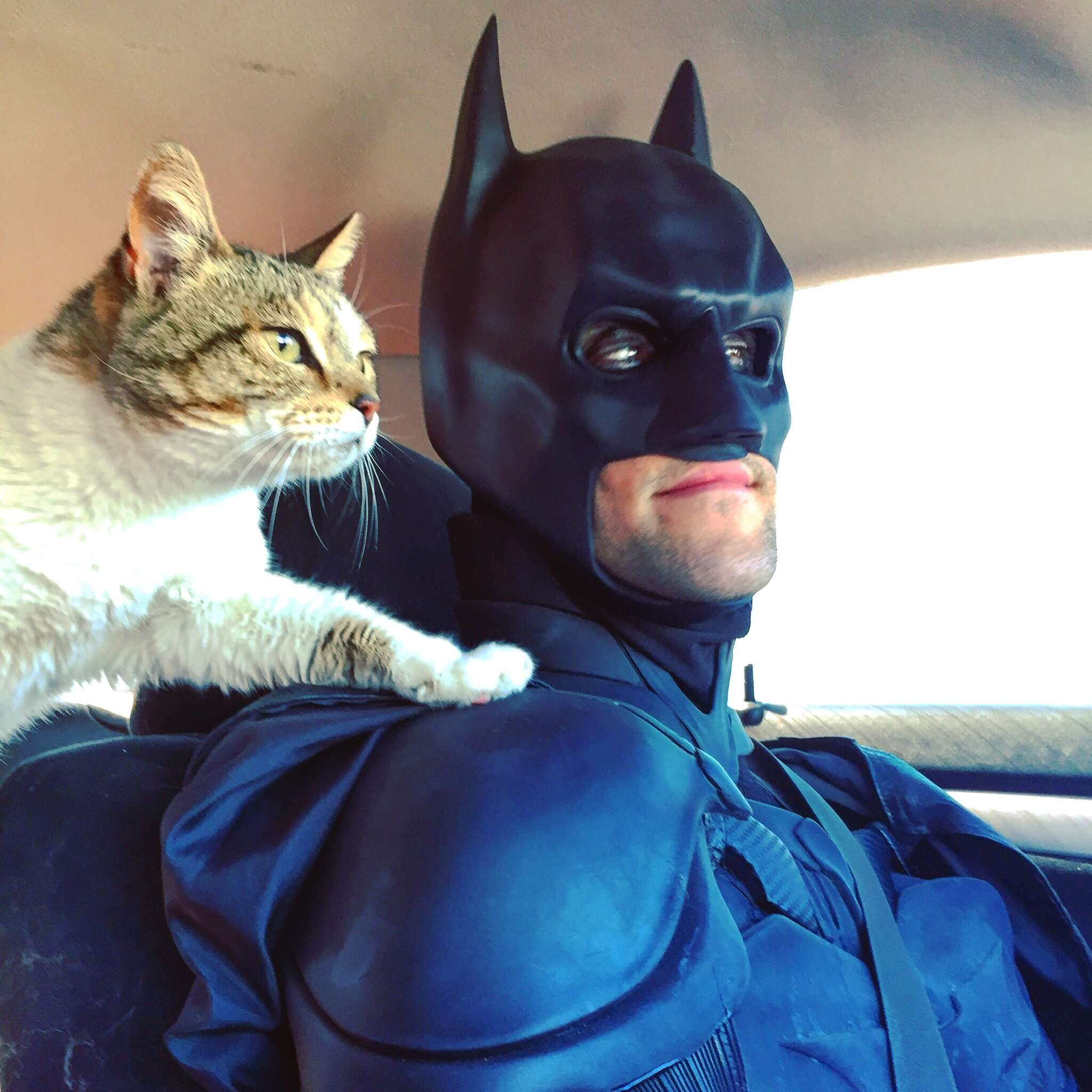 Van Dorn grew up watching the Batman animated series and began volunteering with animal rescues when his family adopted an Australian shepherd named Mr. Boots. When it came time for Van Dorn to start his own rescue organization, he decided to do it as Batman with, of course, Mr. Boots occasionally stepping in as Robin.
Every superhero has a secret identity, and for Van Dorn, wearing a mask was an intentional way of keeping the focus on his mission of saving animals.
"When I was first starting out, I was keeping everything really anonymous," Van Dorn said. "I would sign everything 'Bruce Wayne' and not put my real name out there ... My catchphrase is, 'It's not who I am underneath but what I do that defines me,' and I still hold that true today."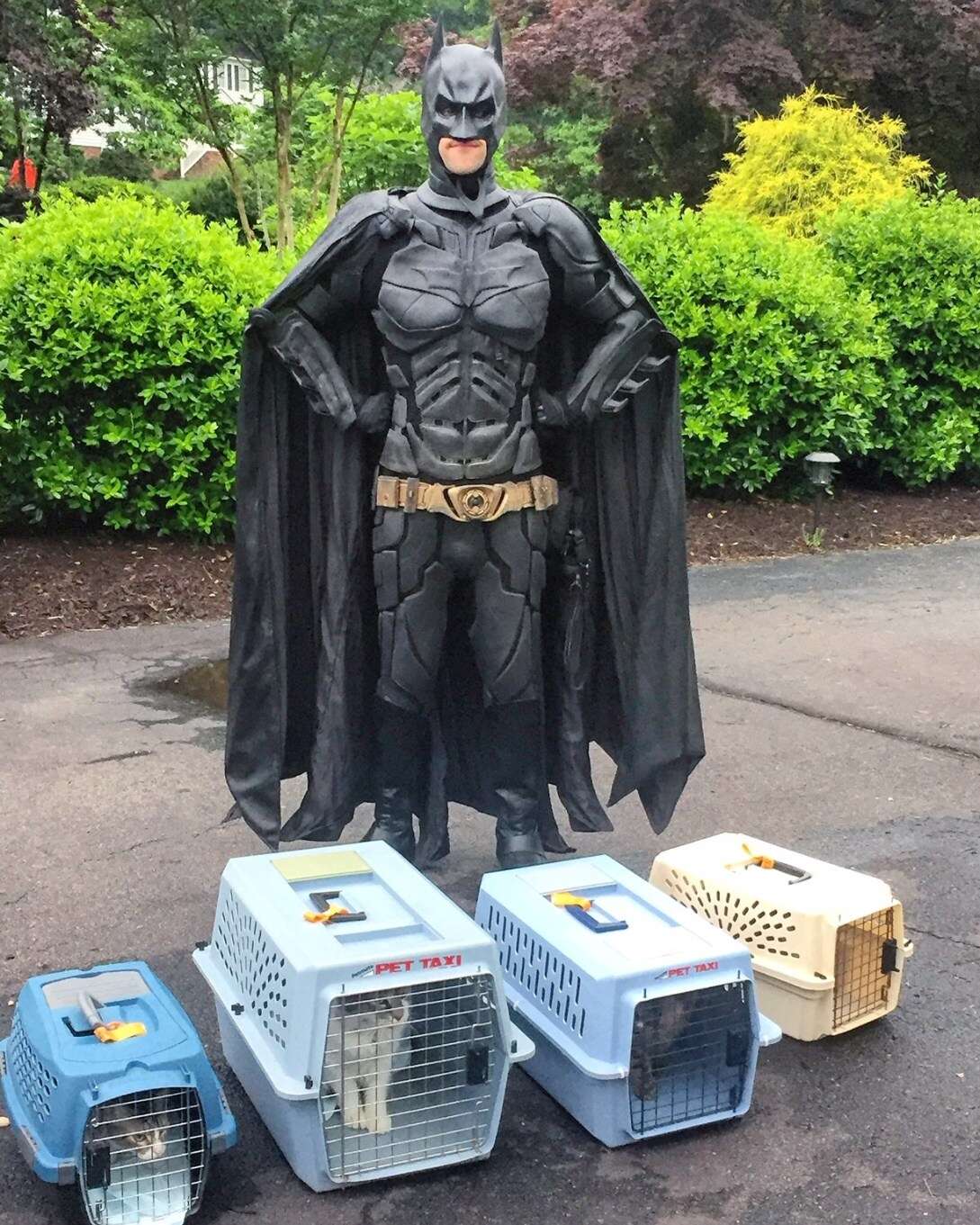 His cover was blown when GoFundMe honored his campaign, naming him as their GoFundMe Hero for May. Van Dorn hopes soon to put his private pilot's license to good use by purchasing a plane so he can fly the animals to their forever homes every week.
But for the time being, he's using his Batmobile, and making a difference whenever he can.
"Actions speak louder than words and I'm just doing my best to empty the cages," Van Dorn said. "And I challenge anyone to go to their local shelter because it's a depressing place, but if you can help out in any way — whether that's to foster a dog or adopt a dog or just volunteer your time, then you should go out and do it."