Bald Dog In Christmas Sweater Found Abandoned On New Year's Day
"She must have been so terrified." 💔
When someone heard the sound of a dog barking from their neighbor's yard on New Year's Day, they were immediately concerned because their neighbors were away on vacation — and didn't own a dog in the first place. Confused but hoping the barking wasn't actually coming from that yard, the person decided to call the RSPCA to come and check things out, just to be safe. 
Lucy Hoehne, an inspector with the RSPCA, responded to the call and headed over to the empty home. She went into the backyard, hoping to find nothing out of the ordinary — and instead found a little bald dog, huddled up in the corner of the yard, wearing a Christmas sweater. 
RSPCA
"It's likely she had been at the property some hours and it was an extremely cold night; being New Year's Eve there were fireworks being let off — she must have been so terrified," Hoehne said in a press release.
Hoehne quickly scooped the dog up and rushed her to the vet to get checked out. She appeared to be suffering from a skin disease, and has been put on medication while her rescuers wait for the results of a few biopsies to officially diagnose her condition. Hoehne decided to name her Ducky, after the dinosaur in "The Land Before Time," because of her tough skin.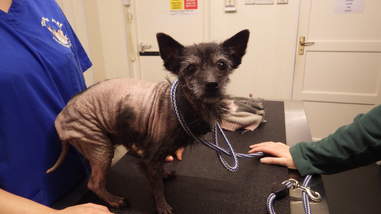 RSPCA
"This poor dog, her whole back end and legs are totally bald," Hoehne said. "She isn't microchipped although her weight appears to be healthy so I can only think she must have been dumped."
Ducky was wearing a sweater with a distinctive snowman pattern when she was found, and her rescuers are hoping that someone will recognize the sweater and be able to tell them where she came from and who might be responsible for abandoning her. In the meantime, Ducky is recovering in the care of the RSPCA, and seems so relieved to finally be somewhere safe and warm with people who care about her.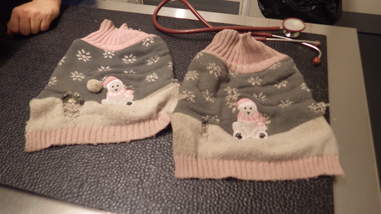 RSPCA
"If anyone does recognize Ducky they can get in touch with the RSPCA on 0300 123 8018," Hoehne said.