'Bait' Dog Found Covered In Bites Gives Rescuers His First Smile
"He's realizing that he has people who love him."
The dog's spirit was broken. At least, that's what it looked like to Melanie Pafford as she peered behind the dumpster in a rough section of Memphis, Tennessee, and saw a dog covered in bite wounds.
"I realized that he had been attacked and chewed up," Melanie Pafford, cofounder of Streetdog Foundation, an organization that rescues stray and abandoned dogs, told The Dodo. "He was so bad."
Melanie had learned about the dog, whom she named Liam, when a former neighbor sent her a photo of him on Facebook earlier that day. Not long after that, a Streetdog Foundation volunteer sent Melanie the same picture.
Melanie and the volunteer traveled to the dog's location as quickly as they could. But when they found Liam, neither of them could coax him out from behind the dumpster. Luckily, Kent Pafford, Melanie's husband, arrived to help.
"He wouldn't move," Kent Pafford, the other cofounder of Streetdog Foundation, told The Dodo. "He was kind of between a loading ramp and the dumpster. The volunteer, Michelle, was able to reach between the two and get a leash around his neck, but he still wouldn't move, wouldn't stand up, wouldn't walk. And we didn't want to pull him with those kinds of wounds. He just sat there with his head down low."
Kent did the only thing he could do — he crawled between the loading dock and dumpster to get Liam out.
"I just slowly eased my way to him, just a few inches at a time, and I was talking to him until I was close enough to touch him," Kent Pafford said. "He didn't try to get away, he didn't come closer — he was just absolutely dejected and spent."
Kent carefully draped a soft towel around Liam so his injured skin wouldn't tear — and then he lifted him up and carried him out to their van.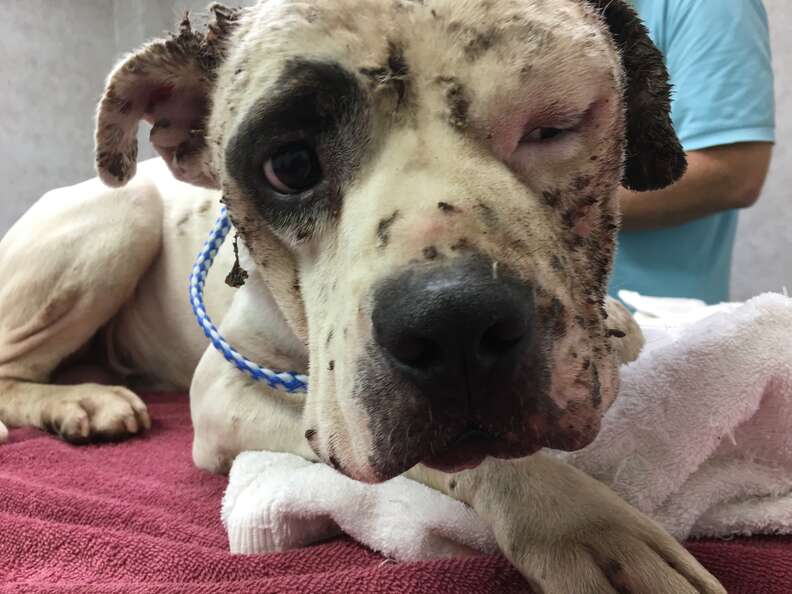 "He had too many puncture wounds to begin to count — from the tip of his nose, all over his head, and it was very heavy around his neck and ears, down his shoulders, down his legs," Kent Pafford said. "One of the legs had been bitten badly enough and was swollen from infection. We weren't sure if it was broken or not."
While no one knows where Liam came from or what happened to him, the Paffords believe he'd been used as a "bait dog," a dog whom people encourage fighting dogs to attack to get them prepped for dogfighting.
"It's an awful sport," Melanie Pafford said. "They will use submissive dogs to try and get the other dogs to fight each other."
Since Liam was in such poor shape, the Paffords didn't waste a second — they rushed him to an emergency veterinary hospital, even though it was late in the evening.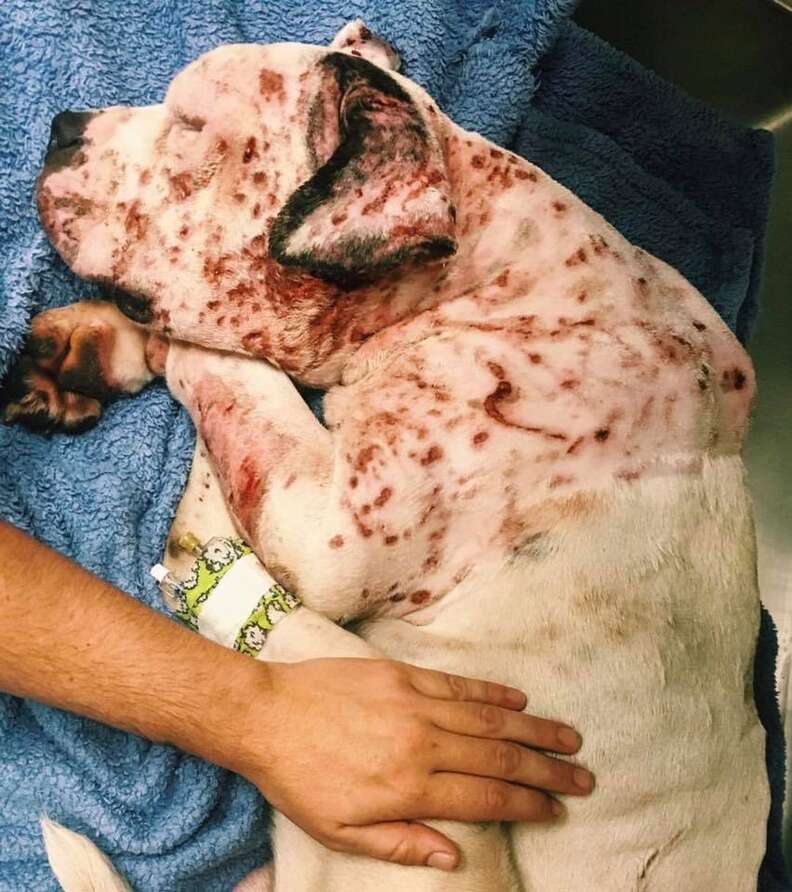 The vet team put Liam on an IV drip to rehydrate his body. They also started cleaning his wounds and giving him antibiotics. But they weren't sure if Liam would survive the night — and neither were Melanie and Kent.
"His head was hung," Melanie Pafford said. "His whole spirit was broken — so broken. He was giving up, and that's what concerned us."
But no one wanted to give up on Liam.
"We talked to him and told him that from here on out, we are here," Melanie Pafford said. "The Streetdog Foundation is here, and everything is going to be alright. Everything will be wonderful for him."
The emergency vet clinic couldn't allow Melanie and Kent to stay overnight with Liam, so the Paffords went home for the night, although they kept their phones close in case the clinic contacted them.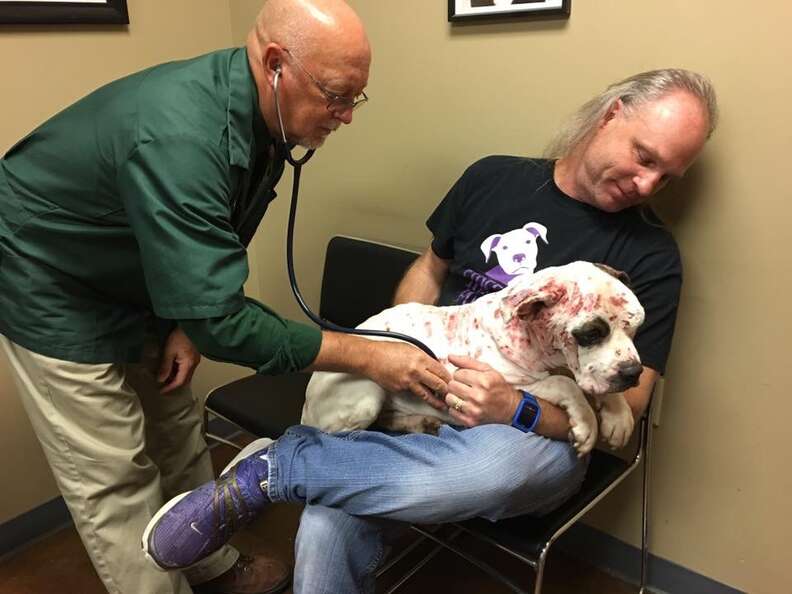 The next morning, a miracle happened — Liam had survived the night.
"I promised him before I left that I would be back the next morning to get him, but normally I'm not up at 7:30 in the morning because I work evening shifts at work, and I'm usually asleep at that hour," Kent Pafford said. "One of the other volunteers said that they'd go pick him up, but I wasn't going to let that happen because I had promised him, and I didn't want to break that promise. So I picked him up the next morning with Melanie."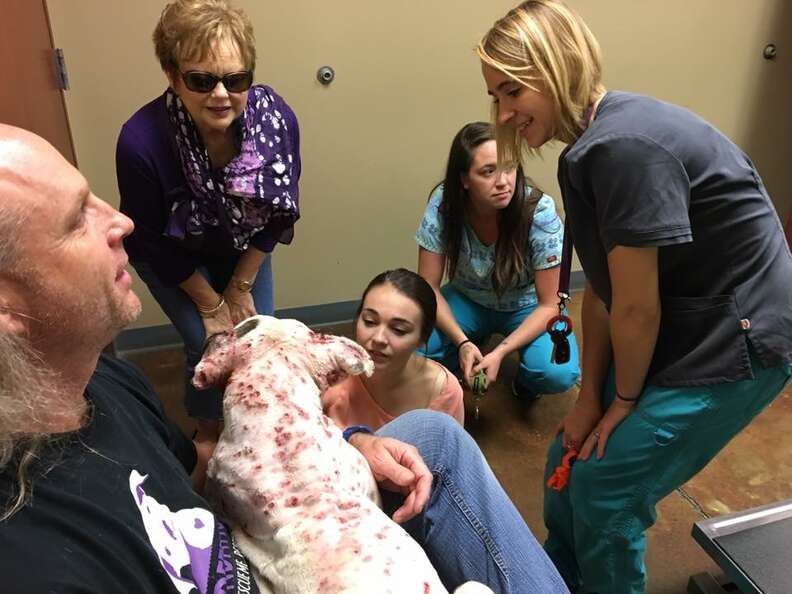 When Liam saw Kent and Melanie again, he wagged his tail.
"He wagged his tail — just the tip," Melanie said. "But he still had his head hung, and he was looking up from under his eyebrows because he was still sad and he'd been through a lot."
The Paffords loaded Liam back into their van and drove him to Grace Animal Hospital, where he still remains today. Besides his multiple puncture wounds, Liam turned out to be heartworm positive, so he'll need to stay at the vet for several more weeks.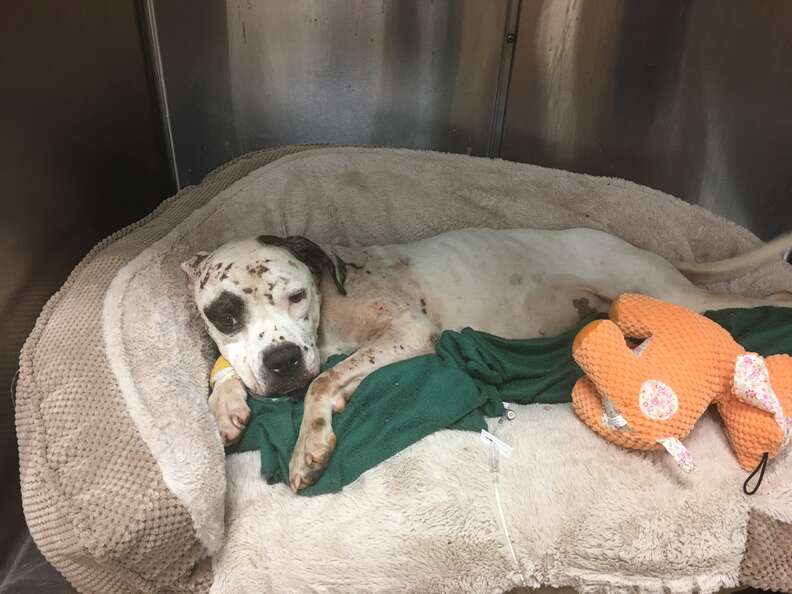 Melanie and Kent visit Liam as often as they can. They talk to him, tell him jokes and sing to him. And slowly but surely, Liam is perking up. In fact, he even smiled for the first time a few days ago.
"We call it the street dog smile," Melanie Pafford said. "When we take an animal like this, an injured angel, it can take some time before they realize there is hope. But getting to see that smile — that's just everything."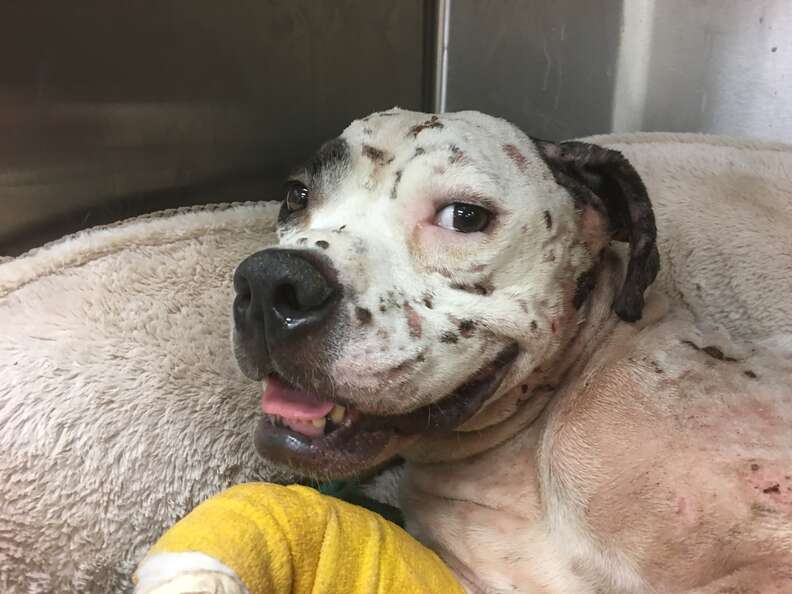 The Paffords don't think that Liam ever had a dog toy or anything that was his own before, so everyone has been showering Liam with gifts.
"Even though he's 1 year old, he's never had anything of his own," Kent Pafford said. "So volunteers gave him different toys — one gave him a fox, and he got a stuffed dog and stuffed giraffe. He looked at them [the toys] kind of curiously like he didn't recognize anything like that, and we said, 'These are your babies.' He sniffed, he licked and now he realizes that these are his babies."
Liam has taken a particular liking to his stuffed dog, whom the Paffords refer to as "Liam's baby."
"He hasn't wanted to walk on his own — he's so scared of the outside," Melanie Pafford said. "But he actually walked out of his kennel to get his dog back, which was huge."
With love and support, Liam is getting a little better each day — and he's smiling more and more.
"Every time that I go in, he will still have his head down a lot and look out from under his little eyebrows," Melanie Pafford said. "And I just start talking to him and singing whatever little made-up song that I'll come up with, and you see him responding. And then he'll do the open mouth smile. Those smiles are wonderful. He's realizing that he has people who love him."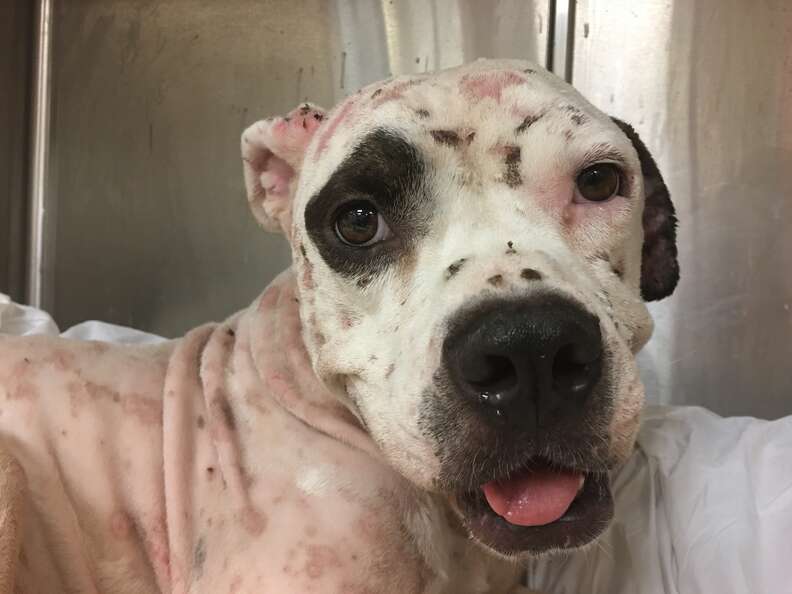 To help Liam make a full and speedy recovery, you can
make a donation
to Streetdog Foundation. You can also follow Liam's progress on
Facebook
.