People Can't Believe Who They Find Outside In Freezing Cold Tent
"It is not safe for these dogs."
When one border collie escaped the makeshift outdoor enclosure where she and 15 others were being kept, she started running, doing what she was trained to do.
These border collies had been bred to be working dogs who herd cattle. But when this dog tried to do that to a group of cows nearby, tragedy struck.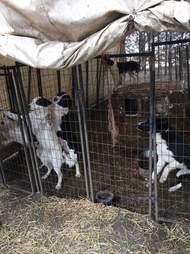 ECHO Rescue
"Apparently she escaped from his makeshift enclosure and ran onto the neighbors cattle farm," Debbie Lazaro, president of East Coast Herding Dog Organization (ECHO) Rescue, told The Dodo. "The farmer shot her in order to protect his livestock ... [the cows] did sustain some unfortunate injuries."
ECHO Rescue
Such a loss never would have happened if the 16 dogs had not been left in a backyard shed in Kansas after a backyard breeder decided to shut down his operation.
"He moved away from the property and the dogs were left behind," Lazaro said. "He visits approximately once a day to 'take care of them.'"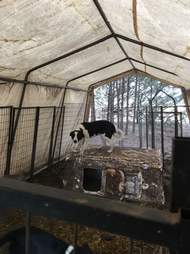 ECHO Rescue
It was obvious to rescuers that the breeder's care couldn't be sufficient.
"It's cold in Kansas. These dogs are outside ... It is not safe for these dogs," ECHO Rescue wrote in a plea on Facebook earlier this week.
ECHO Rescue
Temperatures in Kansas are dropping, and rescue organizations, once they discovered what was under the tent, realized they urgently needed to find a place for the remaining 15 border collies to go.
For rescue organizations who operate on donated resources and volunteered time, this can be a tall order.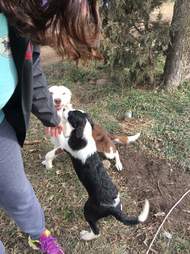 ECHO Rescue
"This has been a massive undertaking by several small rescue groups," Lazaro said.
ECHO Rescue
ECHO Rescue
Now all of the dogs need to get veterinary care — shots, heartworm tests and spaying and neutering.
Rescuers also have to get to know the dogs' personalities so that they can figure out how to place them in the most perfectly suited homes.
ECHO Rescue
What would be most appreciated at this stage of the rescue of these 15 abandoned dogs? "Anything that can help with these dogs finding a good, loving home," Lazaro said.