Shelter Overflowing With Dogs Has No Space Left
"We are up 304 animals."
Two shelters in Atlanta, Georgia, are facing a crisis: More homeless animals than ever before are coming through their doors — and there's no end in sight.
But the facilities are just not built for this many animals.
"Last July, we took in 1,500 total animals at the shelters which is already a high number," Karen Hirsch, public relations director for LifeLine Animal Project, which managers the Fulton and DeKalb County Animal Services, told The Dodo. "This July 2019, we took in a total of 1,804 at both shelters, so we are up 304 animals which puts a tremendous strain on the shelters."
In order to save lives, kennels are holding up to five or six dogs each.
The snuggling piles of dogs may look cute, but even with carefully matched groups and temperament testing, problems still happen.
"When things are stressful because of high intake, the dogs are more easily triggered and more fights happen," Hirsch said. "When that happens we will try a different arrangement, and if it is one dog causing all the fights, he will be housed alone but may become urgent due to lack of space."
July and August are typically the busiest months for these shelters. But the reason behind the growing numbers of strays and surrenders is a mystery.
"We are unable to pinpoint any reasons other than the usual," Hirsch said, "roaming dogs who are lost or got out of their fence; cats and dogs that aren't fixed are having unwanted litters of puppies and kittens who end up at our shelter, and people giving up their pets."
Last week, the shelter put out a plea on social media for emergency foster homes in the Atlanta area. The shelter gives all volunteers a starter pack of food, a dog crate and any pet supplies their temporary guest may need.
"With intake on the rise, we need you, our community, to help save our city's animals," Fulton County Animal Services wrote on Facebook. "If you can foster for two days, two weeks, or even two months, please sign up."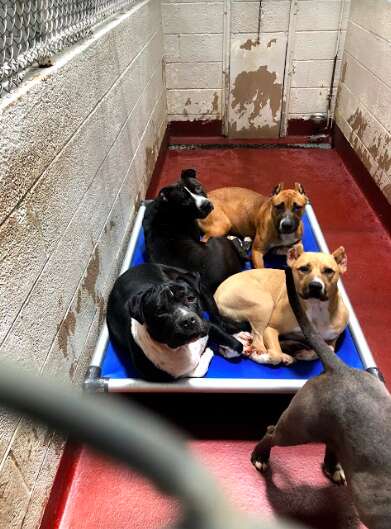 For those ready to add a new member to their family, the shelter will be waiving adoption fees for a week in August during a Clear the Shelters event. This summer, there's no better time to give an animal a second chance.