Asher didn't have long to live, and everyone knew it.
Animal control officers had found Asher, who is estimated to be about 14 years old, in a field by himself in Orange County, California. He couldn't move very easily, and his coat was filthy from pooping and peeing while lying down.
The officers delivered Asher to a local shelter, where he was put on a five-day stray hold, which gave Asher's family time to come forward and claim him. But unfortunately, no one did.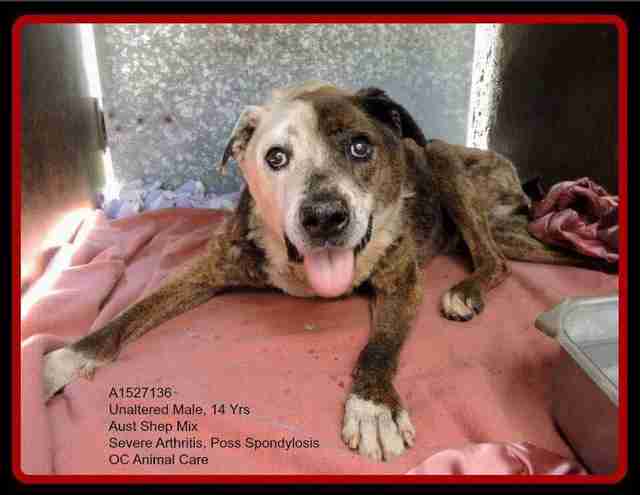 The next step was being put up for adoption, but the shelter believed that Asher was in pain, and adoption might not be the best — or most realistic — option.
"He was euthanasia-listed the same day he became available because they thought that he was suffering, and because of how much he was panting, and not being mobile," Kelly Smíšek, executive director of Frosted Faces Foundation (FFF), a rescue group based in San Diego, told The Dodo.
But when Smíšek learned about Asher, she knew she wanted to help him. Even if he didn't have many days left, she believed he deserved the opportunity to be in a family.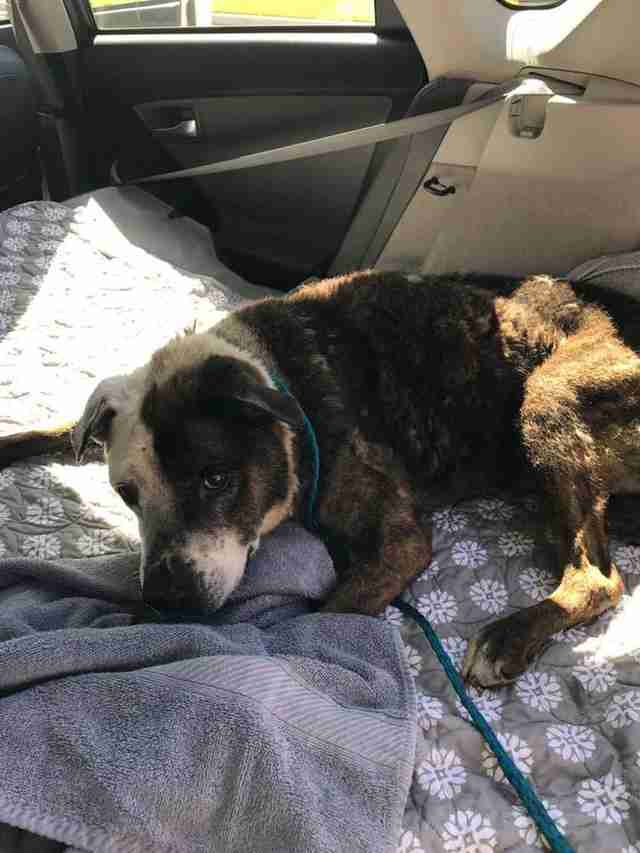 Once Smíšek had brought Asher home with her, she and her husband Andy bathed and groomed him.
"Sometimes I think cleaning them up is more for us than them," Smíšek said. "But I also know that it must feel good to be clean, and have help standing up."
Asher, however, wasn't too sure about this part of the deal.
"When we first got him, he was very frustrated," Smíšek said. "He was unfamiliar with being brushed or handled, and so he was turning quickly to correct us with his mouth, and did not like it. I don't think it was so much pain as it was the unfamiliarity of it."
Worried about getting bitten, Smíšek had to temporarily put a muzzle on Asher while they groomed him. But it was Asher's immobility, which turned out to be a condition called spondylosis deformans, that concerned Smíšek and her husband the most.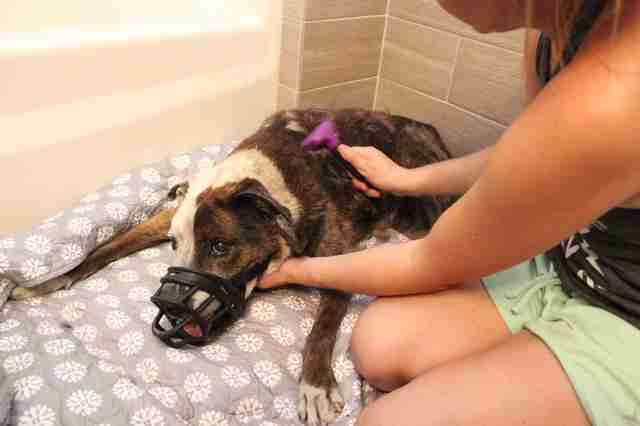 "I will admit as we were bathing him, Andy whispered something in the tune of, 'You know, sometimes euthanasia isn't wrong. This guy looks so bad,' after we had spent all day busting our buns to exit him in time," Smíšek wrote in a Facebook post. "Andy wasn't wrong and I silently gave him the 'Well he is here, so he will have dignity, now keep helping me please' look."
Despite their doubts, Asher finally started to relax, and Smíšek took this as confirmation that she'd done the right thing.
"He was in the tub and getting comfortable, and we were able to take the muzzle off, and he just started licking me," Smíšek said.
After a warm bath, Smíšek wrapped Asher in a towel …
… gave him a hearty meal ...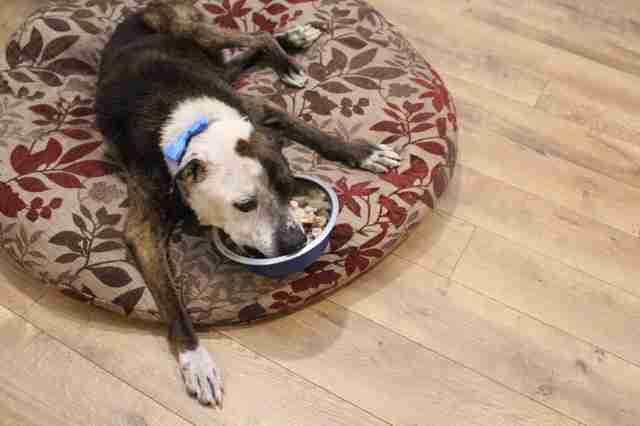 … and let him relax in his dog bed.
Asher also got the chance to explore the outdoors.
"He walks very slowly, but he walks," Smíšek said. "This morning, he was out wandering around in the yard, and then he got to come inside. He knows where the dog beds are — he finds his bed and he plops right down on it."
Although Asher can eat on his own, Smíšek will often hand-feed him.
"He can mostly eat by himself, but he can't manipulate his bowl or turn his head like a normal dog to get food out of his bowl, so we have to kind of scrape off the rest of the food and hand-feed him, and he loves that," Smíšek said.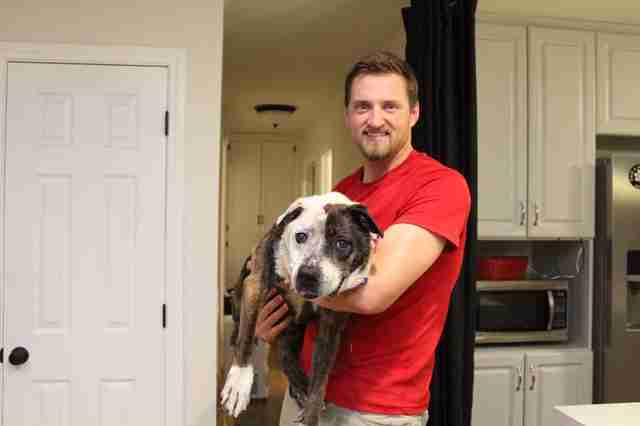 "Now he's very comfortable with us, and we can approach him and help him to his feet because he always needs help doing that," she added.
Asher also loves showing affection — not only to Smíšek and her husband, but to the other dogs at their home.
"His deep-strained breathing eases with every day, and he loves being part of the pack," Smíšek said. "He offers kisses to any person or pup who gets near to his face. His neck is terribly stiff, so he can't take the initiative to direct the kisses at you, but if you're in the line of fire, you get smacked with his long lizard tongue."
Smíšek is waiting to get Asher's blood results from the vet to find out what kind of medication can ease his symptoms. But even with medication, she knows that he might not be around much longer.
Even so, Smíšek knows it's worth it.
"To some people, they might look at him and think, 'I don't know how this dog is happy,' because he looks really stiff, and he's kind of just standing there and panting," Smíšek said. "But he's clean and he's eating and looking around and enjoying things. I think we've learned that it's always important to take these guys out of the shelter, even if it's just for one more night."