This Shelter's 'Puppy Cart' Is The Cutest Thing Ever
SO MANY PUPPIES 😍🐶
Whenever the Nebraska Humane Society gets in a big litter of young puppies, the question always arises of how the staff is going to transport them all around the shelter. Puppies require a lot of attention and care that involves moving them around to different parts of the shelter, but young puppies are also very susceptible to getting sick, and therefore letting them walk, sniff and lick their way across the shelter isn't always the best idea. 
In order to keep all their incoming puppies safe, the shelter came up with the best idea, which has since turned into the cutest phenomenon ever.
Nebraska Humane Society
Staffers at the shelter created a "puppy cart," a big cart with an adorable label designed to carry puppies around the shelter. Not only is it an incredibly smart invention, there's also absolutely nothing cuter than a huge cart of puppies being pushed down a hall together. 
Nebraska Humane Society
"We are a very clean shelter, but we intake all sorts of animals from all sorts of situations," Pam Wiese, VP of public relations and marketing at Nebraska Humane Society, told The Dodo. "As young pups don't have full vaccinations, they are susceptible to picking up anything that may be lingering in higher traffic areas. To keep their feet off the floor and as safe as possible we transport them in the puppy cart. It's a sterilizable way to move them. It's also much easier to transport multiple puppies instead of making six trips to carry six puppies!"
Nebraska Humane Society
No one at the shelter could handle how cute the puppy cart idea was, so they posted about it on social media …
Nebraska Humane Society
… and as it turns out, no one on the internet could handle it, either.
"It just makes people happy to see a bunch of cute puppies," Wiese said. "They actually request it — but we can only utilize it when we actually have puppies for adoption."
Nebraska Humane Society
While puppies are undeniably adorable, the Nebraska Humane Society also has tons of other dogs up for adoption who are just as wonderful, and sometimes they'll use the puppy cart to show them off, too, in hopes that it will help to get them adopted. 
The shelter's most recent puppy cart riders were a litter of 9-week-old boxer mix puppies. Their mom came into the shelter pregnant and gave birth in her foster home, where she and her puppies stayed until the puppies were old enough to be put up for adoption.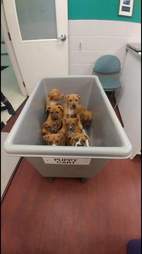 Nebraska Humane Society
The shelter posted a picture of the puppies riding in the puppy cart on Wednesday, and yesterday when they all went up for adoption …
Nebraska Humane Society
… there was a line out the door of people wanting to adopt them. The entire litter has since been adopted into wonderful forever homes, and everyone at the shelter is so grateful to the puppy cart for helping their residents find the best homes.