Homeless Man's Heartbreaking Goodbye To His Dog Sparks Something Amazing
"We were young when we came together. Now, we're both old men. Be a good boy, Lucky. I'll be back for you."
A homeless man and his best friend of 14 years were just given a second chance thanks to the kindness of those determined to keep them together.
When Mr. Williams brought his dog Lucky to Gwinnett County Animal Welfare in Lawrenceville, Georgia, on Friday, he feared it would be the last time they ever saw each other. Williams had been evicted from his home earlier that morning, left with only $40 in his pocket and the belongings he could fit in the back of his car.
"He had no items up front because Lucky is his shotgun rider," Katie Corbett, a shelter employee working the desk that day, told The Dodo. "That was the first sign for me that this was not going to be an ordinary owner surrender."
With nowhere to sleep that night, Williams faced an impossible choice. Despite his strong bond with Lucky, he felt he had to give up his best friend in hopes that the old dog would find a more stable situation.
Their parting was emotional for everyone present: "We all had tears in our eyes while Mr. Williams completed Lucky's paperwork and handed him over," Corbett said.
Before Williams left the building, he looked into Lucky's graying face and spoke these heartbreaking words: "We were young when we came together. Now, we're both old men. Be a good boy, Lucky. I'll be back for you."
Lucky cried at the door as his dad walked out, and Corbett knew that transitioning to shelter life wouldn't be easy for the pup. But fate smiled on the pair just when things looked their darkest.
"The deputy director of the Community Services Department was onsite that day and heard about [Williams'] story," Corbett said. "Almost immediately, he was on the phone with the county's Senior Services Department trying to figure out what resources they could offer and what we could do to help."
Williams moved into a hotel room that night, a placement arranged by the Senior Services Department and a few generous anonymous donors.
Once Williams was set up in a safe space, the next challenge was to get Lucky out of the noisy shelter and into a temporary home. Corbett shared Lucky's story on Facebook, and her post quickly went viral.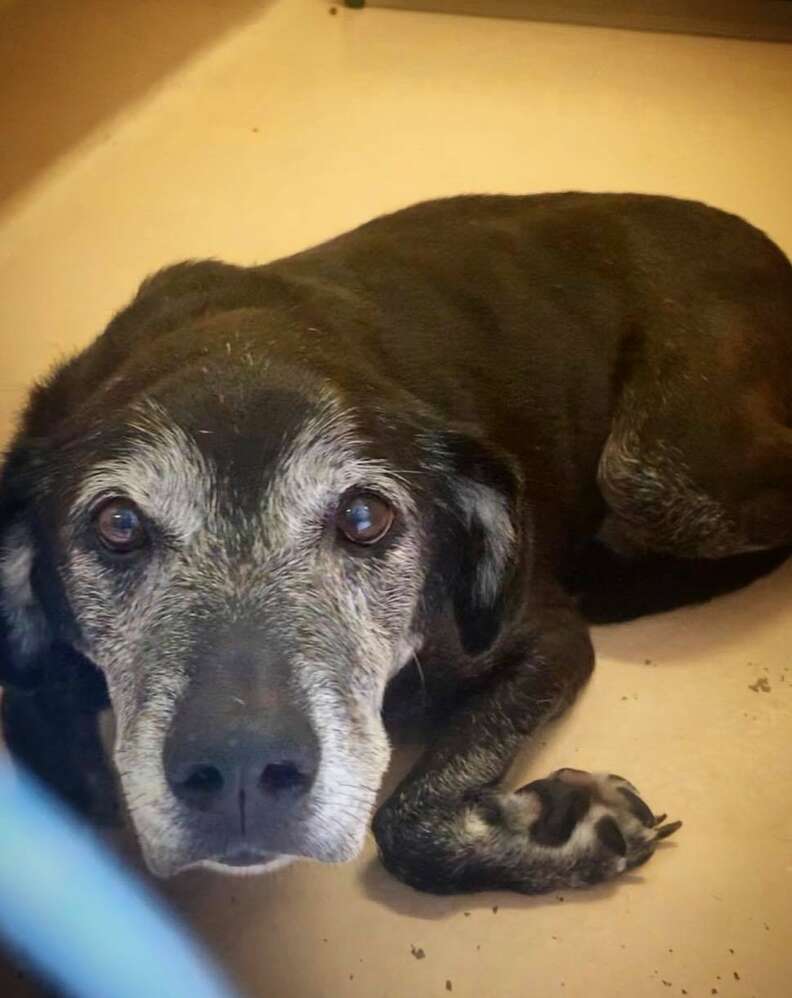 The next morning, a man walked up to the kennel desk and showed Corbett a photo of Lucky he had on his phone. "He came in prepared to take him home right away," Corbett said. "He didn't want him to spend another minute in the shelter."
As soon as Lucky met his foster dad, Corbett could immediately see the change in anxious dog's behavior. "He was pacing back and forth, whining constantly and couldn't stay settled," Corbett said. "When I brought Lucky out in the yard to meet the foster, he went right to his feet and laid down."
"It just seemed like the perfect fit," Corbett added.
Corbett's Facebook posts about Lucky and his dad have continued to gain traction, touching many members of the community. Local organizations and individuals have stepped forward to offer support to the little family and help get their life back on track.
For now, the sweet senior seems content to play with his foster siblings and lie on the cool hardwood floor or in the shade of the backyard while he waits to be reunited with his dad.
Williams can't believe the lengths that people have gone to to help him and Lucky.
"Does animal control always do this? I keep telling everyone that animal control did this for me. I didn't even think about where I would sleep that night. I was in shock. I left [the shelter] and thought, 'Oh God, I have nowhere to lay my head tonight,'" he told Corbett. "This is bleeding miracles ... God knocked it out of the park with what was supposed to be the worst day of our lives."