The residents of Vieques, a small Puerto Rican island off the coast of the mainland, are afraid for their future.
"There's an intense fear that they have been forgotten about — that this is it," Sára Varsa, senior director of the animal rescue team at the Humane Society of the United States (HSUS), told The Dodo. "I'm very scared — for the people and for the animals. I think this is going to be a long, long, hard road."
After Hurricane Maria battered Vieques, as well as the main island of Puerto Rico, people were left without shelter, food and water. But it's not just people who are suffering — Vieques' many animal residents are in desperate need of help too.
Before the hurricane, Vieques was a popular tourist destination, boasting idyllic white sand beaches, palm tree forests and a majestic population of wild horses. But today, the island is unrecognizable.
"There's significant infrastructure damage," Varsa said. "There are homes that have been destroyed and ripped apart. Concrete structures like seawalls are torn apart. Boats are in houses. They have no power. Besides some extremely stoic palm trees, it just looks like every leaf was just ripped off the trees. It's typically a lush, tropical environment, and now it's just bare."
Last week, three officers from HSUS arrived on Vieques to provide aid to animals — but they were surprised to learn from residents that they were some of the first relief workers to get there.
"We were using our phones to let them talk to their family members, because they hadn't even talked to their family members in days — they didn't know that they were OK," Varsa said.
Since the humanitarian need is so great, HSUS is working to get food and other supplies to the people on Vieques, while also making sure the animals are being looked after.
The Vieques Humane Society, which houses neglected and abused animals on the island, had part of its building destroyed, so the HSUS officers are helping to rebuild the shelter to make sure the animals inside remain safe.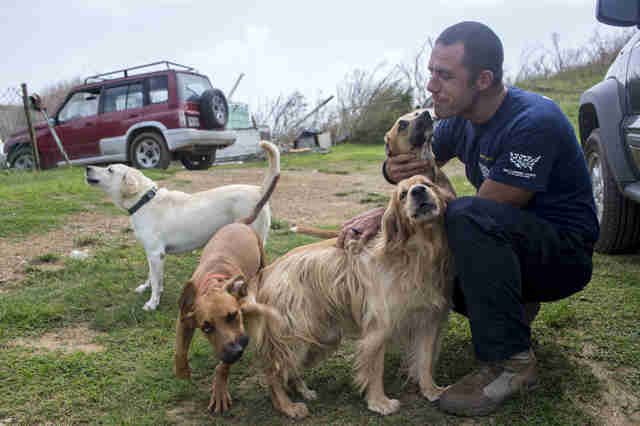 "They've lost a lot of their indoor and outdoor space, as well as their veranda space, which provided [a] shade break for the animals," Varsa said. "So we're trying to tarp some of the structural damage to the building."
Then there are the animals living out in the elements. "There was already a street dog and street cat population there, and now they are struggling to find food," Varsa said.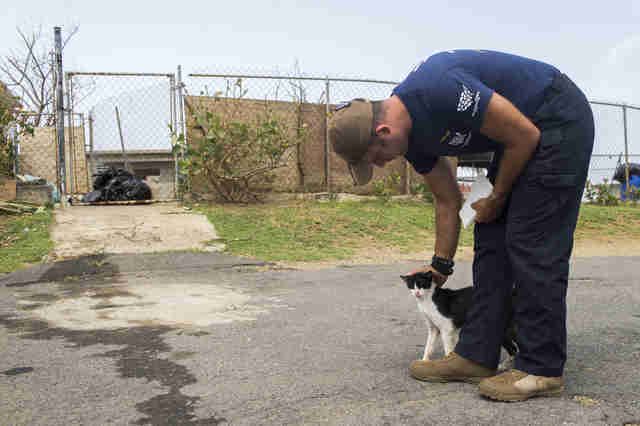 To help the street animals, HSUS has been putting out food and water, and providing vet care for any who are sick and injured.
People who own pets are doing their best to care for their animals, but Varsa worries what everyone's future will look like.
"There's an intense fear that they cannot provide for their animals," Varsa said. "What's going to happen if they can't rebuild their home and the tourism industry is impacted? What's the long-term plan for Vieques? If they don't have jobs, how are they going to feed their pets? How are they going to take care of them?"
The island's iconic population of wild horses is also suffering in the aftermath of the hurricane, even though they're used to finding food and water on their own.
"The wild horses are having to reposition themselves," Varsa said. "Now that the vegetation has been ripped up, they're having to venture out into different areas to search for food and water … which increases their ability to get injured because they're getting on the roads."
"We know that horses have perished," Varsa added. "I can't tell you how many, but they definitely found animals deceased after the storm and on the roadways, which is devastating."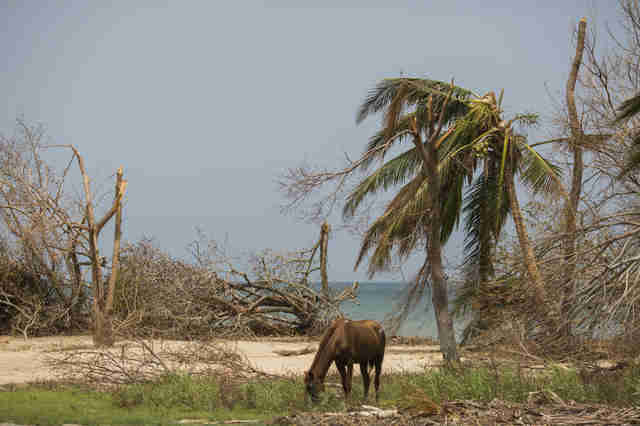 At the moment, the issues on Vieques feel overwhelming, but HSUS is working tirelessly to help as many animals and people as possible. More officers have arrived on the island to distribute food, water and other supplies to both people and animals. HSUS has also set up mobile vet clinic where people can bring their animals for treatment.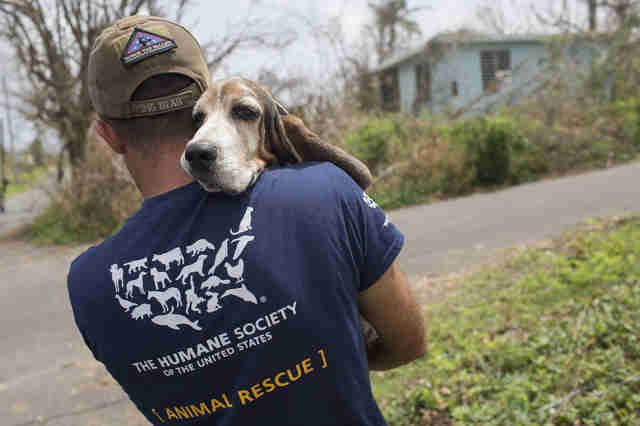 "We had our first mobile clinic yesterday actually," Varsa said. "We saw 40 dogs, three cats, one [horse]."
HSUS is also moving shelter dogs and cats off the island to create more room at the shelter for other animals — animals who might be hurt or who have lost their home.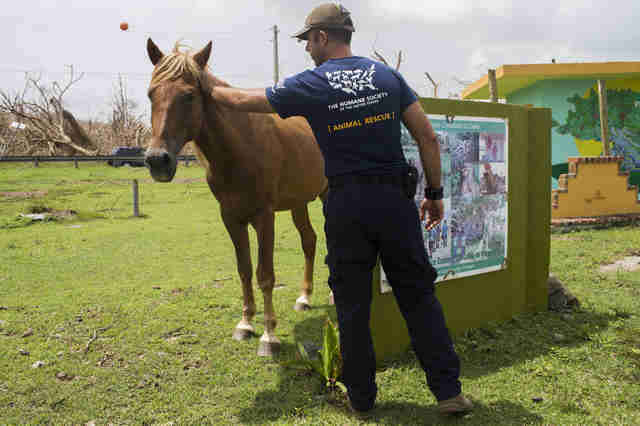 The real work, however, is yet to come, Varsa explained.
"They survived the storm, but the crisis now is, 'How are they going to survive the aftermath?'" Varsa said. "It's one thing to sustain life in the heavy wind and flooding … but now, the island as they know it is forever changed."