Animal Officer Takes One Glance At Dog He Saved — And Knows He's Keeping Her
"In that first second of eye contact, Marzipan embodied every sad story, every awful situation, every bad ending I have experienced on my job ... and with a glance told me that I was doing the right thing."
Marzipan and two other dogs were brought to the City of Albuquerque Animal Welfare Department by their owner, who said she was surrendering all three dogs so that they could be put down. When the shelter asked her why she thought they needed to be put down, she explained that two of the dogs had been shot and one had been poisoned. All three dogs were crammed into one broken crate, and desperately needed help.
Adam Hevey, an animal welfare officer who works with the shelter, was called in to help handle the surrender of the three dogs, and was shocked and appalled by the condition they were in. While all of the dogs were suffering and needed help, he was particularly touched by Marzipan, and felt strangely connected to her.
"Marzipan was sitting still in the middle of the crate with these two other dogs that were barking and thrashing around in pain and panic," Hevey told The Dodo. "Through all that Marzipan just sat still and looked directly at me while I documented the conditions. She was swollen, bleeding and filthy, but the second our eyes met, I had a visceral feeling of connection to this dog that I cannot explain."
All three dogs were quickly taken to the shelter's veterinary staff, who set about treating them and their injuries right away. Despite her condition, Marzipan was immediately excited to meet all of her new friends at the shelter, and was eager to greet them even though she was in immense pain.
"Upon being removed from her crate, she walked up to myself and the vet staff and just wagged for everything she was worth," Hevey said. "She wags as hard as she can with her little bobtail every time she sees me, sometimes so hard she loses balance."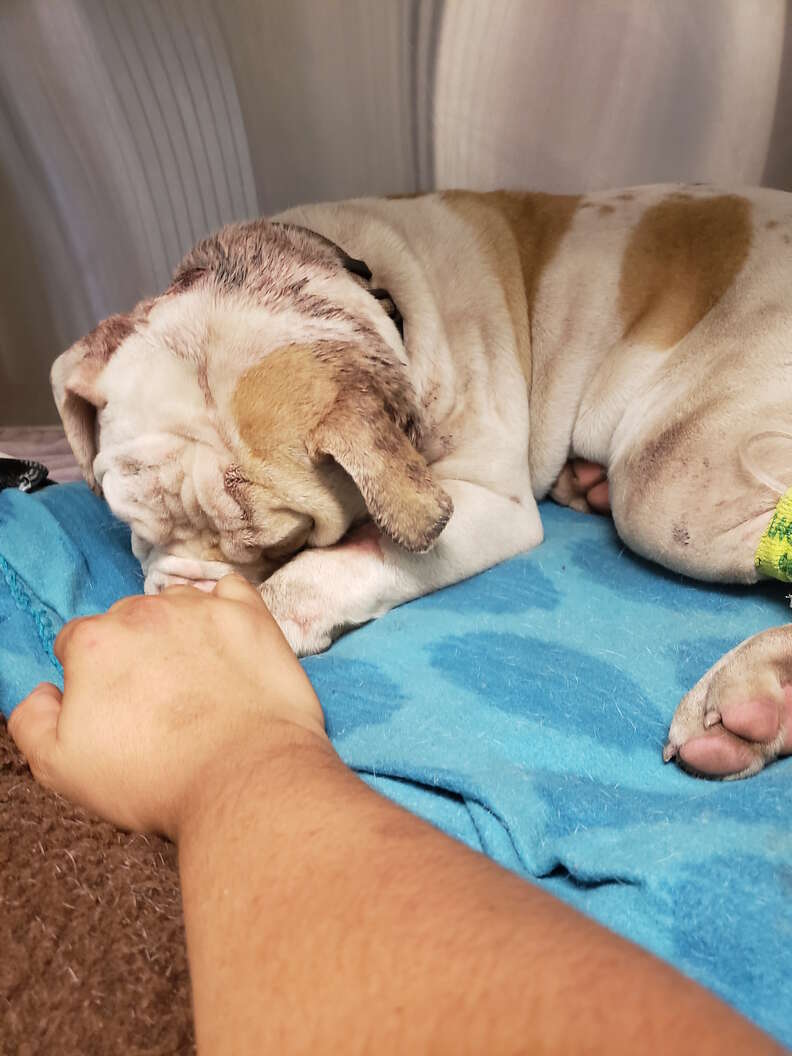 After examining her thoroughly, it was determined that Marzipan had been shot twice in the head, and while she was alert during her exam, she was slowly entering shock, so the vet started her on pain medication and fluids right away. She was eventually given antibiotics as well, and then sedated so the veterinary team could clean and treat her gunshot wounds. The other two dogs were also treated, and are now doing extremely well.
While Marzipan was recovering from her wounds at the shelter, Hevey couldn't stop thinking about her. For some reason, something about her and her story had struck a chord with him, and he just couldn't seem to get her out of his head.
"Every day I would carve out time to go to treatment where she was being housed and sit with her for at least a few minutes," Hevey said. "This graduated to taking her out of her treatment area to use the restroom when she was stable enough. I even did this on one of my weekends because I was so worried about her condition."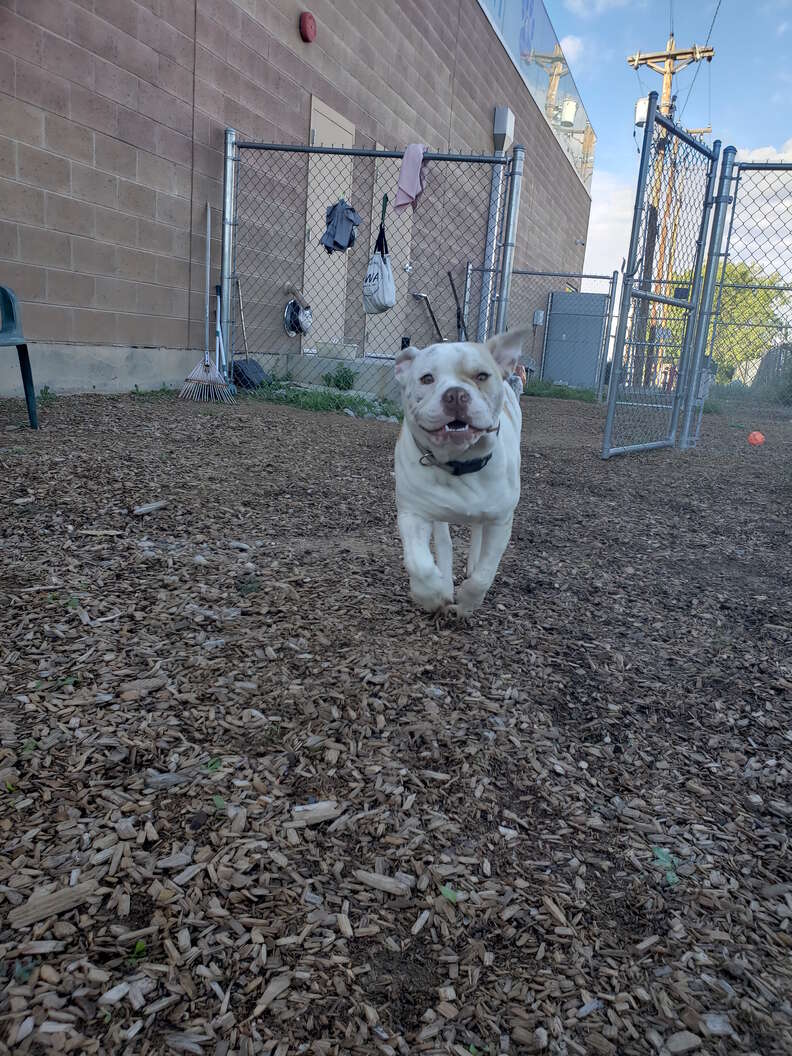 When Marzipan was finally well enough to head off to a foster home, Hevey volunteered to take her — and knew she would be coming home with him for good. He had started falling in love with her the moment he met her, and he knew she was meant to be his dog.
Marzipan only just joined her family, and yet she's already thriving in her new home. While she has some hearing and sight loss on her left side due to her injuries, she doesn't let that slow her down at all, and loves running around and playing with her new family and dog sibling, Susie. She loves stealing socks and chasing tennis balls, and seems so happy to finally have a home where she can just be herself.
Marzipan may have had a rough start to life, but now she's found the best family, and her new dad couldn't be happier with how things worked out.
"In that first second of eye contact, Marzipan embodied every sad story, every awful situation, every bad ending I have experienced on my job," Hevey said. "She made every time I have lost sleep over the suffering of animals I have witnessed into her own form and with a glance told me that I was doing the right thing, and that I would be OK."