Cat Was So Scared She Wouldn't Let Anyone Touch Her For A Year
"It was marvelous. It just felt like my heart burst with joy."
A 2-year-old cat named Angie didn't like anyone touching her. If a person reached out a hand to pet her, she'd hiss and growl, or run away and hide in a dark corner.
"She lashed out at any human who tried to get near her," Fiona Loh, an independent cat rescuer based in Singapore, told The Dodo. "She would also urinate out of fear if anyone touched her. She was a wreck emotionally."
Fiona Loh
Angie's fear of people was understandable based on her history. Last year, rescuers and authorities gained access to a two-bedroom apartment in Singapore and found 94 sick and starving cats living in filth. Angie was one of the them.
"Angie was malnourished and extremely timid," Loh said. "It took us quite some time to be able to get her secured in a carrier during the rescue operation."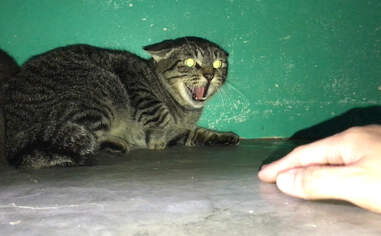 Fiona Loh
The owner was keeping the cats to "sell" them, but in reality, most of the cats were too sick to be sold. Many of the cats were also very skittish, having had very little interaction with people in the past.
The rescue team successfully removed all of the cats from the derelict apartment and placed them in a clean and secure boarding facility. Then, over the next 12 months, most of the cats were adopted by forever families or placed in long-term foster homes — everyone except Angie. This had a lot to do with the fact that Angie never lost her fear of people.
Fiona Loh
When the boarding facility eventually closed, Loh took Angie home to foster her, hoping that Angie would come out of her shell.
Fiona Loh
"After daily observation, I noticed that Angie is not afraid nor timid," Loh said. "Through a video camera setup, I discovered that Angie explored the room she is currently in and played with toys on her own. But once any human enters the room, she scrambled back into her cage space. And then hissed at the human."
Loh still refused to be discouraged.
Fiona Loh
"I believed Angie would open up to humans eventually — it is only a matter of time and patience," Loh said. "Angie was not able to find an adopter prior to this because she was too 'feral' in the sense. She was not ready to be adopted. Should we rehome her hastily, she may end up going missing, or try means and ways to escape her adopter's home, or injuring people who may not have experience with such cats."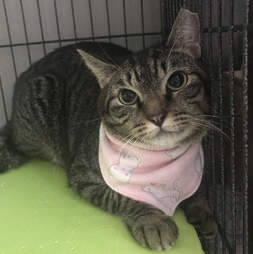 Fiona Loh
Finally, after nearly a year of not being able to touch her, Loh reached out a hand and stroked Angie's fur. This time, Angie didn't move.
"It was marvelous," Loh said. "It just felt like my heart burst with joy."
Fiona Loh
After this encounter, Angie became more and more accustomed to Loh — and she even started to enjoy getting attention.
Fiona Loh
"Angie is a very affectionate little girl," Loh said. "She kneads a lot, and now meows if she wants me to just sit with her. While she still flinches sometimes when I touch her, especially her face, she bounces back quickly and doesn't flee after that."
Fiona Loh
"She loves belly rubs, and would usually flip over on her side to ask me to rub her belly," Loh added. "She still needs her safe space in times when she feels unsure, but otherwise, she is doing very well now."
Angie will stay with Loh a while longer to continue her rehabilitation process, but she'll eventually be up for adoption. Loh is hoping to find a very special home for Angie.