On December 26, 2017, a greyhound known as Bart's Upfront was racing at the Palm Beach Kennel Club in West Palm Beach, Florida, when he took a wrong step.
While sprinting along at top speed, Bart's Upfront fell and reportedly went flying across the track. His back right leg sustained a terrible break.
Even though he was surely in pain, Bart's Upfront, now known simply as Bart, wasn't even taken to the veterinarian until the following day. When he was, it was to be euthanized, which is common practice for racing greyhounds who get injured on the track. Bart was just 2 years old.
But Bart had an amazing turn of luck.
Instead of euthanizing Bart, the vet contacted a rescue organization. And that was the beginning of a whole new life for Bart.
After undergoing three surgeries and a recovery lasting nearly a year, Bart is a happy and healthy dog with a forever home to call his own.
Bart's story is just one of many being told about greyhound racing right now, as roughly 8,000 greyhounds are stuck in racing kennels at tracks across Florida. On Election Day, November 6, Florida voters will have the opportunity to cast their vote for Amendment 13, which would ban greyhound racing in Florida. Forty other states have already put an end to greyhound racing.
Calling Florida's racing industry the "largest remaining bastion of this 'sport' in the United States," Kitty Block, acting president and CEO of the Humane Society of the United States (HSUS), believes that Amendment 13 could make a huge difference for thousands of greyhounds.
Undercover footage of the Palm Beach Kennel Club just released by HSUS helps to illuminate what daily life is like for racing greyhounds.
"This investigation exposes the cruelty of greyhound racing, showing dogs muzzled 95 percent of the time — hyperventilating inside the cages where they remain most of the day, before they are released only to make a mad dash around the racetrack," Block told The Dodo. "The racing itself is dangerous, with a dog dying every three days on the tracks. This is not acceptable."
In the past five years, over 460 dogs have died on the 11 racetracks across Florida. "At that rate, four dogs will die between now and Election Day," HSUS wrote. "These dogs deserve so much more than a lifetime of pain, and you can help."
If 60 percent of Florida voters are in favor of Amendment 13, greyhound racing would be phased out by 2020. And it seems like the ban has support even from some unexpected places.
"I am not an animal rights activist," Tony Glover, a lawyer from Tallahassee, wrote in a Miami Herald op-ed in September. "To my daughter's great disappointment, we do not even have a dog."
But when Glover ended up landing a job at a greyhound racing regulation agency, he observed some surprising patterns in the dog racing industry. "It quickly became clear to me that the dog racing industry has a major problem," he wrote. "[It] has consistently demonstrated that it is unwilling to adequately protect their animals ... Greyhound racers and their representatives do everything they can to avoid responsibility."
Glover pointed out that the racing industry has attacked even the state's drug testing program and "circulated draft legislation that would have legalized certain amounts of cocaine in a racing greyhound's bloodstream," he wrote.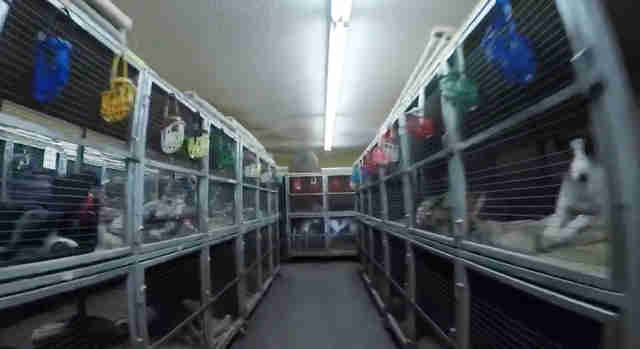 Leading up to November 6, Bart the greyhound is traveling around with his new family, trying to give a face to the thousands of greyhounds who could suffer if dog racing doesn't come to an end in Florida.
"Bart was one of the few survivors of the greyhound racing industry who had an opportunity for a good life," Holly Gann, director of government affairs for Animal Wellness Action (AWA), told The Dodo. "Without Amendment 13, thousands of dogs like Bart will be at risk of serious injuries that routinely kill one dog every three days."
"I now believe that the industry will never change," Glover added, "unless Floridians decide to change it."
The Palm Beach Kennel Club did not immediately reply to The Dodo's request for comment.