Dog Who Lost Her Hair In Puppy Mill Still Has The Best Smile
Her favorite thing to do is eat — and she found a VERY special dad who will totally spoil her 😉🥗
When rescue workers with the Atlanta Humane Society arrived at a Georgia home on Wednesday, May 23, they were shocked by what they found.
An anonymous tipster had reported animal hoarding and a possible puppy mill operation at the property in Murray County, but the extent of the neglect was overwhelming.
Nearly 80 dogs, trapped inside a chicken wire fence, lay together on the bare ground or perched atop the few, broken plastic doghouses. Many of the animals were panting under dirty, matted coats, while others had no fur at all.
One tiny hairless Boston terrier stood out from the crowd, cocking her head curiously at her rescuers. Little did she know that this small action would win her the most amazing family a dog could ask for.
"We were lucky to take [the terrier], and of course, we saw her immediately," Christina Hill, director of marketing and communications at Atlanta Humane Society, told The Dodo. "She's really precious and she's got a really great head tilt that captured our hearts right away."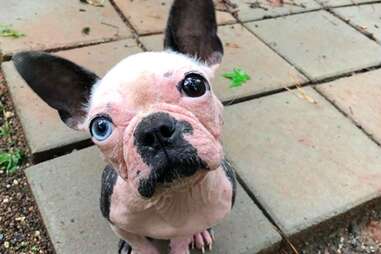 The owners surrendered the animals into the rescue workers' care, and the dogs were removed from the property. While some were healthy enough to be put up for adoption the very next day, the little terrier, whom shelter workers named Abigail, needed a lot of help.
The young dog had lost all her hair due to demodex mange, a condition where tiny mites burrow into the skin, causing severe irritation. Abigail was constantly scratching herself, creating scabs all over her body.
When Amanda Harris, the marketing manager for the Atlanta Humane Society, saw the naked little dog for the first time, she knew what she had to do.
"She saw her and was like, 'I need to foster this dog,'" Hill said. "'She's adorable, I love her.'"
Soon after Abigail left the shelter, Harris noticed how amazingly photogenic her foster dog was, posing for pictures with her adorable head going from side to side. Then inspiration struck — she would start an Instagram account for Abigail. But instead of hiding the dog's health issues, Harris would put them front and center.
That's how Abigail became "Scabigail."
"She was like, 'This will be a great way for people to engage in the work we do and it'll be fun for me,'" Hill said. "'She's super photogenic and super cute. We always see Instagram famous dogs — why don't we try to make an Instagram famous shelter dog, and raise awareness.'"
It didn't take long for people to start following and engaging with Abigail's account, tracking her journey as she worked to grow back her hair.
"We were really excited by the community's support and rallying behind her, asking how she was doing," Hill said. "It started talks about the case and animal welfare in a really interesting way, because everybody sees the happy ending stories or the really sad stories, but they don't see the process that happens to the animal in between."
As Abigail's fan base grew, she even got a famous follower — Alton Brown. The Georgia-based celebrity chef and Food Network host was browsing the app when he came across Abigail's profile and immediately fell in love with the Boston terrier.
"Alton was posting on our page, 'Is she up for adoption? Is this dog looking for a home?'" Hill said.
Brown and his fiancée, Elizabeth Ingram, an Atlanta-based interior designer, were looking to add a new member to their growing family, and Abigail, whose favorite activity after snuggling is eating, seemed to be the perfect addition.
"He was joking about letting her come to the studio and eat scraps off the floor of the test kitchen, and we thought, 'This is perfect for her,'" Hill said. "This dog has had such a rough time, and for her to get the opportunity to have such a wonderful life and to be loved the way she should be loved — it's heartwarming."
Most importantly, Brown and Ingram promised to continue updating her Instagram account.
Since arriving at her forever home a week ago, Abigail has settled in with her new cat and dog siblings, and is getting used to life as a pampered pet.
And after everything she's been through, she certainly deserves it.