Dog Finally Catches His Own Tail — And Has No Idea What To Do With It
"You got it!"
An upbeat pup named Max just realized a lifelong dream — and his mom managed to catch the whole thing on camera.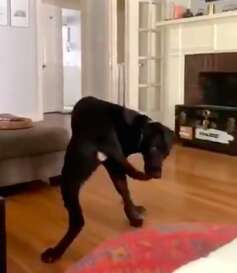 Max and his human mom, Abbie, were stuck at home recently in Jackson, Mississippi, because of bad weather.
"The other day, when tornados came across parts of Mississippi, the storms knocked out a lot of power in Jackson," Harrison Parker, Abbie's friend, told The Dodo. "Abbie was without power for over a day, and Max provided Abbie with infinite entertainment while waiting for the power to come back on."
Max was partaking in one form of canine entertainment — chasing his tail — while Abbie was taking part in one form of human entertainment — filming her dog chasing his tail — when something incredible occurred.
Max actually caught his tail.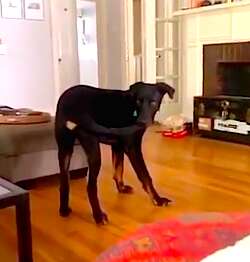 The video shows Max as being a bit taken aback by his sudden success.
Then, as if realizing his dream was finally achieved, he seems like he's determined to make the moment last.
The footage shows Max trying to sneak out of the room, quite awkwardly, with his tail still in his mouth.
"I absolutely lost it," Parker said. "I thought it was one of the funniest videos I had ever seen."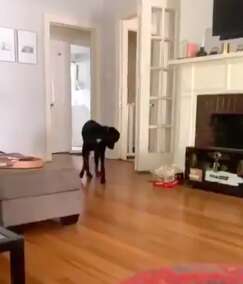 ​​​​​​This is far from the first time the playful pup has given his friends something to smile about.
"I've known Max since not long after Abbie adopted him," Parker said. "He's really the funniest and goofiest dog I've ever met, so I get videos and snaps of him all the time."
Max has brought smiles to thousands of faces with his adorable tail-catching moment.
"Since Abbie isn't on Twitter, I asked if I could post it, and she said yes," Parker explained. "There was no way either of us could have foreseen how much the video would take off, but we were really happy that Max was able to spread so much happiness."
There is such a thing as too much of a good thing. If your pup is
chasing his tail too much
, it's best to ask a veterinarian if there's something else going on.