How To Adopt A Dog From A Korean Meat Farm
"Adopting a dog meat trade survivor is one of the most radically compassionate acts a human being can perform."
When the time comes to add a new member to your family, the question "Where should I go to adopt a dog?" can seem daunting. While the local shelter is an excellent option, potential adopters can also make a huge difference by giving a dog from the Korean meat trade a loving home — and it's easier than you might think!
Korean K9 Rescue, a U.S.-based organization that rehomes dogs from high-kill South Korean shelters and the dog meat trade, estimates that there are approximately 17,000 known dog meat farms in South Korea, and approximately 10 million dogs slaughtered annually in the meat trade industry. For those wondering how to adopt a dog from a Korean dog meat farm, the process is not as complicated as animal lovers may think, nor does it require a passport.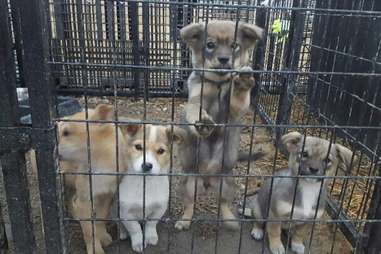 Simply follow these steps and you, too, can give a homeless dog the second chance he deserves:
Find a rescue organization near you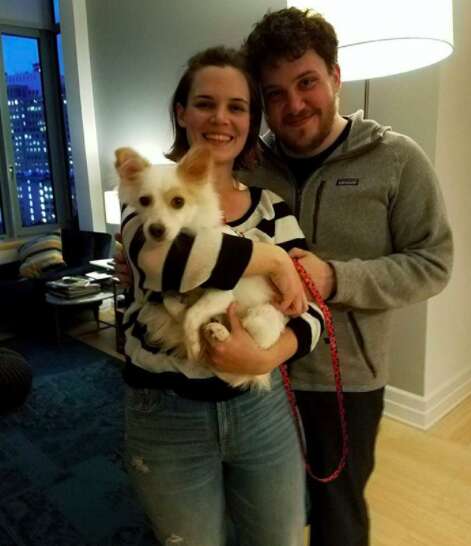 For those ready to expand their family with the addition of a rescue dog, Free Korean Dogs, a U.S. and Canada-based rescue organization, and Korean K9 Rescue are two great places to start looking.
Start your search by visiting the website of the rescue group you're interested in (or search within Petfinder.com), where you can find profiles of the available dogs. You will see details such as the dogs' breeds, names, ages and size, as well as a few notes on their personalities, under the "adoption" section of these sites, along with some fairly adorable photos.
Some organizations may restrict adoptions to certain areas, so be sure to check early on in the process. For example, Free Korean Dogs and Korean K9 Rescue adopt out dogs who were rescued from South Korea to people living in Toronto, New York, Atlanta, Vancouver, Seattle, Los Angeles and Washington, D.C.
While every organization has different procedures, most put their rescues through a temperament test to make sure they are ready for adoption, Gina Boehler, director of Korean K9 Rescue, tells The Dodo.
"We take fearful dogs, we take skittish dogs, we take the ones we see a chance of rehabilitation with further once they come here," Boehler says. "Some of the dogs are not actively social or friendly right away, but we can see that potential in them with a good adopter."
Expect to see quite a few Jindo, Dosa, and poodle mixes available for adoption through Korean K9 Rescue and Free Korean Dogs. "Normally a small, cute, fluffy dog from a puppy mill or pet store is seen as a pet, and mixed-breed dogs are defined as a dog that could be for eating or basically has no soul and is stupid," Boehler says. The stigma against mixed-breed dogs means they are rarely adopted from South Korean shelters, and with a burgeoning homeless dog population, there is no room to spare.
"It's a law that after five days they have to euthanize in the city shelters," Boehler says. "So we have a very short window of time to pull these dogs out, and the ones that can be saved, we try to pull as many as we can."
Once you spot a dog who seems like a good fit for your family, fill out an online adoption application. While applications vary by organization, many will ask for information about your home, proximity to a greenspace or backyard and any other residents in the home (animals and children included). You might also see questions that require a bit more thought, such as "Why are you interested in adopting a dog at this time?" and "What traits are you looking for?" While they may seem daunting, taking the time to answer these questions is a great way to examine if you're a good candidate for adopting a dog who might have special needs.
Dogs rescued from the Korean meat trade will need a little extra TLC when it comes to socialization. Depending on their past trauma, it may take them some time to get used to their new home. English will not be the dog's first language, Boehler points out, so potential adopters should be prepared to spend some time training their pup.
Once the dog has acclimated to his surroundings, they will fit right in. "A lot of our dogs are Jindo-spitz mixes, and just the breed itself makes very good apartment dogs," Boehler notes. "They're very quiet, they're not big barkers, and they're very active outside — but in the apartment they can just be a lazy bum."
Potential adopters might also need to prepare for a reference check. Reach out to friends, family members or coworkers who can speak on your behalf about becoming a new pet parent.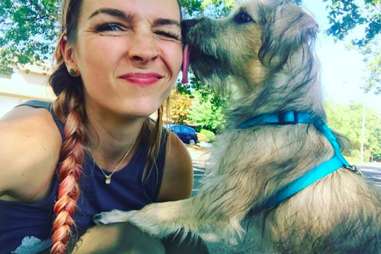 Examining your reasons for adopting is an important part of the process, EK Park, executive director of Free Korean Dogs, tells The Dodo. So while prepping your application (see above), why not take a moment to make sure you are truly prepared to commit to a dog?
"Make sure you are ready and have thought everything through. Some people are emotionally moved to action, which is great, but adopting a rescue dog is a huge long-term commitment," Park says. "There are many other ways to help the movement (i.e., foster, donate, demonstrate [in a protest]) that might be more reasonable depending on your circumstances."
"In my opinion, however, adopting a dog meat trade survivor is one of the most radically compassionate acts a human being can perform. If you are able, do it!"
Prepare for an interview and home visit
Once your application has been reviewed and approved, you will likely move on to the next step of the process — the interview, which is typically done over the phone or video. The interview is a time for the adoption organization to ask you questions about your lifestyle, but it can be useful to potential adopters as well.
"We occasionally get questions like, 'What is this dog like with children?' or 'Is the dog housetrained?' Many of the dogs we rescue have only ever known the inside of a filthy cage. They've never seen children and, in many cases, have never seen the inside of a house," Park says. "It's amazing how trusting, loving and resilient they are when you consider what they've been through. But it's important to remember that there will likely be some degree of trauma to work through, which will take lots of patience and love."
If all goes well, a team member will conduct a home visit to ensure the environment is appropriate for a pet. "It's a lot of work, but these dogs have been through enough," Park adds. "That's why we work hard to make sure we get the right forever home for our very deserving dogs."
After approving your application, and ensuring that you and your home are pet-ready, you will finally be matched with a pup! Free Korean Dogs works with flight volunteers to transport adopted dogs to North America, so once an application is approved, it can take anywhere from one week to two months for a dog to catch a ride stateside. Before the dogs board any airplane, they enter a quarantine facility where they receive vaccinations for rabies, DHPPL, influenza, and kennel cough, as well as taking giardia and heartworm tests.
Korean K9 Rescue holds adoption events in New York, Los Angeles and in the Pacific Northwest most weekends — a kind of dog-human mixer. Potential adopters are asked to bring a copy of their completed applications with them to meet the pups.
When matching South Korean dogs with their forever homes, there is little room for error. "These are not average rescue dogs," Park explains. "They've been to hell and back."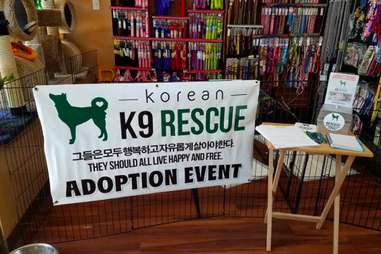 Adoption fees vary depending on the organization. When adopting from Free Korean Dogs, expect a fee of around $500, which helps to offset the cost of transporting the dog from Korea to the states. Korean K9 Rescue donates a portion of its fees to other rescue groups and activists who are fighting the dog meat trade in Korea.
Bring home your new pal (and spend some time with him)

"People should know that if they come in to adopt a dog, they should be able to take a little time off work to introduce the dog to [his] new environment," Boehler advises. "We always tell adopters to go slow and to not do too much too fast too soon with these dogs, because they do need to acclimate, as do most rescue dogs."
If you cannot bring the dog with you to work, Boehler recommends setting up a regular dog walker or doggie daycare, so the pup is not left alone for long periods of time during his first three months in a new home.
"It's really critical the first three months that the adopter is prepared to socialize and spend time training and making the dog comfortable," Boehler says. "Once this happens, I've seen these dogs make a complete turnaround from hiding in the crate to basically being the most outgoing dog in daycare."
If you are considering traveling through South Korea in the near future, sign up to be a
flight volunteer here
.