Abandoned Dog Wouldn't Look At Anyone Until She Made Her First Friend
"She fell in love with him instantly ... She stands taller, has a smile on her face, and has just blossomed."
Just before the holidays last year, Roxie the pit bull was dropped off at a shelter in Illinois.
Emaciated and riddled with skin infections on her stomach, it was clear no one had cared for her in a very long time.
But when rescuers finally learned why she was dumped there, it made the situation that much more heartbreaking.
TAF
"The owners told the shelter manager that they had no further use for her," Brigid Nolan, medical and shelter director for Trio Animal Foundation, told The Dodo. "She had obviously had several litters of puppies at that point. She was their dog for breeding and that was it."
While no one knows where Roxie had been living, it's likely she was kept outside or locked in a basement given the condition of her skin.
TAF
"The vet thought the infection came from lying on a wet material for too long," Nolan said. "It could've been soaked newspaper or towels."
The health troubles weren't the only thing Roxie was struggling with: She was so terrified she would barely lift her head.
"She always had her ears pinned down and hunched up on the floor most of the time," Nolan said. "If you crouched down next to her, she'd hurry over and hide behind you without making eye contact. It was so sad."
Roxie when she was first picked up at the shelter

| TAF
After being in the vet hospital for six weeks, Roxie was finally well enough to move on to the rescue center. While she was still very timid around people, a bit of love and some treats helped her begin to come around.
But things really started to change when Roxie met Augustus — Nolan's young pit bull who was rescued from the streets of Chicago in 2016. He had been starved, shot and burned before TAF found him and nursed him back to health.
TAF
"He was one of the most serious and challenging abuse cases we've had," Nolan said. "I introduced him to Roxie to see how she would be with him and she fell in love with him instantly. It was the first time I ever saw her acting like a dog."
Running around and playing outdoors, Augustus made Roxie happier than she had been in a long time. He seemed to know it, too.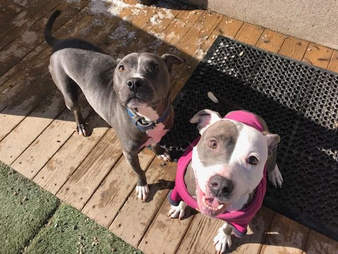 TAF
"He has been such a major part of her recovery," Nolan said. "She stands taller, has a smile on her face, and has just blossomed in the presence of another dog."
Now completely healthy, Roxie has gained about 20 pounds and is continuing to gain strength with all the playtime she gets with Augustus. She's currently up for adoption, but hasn't found her forever family yet.
TAF
"It was pretty clear that Roxie hadn't had a good day in her life," Nolan said. "Seeing her happy and running with Augustus … It's like they have an unspoken understanding about what the other had been through. It's pretty amazing."