Pit Bull Tied To 'No Dogs' Sign With The Saddest Note
"My owners could not keep me ... I just need a home."
On a popular walking trail in Folly Beach, South Carolina, a young dog panted in the sun.
The dog wasn't there for a hike with his owner. He had been abandoned, tied to a sign by a short leash. In bold yellow letters, the sign ironically stated, "No Dogs."
Taped to the metal sign, a handwritten note pleaded for someone to take the dog home. "Hello! I'm Zanny," the note read. "My owners could not keep me. I'm very friendly. I DON'T bite and I just need a home."
When Tanya Niketas and her son, Phin, spotted the black and white pit bull mix on the way to Lighthouse Inlet on Folly Beach, their relaxing day took a turn.
Niketas knew the defenseless dog, seemingly abandoned in a hurry, needed someone to help him get to safety. So she immediately contacted local rescue organization Pet Helpers.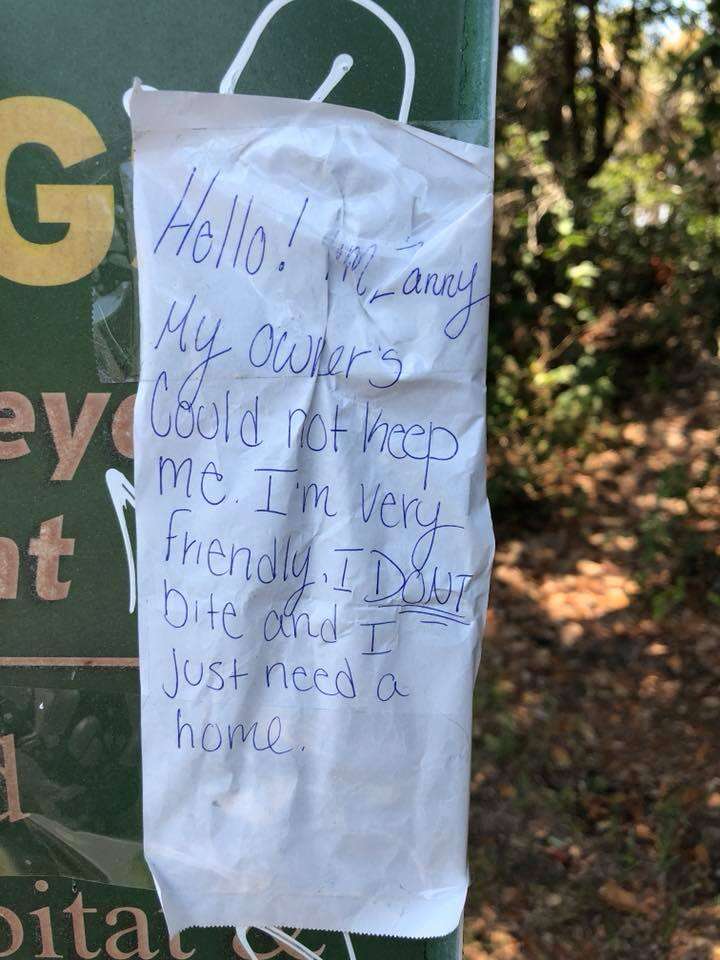 "He had no water," Niketas wrote on Facebook, "only the roll of tape they used to put up the 'He needs a new home' sign."
While waiting for the rescue workers to arrive, Niketas was amazed by the stranded dog's good manners. "He's such a beautiful, cool dog and is SOOOOOO sweet," Niketas wrote in her post. "[He] was super gentle with Phin, sat for us like a good boy, and has the whitest teeth I've ever seen!"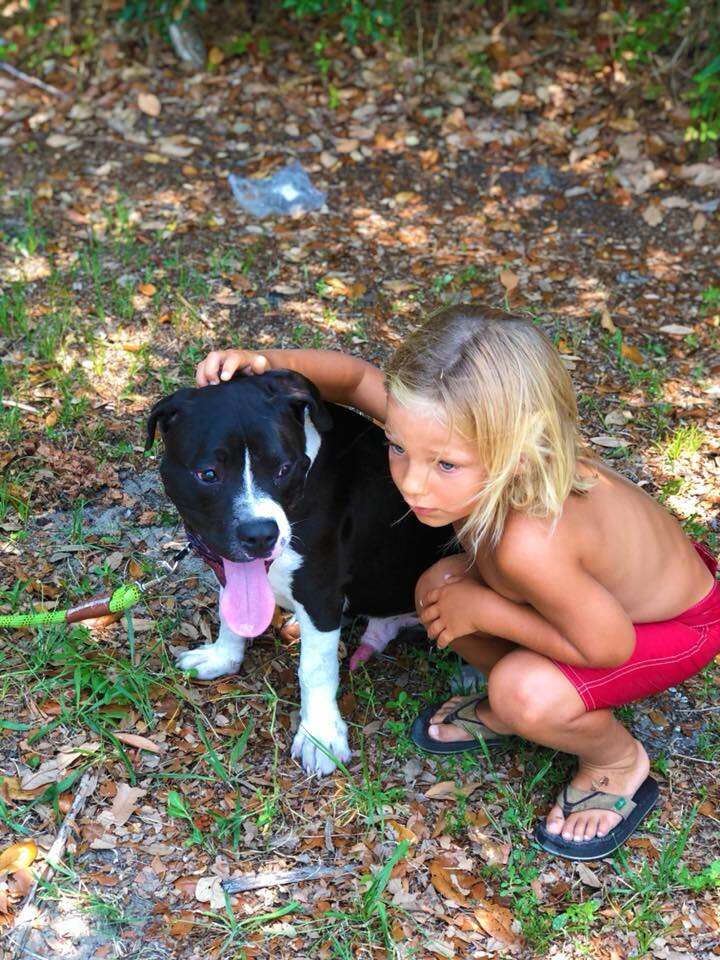 Though the note introduced the dog as Zanny, rescue workers gave him the nickname Folly, after the place where he was found, and the name stuck. A veterinary exam at the rescue revealed that, other than a rash on his stomach, Folly was in relatively good shape.
"Folly is a muscular boy whose tails wags nonstop," Carrie Browning-Perez, marketing manager for Pet Helpers, told The Dodo. "It's obvious he didn't miss many meals."
It was clear that the dog had been well taken care of at one point in his life, but if Niketas hadn't come along when she did, things might have turned out differently.
"It was extremely hot on the day he was abandoned," Browning-Perez said. "Just a matter of another hour or so could have greatly changed the outcome."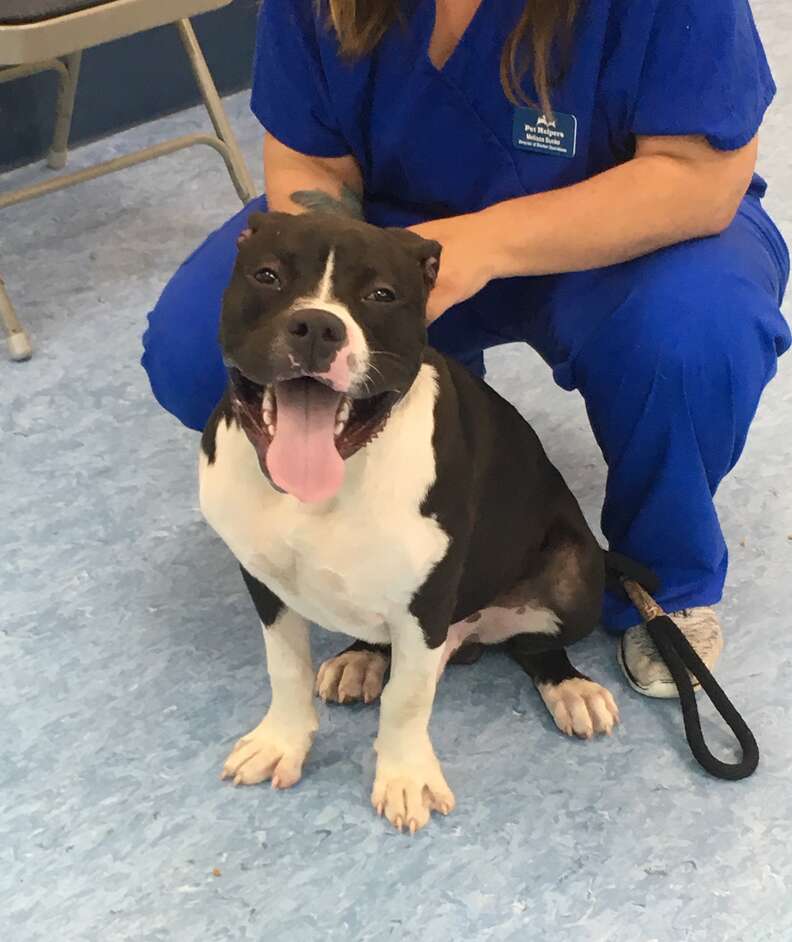 Rescue workers have been impressed by the young dog's positive outlook and energetic personality. Even rounds of vaccinations, deworming, microchipping and neutering haven't slowed the playful boy down.
"Folly is a big lovable goofball who is an amazing boy full of life and energy," Browning-Perez said. "He loves every human he meets and enjoys going for walks, giving big slobbery kisses and cuddling with people."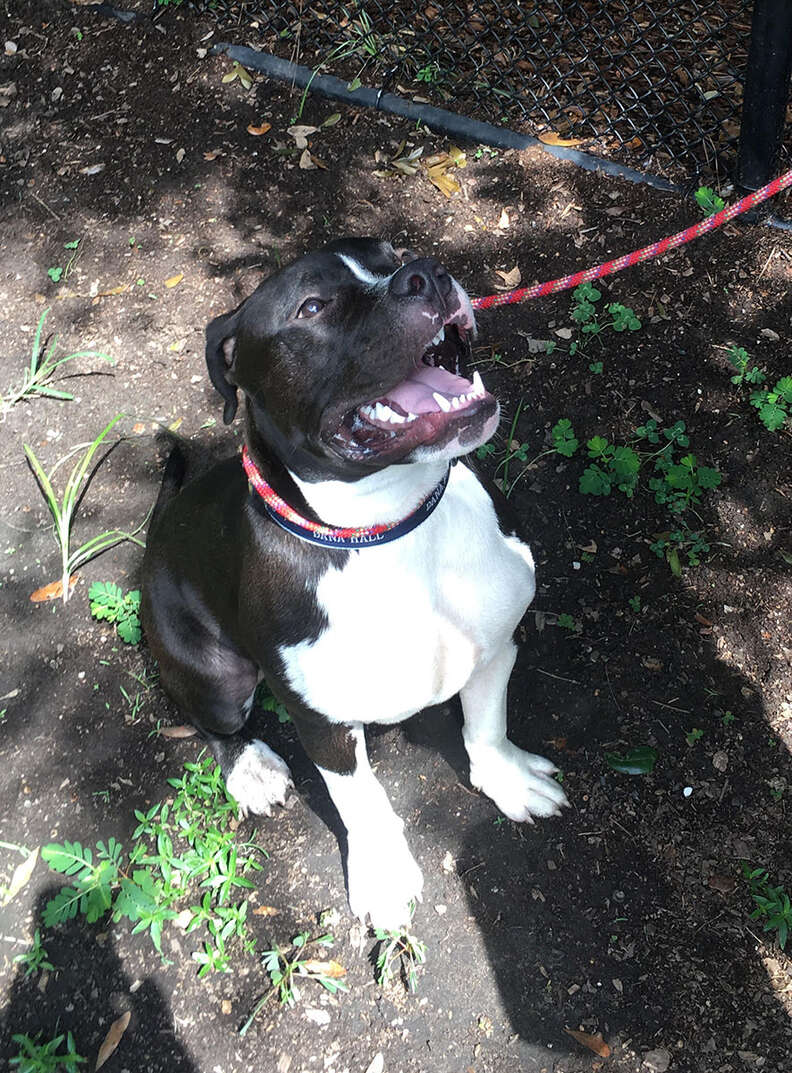 Once Folly has healed from his neutering, he will be ready for adoption. The shelter is already taking names of interested families, and are hoping to place him in his forever home in a week or two.
"He would love an active family who will take him on walks, to the park, for rides and, of course, a home where he can snuggle with his new family at night while watching TV or reading a good book," Browning-Perez added.
After all Folly has been through, he deserves a place where he will be loved and cared for — and where dogs are always allowed.