Man Walking Through Park Hears Crying And Finds This Box
"I can't understand how anyone could have abandoned them like that."
Four puppies probably wouldn't be alive today if it hadn't been for a man walking through London's Victoria Park who heard some soft whimpering.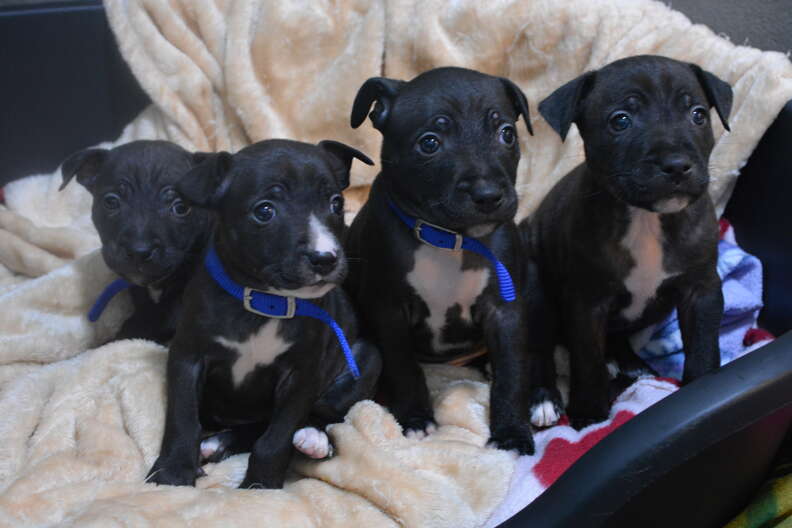 Tracing the little cries to their source, the Good Samaritan discovered the four 7-week-old Staffordshire bull terriers shivering in a cardboard box last week and rushed them to someplace safe and warm.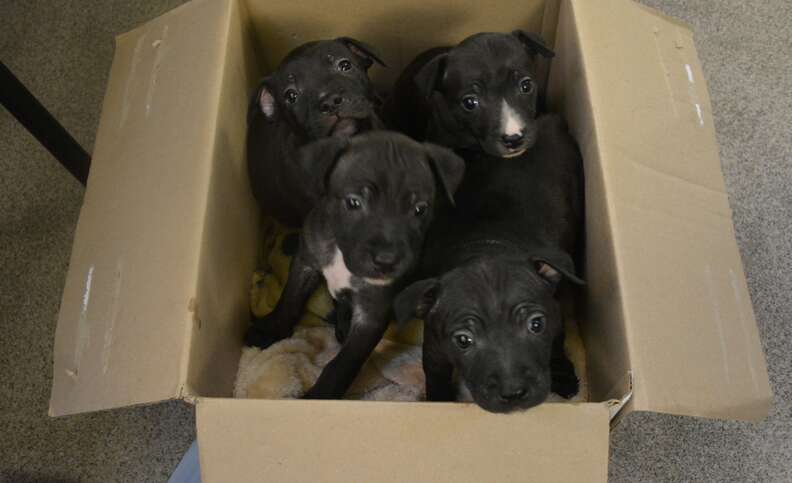 "The whole experience must have been very frightening for them," Steve Craddock, intake manager at Battersea, said in a release. "It was a cold day and they could have easily gotten hypothermia, suffocated or died of dehydration."
Thankfully, the three girls and one boy must not have been outside for too long — they all had a clean bill of health.
Rescuers at Battersea decided to give the puppies names that reflect their strength and goodwill. Because this year England is celebrating the 100 year anniversary of women having the right to vote, Battersea staff decided to name the puppies after trailblazing suffragettes: Emmeline (after Emmeline Pankhurst), Lydia (after Lydia Becker), Edith (after Edith Garrud), and the only boy is now called Davison (after Emily Davison).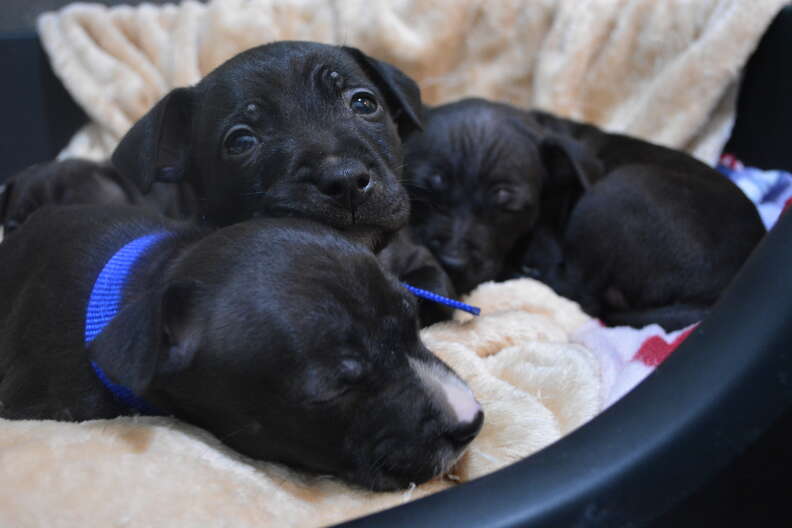 The puppies someone dumped in the park already have forever homes lined up — and until they're old enough to make the transition, they're being cared for in foster homes.
Kim Tyson, Emmeline and Davison's foster mom, said that even though the puppy pair seemed a little shy at first, they soon loosened up and started bossing around her fully grown Dalmatians. "Within a few hours they found their feet and now they run the house."
"They're very sweet little dogs and I can't understand how anyone could have abandoned them like that," Tyson added. "I hate to think what would have happened if they hadn't been found when they were."