Ferret Who Was Abandoned In Box Is Too Scared To Leave His New Bed
He's slowly learning how to trust people.
A man was passing by a field one day when he noticed a snack food package lying on the ground — and inside were two terrified little ferrets.
RSPCA
Assuming they'd been abandoned, the man immediately scooped up the ferrets and took them to the RSPCA's Leybourne Animal Centre, which agreed to take them in. Staffers named the pair Wallace and Wendy. Wendy had a pretty nasty injury to one of her eyes and her rescuers quickly set about treating it and making sure both ferrets were otherwise healthy. 
RSPCA
"We're not sure whether this pair were unwanted pets or whether they'd been used for hunting rabbits previously, which is how one may have received an injury to her eye," Janine Pemberthy of the Leybourne Animal Centre said in a press release. "Either way, as animals who have clearly been kept domestically, they wouldn't have been able to survive on their own, so to abandon them in a box in the middle of a field is disgraceful."
Both Wallace and Wendy were understandably terrified when they arrived into the care of the RSPCA. They were given cuddly new beds — and Wallace decided he was much too scared to ever come out of his. 
 
RSPCA
"The poor little things are understandably frightened and confused," Pemberthy said. "Wallace has been so traumatized by the experience that he was too frightened to come out of his bed at first and would just peer out from under the towels and blankets."
Fortunately, Wallace is now warming up to his new temporary home a little bit, and is even becoming brave enough to venture out of his bed every once in a while. Both ferrets are slowly gaining trust and confidence, and will hopefully become very friendly, loving little companions to new families.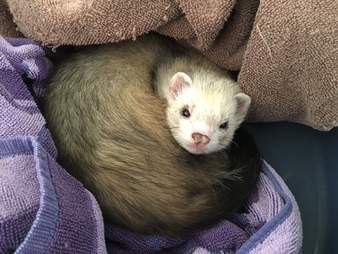 RSPCA
The ferret pair will remain in the care of the RSPCA until they're fully healthy again, and will soon be up for adoption if no one steps forward to claim them.