Dog Was So Matted That Rescuers Had No Idea What They'd Find Underneath
It took them two hours to shave off 2 pounds of fur.
Last Wednesday, a group of teenagers were hanging out outside near a dead end road when they spotted some sort of strange animal wandering around — and were shocked when they realized it was actually a dog.
The poor dog, later named Benji, barely even looked like a dog when he was found. His fur was so tangled and matted he could hardly move, and he was incredibly scared when the teens approached him. He had to have been neglected for some time for his fur to get to such a state.
The friends quickly contacted the RSPCA for help, and tried to comfort Benji as best they could until rescuers arrived.
"I would like to thank the young people who found poor Benji; they stayed with him until I arrived and they wrapped him in their shirts to keep him warm and comfortable," Carrie O'Riordan, an inspector with the RSPCA, said in a press release. "They even played him music to keep him calm. He was so poorly I am not sure he would have even made it through the night. He must have been so frightened to have been dumped and I am so pleased the finders showed him such kindness when they found him."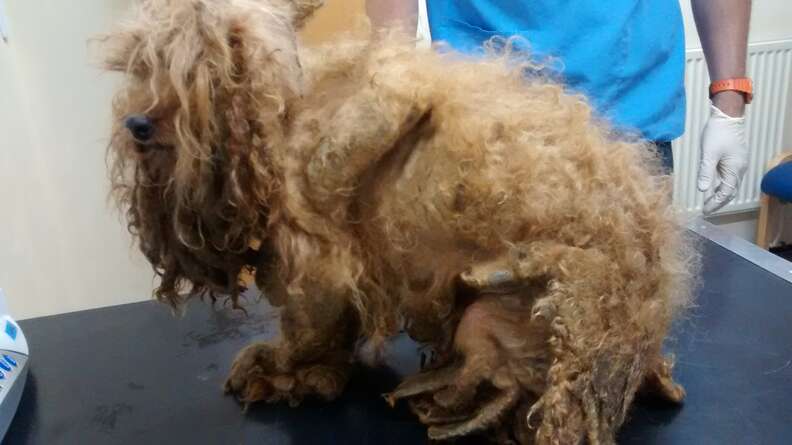 O'Riordan rushed Benji to Cromwell Veterinary Group, where everyone was shocked by the horrible state he was in. The vet even said it was the worst case of neglect she'd ever seen. He was incredibly dehydrated, so they decided to start him on a drip and keep him comfortable overnight before beginning the daunting task of trying to shave off all his fur.
The next morning, after giving him painkillers and sedating him, they began to shave him …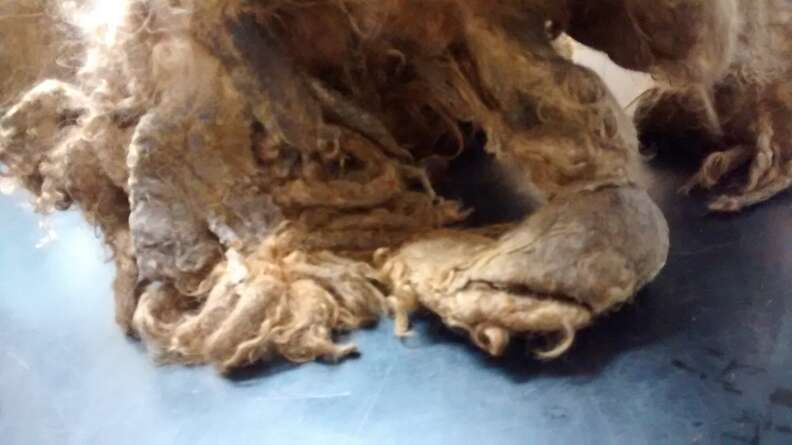 … and were shocked to find that, underneath all the fur, Benji was missing one of his legs.
Unfortunately, Benji's matted fur had gotten so bad that it had cut off the circulation to one of his legs, and he had lost it. Rescuers are unsure how long poor Benji had been missing the leg for.
"In all my years as an inspector I have never seen a matted dog as bad as this," O'Riordan said. "The person who let him get to a condition like this is truly the lowest of the low, there is just no excuse for it."
It took two hours to get Benji completely shaved, and when all was said and done, over 2 pounds of fur were shaved off his surprisingly tiny body. Once his fur was gone, Benji looked like some sort of poodle mix, but no one can be completely sure of that just yet.
When Benji woke up, he was still nervous, but he seemed relieved to finally be free of all his matted fur, and he began to come out of his shell a little bit.
After being given the OK by the vet, Benji was transferred to the RSPCA's Block Fen Animal Center, where staffers are keeping a close eye on him and giving him lots of love and attention. He's slowly transforming into the sweetest, friendliest dog, and his rescuers are hopeful that the 7-year-old dog will make a full recovery.
"I really want to find the person who is responsible for Benji's suffering," O'Riordan said. "It would have taken months for Benji to have become this bad, and he would have been in tremendous pain and so uncomfortable. If anyone recognizes Benji or may know who owns him, I would urge them to contact me in confidence on the RSPCA inspector appeal line on 0300 123 8018."