Rio was abandoned by his former family, and while trying to fend for himself on the streets, ended up being hit by a car. Luckily, the little pup survived, but was very badly injured and desperately needed help.
Hope for Paws received a call from someone who saw Rio limping around, and immediately went out to try and find him. He'd been hit by the car a few days before, so rescuers knew they needed to act fast to get him medical attention as quickly as possible. When they finally found him, he was wandering around all alone, clearly terrified, and they realized rescuing him wasn't going to be easy.
"We spotted him right away, and he spotted us," Eldad Hagar, founder of Hope for Paws, told The Dodo. "I quickly prepared my snappy snare, and tried to get him to walk into a yard where I was hoping to enclose him, but he started running towards the intersection. I started running too in hopes of blocking him, and luckily I managed to pass him. Rio stopped, looked at me, tried to figure out his next move, and then weirdly enough, instead of running down the street in the other direction, he tried to zoom by me."
As Rio tried to escape his rescuers, Hagar managed to get his snare around him as he passed. Rio was completely freaked out and kept trying to escape …
… but luckily, another rescuer was able to secure him with an additional leash, ensuring that the little dog was finally safe.
Even though Rio had tried to run from his rescuers, as soon as he was finally caught, he began to relax immediately. It was almost as if a switch had been flipped, and he suddenly realized he was getting the help he needed.
"Seconds later, he started wagging his tail and he was more than happy to jump into the Hope for Paws rescue vehicle," Hagar said.
Rio was so excited to be leaving his life on the streets behind …
… and even tried to take over the driver's seat after jumping into the car.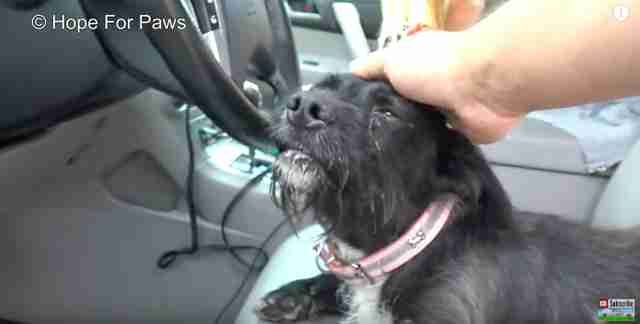 Rio's rescuers rushed him to the vet to get checked out, where he was diagnosed with head trauma and injuries to two of his legs. Unfortunately, his injuries were fairly extensive, but after multiple surgeries and five months of physical therapy, Rio was able to make a full recovery.
Rio has since been adopted, and is loving every minute of life in his new forever home. He now loves to run and play with his family, and has come so far from his days as a scared, injured homeless dog.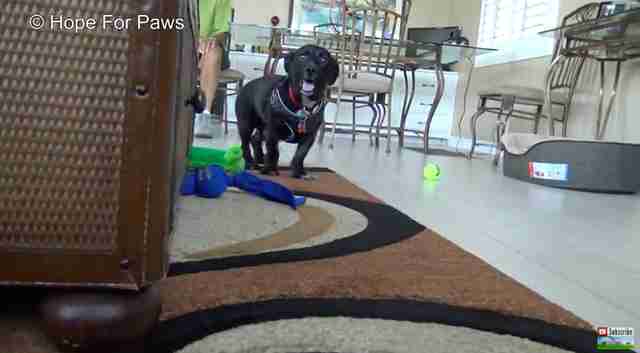 Watch the full video of Rio's rescue below: