Rescuers Chase A Stray Dog — And Find Her With Friends
They helped her stay calm when she was scared ❤️
Blossom was abandoned on the streets of Los Angeles and spent weeks running around hiding in different backyards — just trying to get by. Eventually, people started to notice her running around, and decided to try and seek help for the tiny Chihuahua.
Hope for Paws
Hope for Paws got the call about Blossom and immediately drove out to the neighborhood where she'd been seen to try and rescue her. When rescuers arrived, the scared little dog was running through the streets, narrowly dodging passing cars and trucks. The people who had made the call told rescuers that she was the sweetest dog and just needed someone to help her.
Hope for Paws
As soon as Blossom spotted the rescuers, she darted under a nearby car, and then dashed down a driveway and into someone's yard. Rescuers followed her into the yard …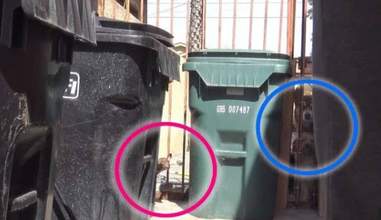 Hope for Paws
… and realized she had gone in to be with two of her dog friends, who clearly made her feel safe.
While little Blossom was still terrified, the other dogs were very calm, and seemed to know that the rescuers were there to help their friend.
Using trash cans and their bodies, rescuers were able to block Blossom into a corner …
Hope for Paws
… and slowly slip a leash around her neck, ensuring that she was finally safe.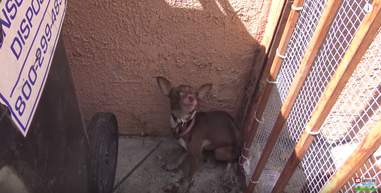 Hope for Paws
At first, Blossom was still pretty scared and reluctant, and barked at her rescuers out of protest …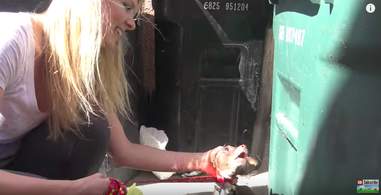 Hope for Paws
… but eventually she calmed down a little bit, and her rescuers were able to scoop her up and take her safely over to their car, ready to drive her away from her life on the streets.
Hope for Paws
Blossom's rescuers quickly drove her to the vet to get checked out and cleaned up. She was still a little unsure of all the new people handling her, but after getting a bath, a soft place to sleep and a nice meal, she seemed to realize that her life was changing for the better.
Hope for Paws
Thanks to the dogs in the yard who helped calm Blossom down, she now has an incredible forever home. She has siblings to play with and plenty of space to run around, and will never have to go back to a life on the streets again.
Watch the full video of Blossom's rescue below: