Adopter Returns Abandoned Dog For The Silliest Reason
"Normally I will work with the person in keeping the dog ... but this time all I said was, 'Here's my address, just return her.'"
Just before the holidays last December, a 3-year-old American bulldog mix named Frappuccino was found abandoned in a New York City apartment with a male dog and their litter of six puppies. Frappuccino spent the next several weeks alternating between the city shelter she was taken to and a foster home before finding someone who seemed to be the perfect adopter — only to be returned less than two weeks later for eating her canine sibling's food.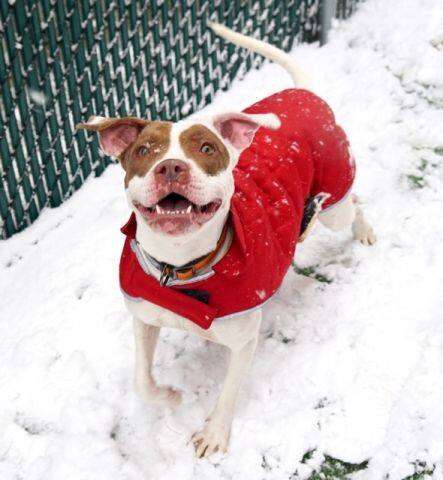 Frappuccino, Cake Pop (the male dog) and their babies were separated once they entered the shelter system at NYC Animal Care and Control (NYCACC). The 10-week-old puppies were quickly adopted or placed with rescues while Frappuccino and Cake Pop found themselves set to be euthanized. Lisa Smith, an active foster for several rescues and owner of Canine Kindergarten, Inc. in Verplanck, New York, was contacted by volunteers at the shelter and pulled the adult dogs with the aid of AmsterDog Rescue.
"There were no behavioral reasons for them to end up on the kill list," Smith told The Dodo. "They both passed their assessment at the shelter with flying colors."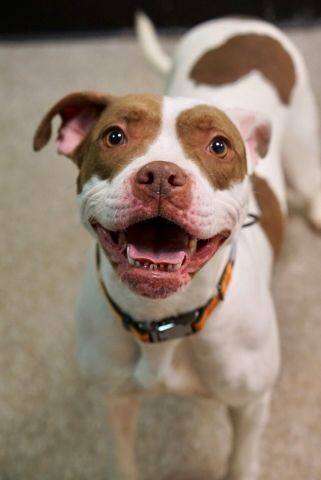 The volunteers at NYCACC paid for Frappuccino and Cake Pop to be quarantined for two weeks at Northwind Kennels, located near Smith. Quarantining is a common safety measure to ensure the health of the dogs pulled and those they come into contact with. However, shortly after Frappuccino went into boarding, Smith was contacted by the kennels' owner to let her know that Frappuccino was very ill.
Smith rushed Frappuccino to the emergency vet, where it was discovered that she had pneumonia in both lungs. "If Penny from Northwind Kennels hadn't called me, [Frappuccino] would have died there," Smith said. "She would have been found dead in a kennel."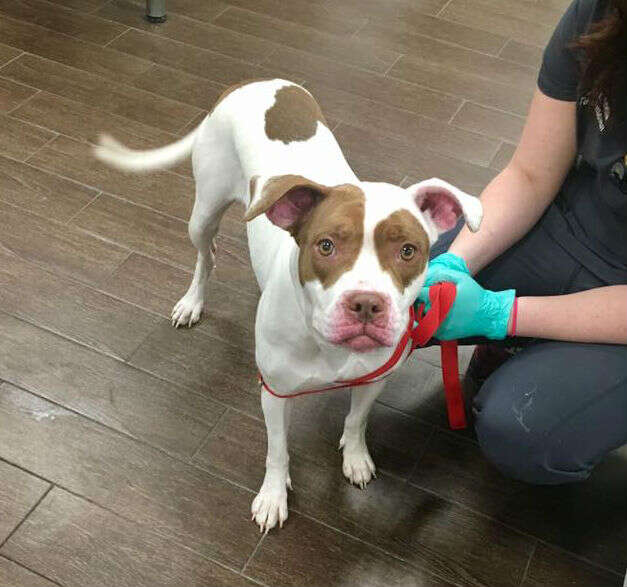 Smith nursed Frappuccino back to health over the next month while posting about her on social media to help find her a forever home. One prospective adopter in particular stood out to Smith and AmsterDog.
"The interested woman had a smaller dog that wouldn't cuddle with her, so she loved the fact that Frappuccino was a snuggler and affectionate and liked attention," Smith said. "She was familiar with the breed because her daughter had an American bulldog that she loved. She applied, was approved, and even waited weeks for Frappuccino to get better so she could adopt her."
Less than two weeks later, Smith received a phone call from the adopter telling her things weren't working out. "She just told me, 'I can't keep her, she's eating my other dog's food,'" Smith said. "There were no food aggression issues — she was a really well-behaved dog."
The woman mentioned occasional accidents in the house, which is not an uncommon issue in the beginning as a dog adjusts to a new home, according to Smith.
"If you can imagine being abandoned, going to a shelter, having her babies taken away, going to a kennel, having pneumonia so bad she could barely breathe, going through all the trauma that she did and she was really such a nice dog," Smith said. "The woman wouldn't just separate them and let them eat. Normally I will work with the person in keeping the dog so they aren't bounced around — even send in a trainer — but this time all I said was, 'Here's my address, just return her.'"
Paige Deluca was looking around on Facebook when she noticed her aunt had shared Smith's post about Frappuccino. "I read her background story and immediately contacted her foster mom," Deluca said. "After reading her story, my heart was broken. She looked so lovable and so beautiful — I couldn't understand how someone could just leave her. I spoke with my girlfriend and we both agreed to go meet the precious fur baby and as soon as we did, we fell in love. We wanted to give her the best home ever and make sure she felt loved and protected all over again."
Deluca and her girlfriend, Alexis Raftopoulos, adopted Frappuccino, now known as Cardi, a week later. "The first week was rough because Cardi was nervous and wasn't used to anything, but once she felt the love and comfort she was back to being a normal pup again," Deluca said. "She came to a new home with a big bed and all new toys and lots of love from all our family members."
Deluca lives in an apartment in her family's building, so Cardi is around family members all the time. "She is so gentle, kind and sweet with everyone," Deluca said. "All her aunts and uncles love her to pieces, especially her grandparents and cousins. Even our neighbors love her and come by every day when she's outside to see her. She gets so much attention and love from everyone."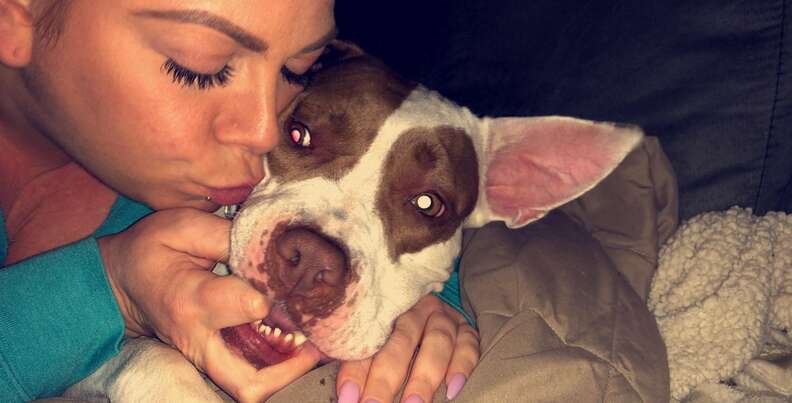 Now that Cardi has settled in to her home, Deluca and the family are getting to see her personality shine. "Our Cardi girl definitely has a personality of her own and it's just like a human too," Deluca said. "She's always so happy and hyper, but lovable and cuddly too. She loves being with people, especially when they play with her or rub her tummy."
One of Cardi's favorite activities is watching television. "She loves watching TV, and when I tell you she watches TV she really does," Deluca said. "She will sit on the couch and put her eyes on the TV and watch everything going on, especially if there is another animal on the TV — she will be hooked."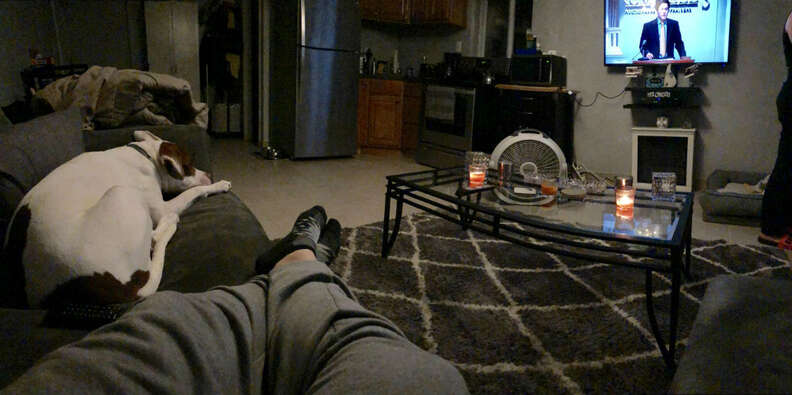 Cardi also loves playing with squeaky balls …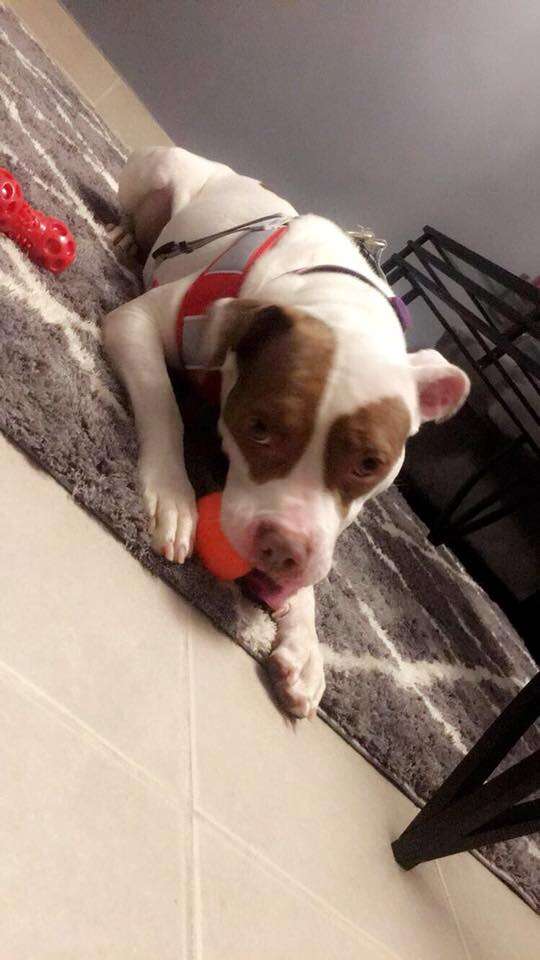 … and catching things. "She has some talent on her," Deluca said.
"Not all pit bulls are vicious or mean — you can't judge a breed of dog just because of what you hear on the news," Deluca said. "A lot of these [negative stories about bully breeds] come from homes that mistreated their fur babies and showed them no love or attention, just left them there to starve or die. That will bring the madness out in a dog, but give them the slightest love and attention and they will be your best friend forever."
Cardi is certainly proof of that. "We love our Cardi girl and nothing will ever change that," Deluca said.
As for the male dog who had been abandoned with Cardi, Cake Pop — now named Patches — has also found a wonderful adopter who is very happy with him. They live about 30 to 40 minutes away from Cardi, so there's always the chance of a reunion somewhere down the road.