No one at a vet clinic in the UK had ever seen a dog neglected so badly as the Shar-Pei who was brought in for urgent help late last month.
The dog, estimated to be about 10 years old, had been found lying on the side of the road, bleeding and immobile. She was emaciated and had hardly any muscles in her back legs, but her teats were swollen. Her claws had grown so long that they curled three times around, leaving her unable to walk.
"This poor dog was extremely skinny, had an eye infection, unbelievably overgrown nails and a life-threatening infection in her uterus called pyometra," Rachel Smith, an inspector for the RSPCA, said in a statement. "Her nails had curled around three times before embedding in her pads, which were horribly infected — she'd clearly not had them clipped or been walked for a long time."
Veterinarians rushed to treat the infection and save the dog's life. Meanwhile, an investigation was launched into how she could have been treated so poorly. Given the dog's condition, she seems to have been dumped by a breeder.
"She wasn't a family pet or beloved companion; we suspect she was a commodity for an unscrupulous puppy farmer to breed from time after time after time," Smith said, adding that her condition suggests she was shut in a small crate for a long time. "When she couldn't give them what they wanted anymore, she was cast aside and dumped to fend for herself."
The dog has now been named Glynis and, after extensive treatment for her health, she is being cared for by Rescue Remedies, a UK rescue group. She's finally getting to go on walks and explore the outdoors.
"Glynis has a dear, dear temperament and has won many hearts," Rescue Remedies founder Lynne Dacosta said in a statement. "She is really good, gentle and receptive." And she's finally well enough to find a real home.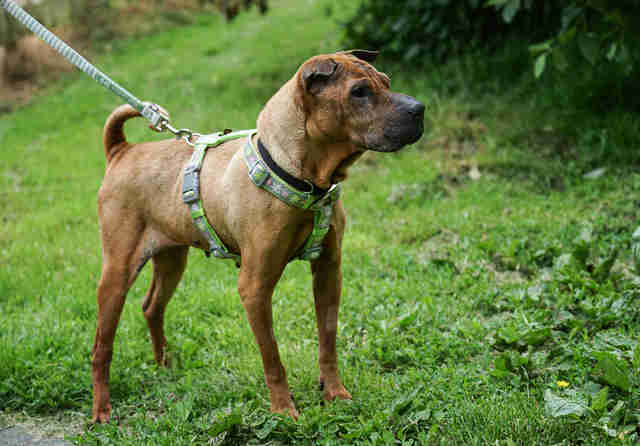 The RSPCA is seeking the public's help in finding who was responsible for the severe neglect that almost claimed Glynis' life. "It's inexcusable to allow an animal to get into this condition and to cruelly abandon them," Smith said. "I'd be really keen to hear from anyone who recognizes Glynis or may know where she's come from."