Man Sees 'Rug' On Park Bench — Then Realizes It's Alive
"He was so matted and terrible looking that we actually thought it was a rug that somebody had folded up and left on the bench."
Someone had left a brown rug on a park bench. That's what Kyle Dunlap thought when he drove into Towne Lake, a recreational area in McKinney, Texas, in April and spotted a brown object on one of the benches. But when Dunlap got out of his vehicle to take a closer look, he got the biggest surprise.
"It was moving, and we noticed that it was a dog," Dunlap, a maintenance worker for the Parks and Recreation Department in McKinney, told The Dodo. "He was so matted and terrible looking that we actually thought it was a rug that somebody had folded up and left on the bench."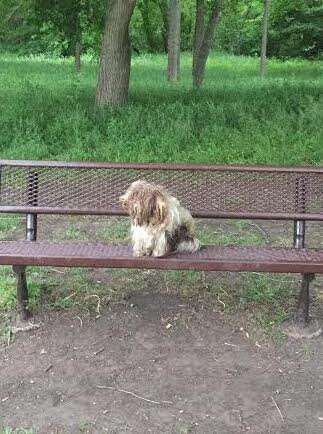 Dunlap and a coworker approached the dog, who was a Shih Tzu, but he growled and snapped at them. But this didn't deter Dunlap, who realized that the dog was probably scared.
"I didn't want to leave him there by himself ... so I sat there with him," Dunlap said. "I took to Facebook and posted a picture of him on the bench, asking for someone to come help him and make his day."
Dunlap's post got shared around, and Tara Holgate, who works for the SPCA of Texas, drove to the park to pick up the dog.
"He was so, so matted, and he smelt horribly," Holgate told The Dodo. "He must have been in pain … because when he moved, he just looked like he was unhappy because everything was just stuck."
Holgate took the matted dog to work with her, and the clinic workers sedated him and shaved off his matted fur. They also vaccinated the dog, treated a few wounds he had and gave him medication for fleas and ticks.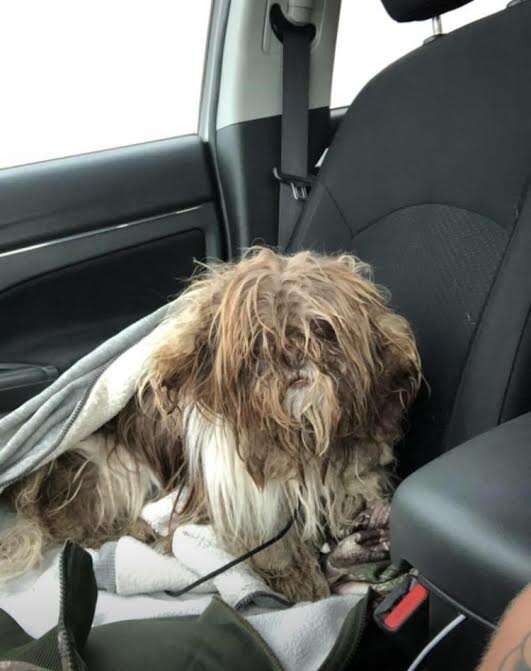 When the dog woke up from the sedation, he was noticeably happier.
"After he got shaved, he was kind of a different dog," Holgate said. "He still was unsure of everybody, but he started to warm up more. He would give me kisses."
Holgate took the dog home with her that night, and the next day, the team at the SPCA of Texas was able to locate the dog's family. The dog's name, it turned out, was Oreo.
"A woman had lost her dog the day before," Holgate said. "He had gotten out of their backyard."
Later that day, Holgate drove Oreo to reunite him with his family, and it was clear how much he wanted to be home.
"Once I climbed out of the car with him, he started whining and trying to get out of my arms right when he saw them," Holgate said. "He definitely missed and remembered them."
Holgate was a little surprised that the owner had allowed Oreo to become so matted, so she spoke extensively with her about how to properly care for him.
"I just think they don't understand how to care for a breed that has a lot of hair, that can easily get matted," Holgate said.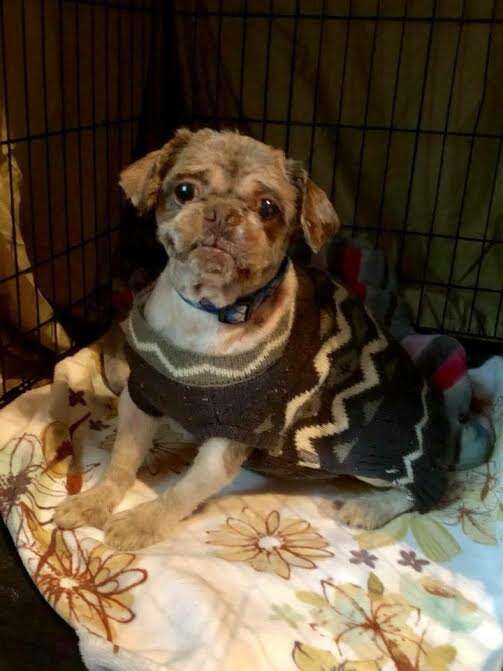 But Holgate is optimistic that Oreo's family will take better care of him in the future.
"When I spoke to the daughter the other day, she told me they were keeping him shaved, so I think he's doing a lot better now and they don't want him looking the way he did before," Holgate said. "They were very appreciative that I had him shaved and had treated his wounds."
As for Dunlap, he's pleased with the part he played in helping to rescue Oreo.
"I just thought it was a pretty cool thing how he was looking terrible, and someone I met on Facebook came and changed his day," Dunlap said.