Dog Who Was Locked In This Van For A Month Loves To Run Now
"You could tell that she was space-deprived. For the first time, this dog gets to experience total freedom."
A woman heard whimpering as she passed a parked van on the street in Beirut, Lebanon. When she peered through the back window, she saw a crate — and inside the crate was a miserable-looking Malinois dog.
At first, the woman wasn't sure how to help the dog — but she grew increasingly distressed every time she passed the van and saw the dog still in there. Based on the woman's observations, the dog had been stuck in the van for at least a month, if not longer.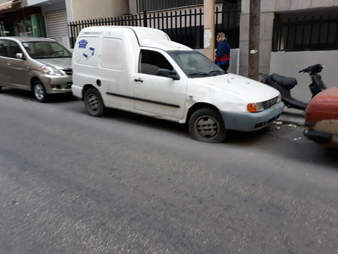 The white van in which the Malinois dog spent more than a month

| Animals Lebanon
"We really don't know how she was surviving," Maggie Shaarawi, vice president of Animals Lebanon, a local rescue group, told The Dodo. "According to a few witnesses, she was taken out once a day. Luckily it's still not summer."
Eventually, the woman learned about Animals Lebanon, and she reached out to the organization. Then the Animals Lebanon team got in touch with the Ministry of Agriculture, which had the authority to legally confiscate the dog from the van.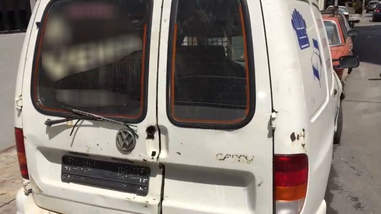 Animals Lebanon
"The Ministry of Agriculture were extremely cooperative and immediately attended to the rescue," Shaarawi said. "At first, they spoke to the owner and gave him a verbal notification, asking him to improve the living conditions of the dog according to the law."
The dog was locked up in a crate in the back of the van.

| Animals Lebanon
The owner promised to move the dog to a better location, but when the authorities checked four days later, the dog was still in the van. This time, they opened the van and took the dog away.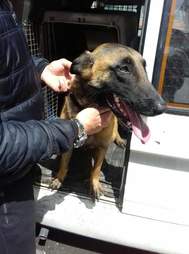 The moment rescuers freed the dog from the van

| Animals Lebanon
"The dog was simply overjoyed to be out of the cage and out of the van," Shaarawi said. "She wouldn't stop moving, and she kept running hysterically back and forth."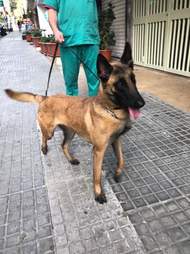 The Malinois dog after being rescued from the van

| Animals Lebanon
The dog is currently in the custody of the Ministry of Agriculture, although Animals Lebanon is helping to care for her. Not surprisingly, the dog has some behavioral issues from being locked up for so long. "She destroys everything," Shaarawi said.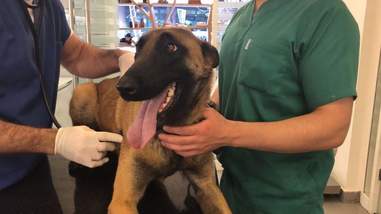 The Malinois at the vet clinic

| Animals Lebanon
The team is working to correct these issues, and helping the dog adjust to her new life. As for the dog, she's savoring her newfound freedom.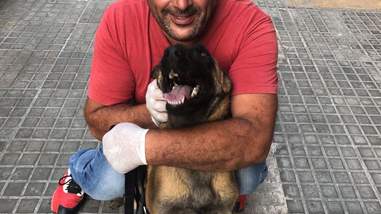 Animals Lebanon
"She is full of life and energy, and she just wants to play," Shaarawi said. "Even if there is food around, she wants to run. You could tell that she was space-deprived. For the first time, this dog gets to experience total freedom."