Kitten Born Without Eyelids Finds The Best Brother To Help Him Grow Up
"They both want to be with me all of the time, so they have formed quite a special bond."
Hannah Erbe was taking an art class when she found a tiny kitten hiding in a wood pile on her teacher's property. The kitten was feral, but he clearly had some major issues with his eyes, so he couldn't see Erbe at all and therefore didn't run away from her. Erbe knew the kitten wouldn't survive without some serious help, and so she quickly made the decision to take him home with her.
Erbe knew right from the beginning that the little cat — whom she later named Inky — had issues with his eyes, but she didn't realize how severe they were until a vet looked him over, and didn't seem very optimistic at all.
"The vet came and saw him the next day and told me not to get too attached because he was very weak, and his temperature was very low," Erbe told The Dodo. "She confirmed that he had eyelid agenesis, [a condition where one is born without any eyelids] and would have a long road of treatment ahead of him."
Despite what the vet said, Erbe quickly became very attached to Inky, and knew there was no way she could give up on him. She decided to officially adopt him, and began working hard to overcome his numerous eye issues.
As time went on, other issues with Inky's eyes began to emerge. Besides eyelid agenesis, Inky also has keratitis and anterior segment dysgenesis in both eyes, and also happens to be cross-eyed.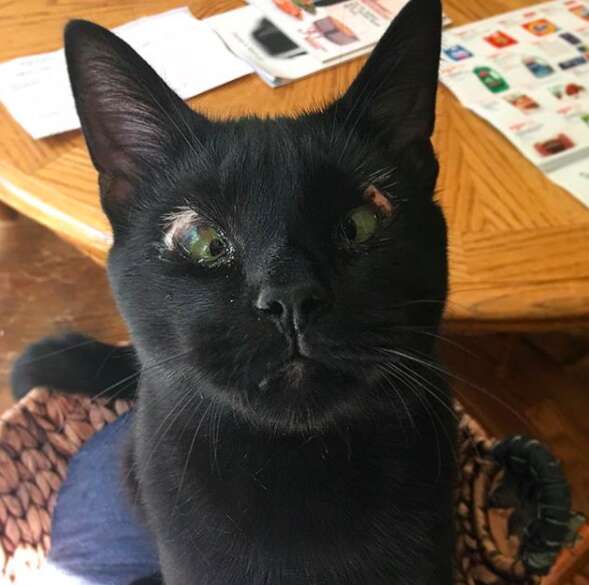 "The keratitis makes it look like tree branches are growing in his eyes and impair his vision; the anterior segment dysgenesis has caused his pupils not to form correctly, so they are misshapen and increase the risk of glaucoma and blindness in the future," Erbe said. "His eyes are smaller than normal as well. They cause him some discomfort and his vision is not the best, but he has adapted so well you wouldn't notice if he didn't look so different!"
Despite all his eye issues, Inky doesn't seem to have any idea he's any different — especially since he has the best brother and friend to help him through it all.
Jasper has been with his mom for two years now, after being rescued as an injured stray. He's always been a sweet, quiet dog who loves going with the flow, so when his mom brought little Inky home, she wasn't too worried — but had no idea just how close the pair would become.
Pretty much from the very beginning, Jasper and Inky have been the best of friends. They do everything together, which mostly consists of napping side by side on the floor and following their mom around. Jasper helps watch over Inky, and has also helped him to come out of his shell.
"I think Jasper has really helped with Inky's confidence," Erbe said. "He was feral and shy when we first got him, and Jasper's calming presence definitely helped him warm up. I have watched them growing more and more comfortable with each other as time goes on. They both want to be with me all of the time, so they have formed quite a special bond."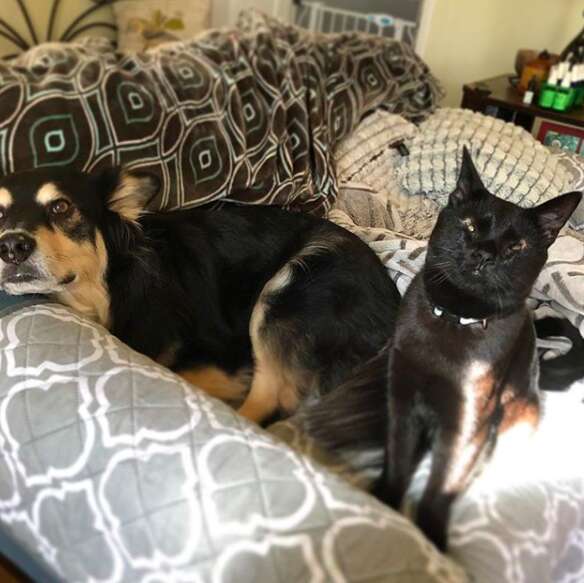 Inky still has a lot of battles to fight going forward. He's going to need many therapies and treatments to ensure that he stays healthy, but his mom is willing to continue to fight for him — and luckily, he'll always have his best friend Jasper by his side to help him through it all.