Giant Puppy Won't Let Go Of His New Big Brother
"I think the best is when I walk in and they are full-on spooning like humans."
Katie Becattini really wanted to adopt a second rescue dog, but she had a big concern — her other rescue dog, Tuck, might not like sharing her with a newcomer.
"Tuck was and still is super attached to me," Becattini told The Dodo. "Wherever I go, he comes. He sleeps with me at night. He has to be fully under the covers up against me. He knows when I am going somewhere that he cannot come and starts getting all anxious and sad."
But in January, Becattini and her boyfriend went on a spur-of-the-moment trip to a pet expo in Oaks, Pennsylvania, where a local rescue group, Salfid Rescue, was showing 11 Great Pyrenees puppies in need of forever homes. They were instantly smitten.
"After we left, I couldn't stop thinking about getting another," Becattini said. "But I was scared because I did not want to make Tuck upset."
To see how Tuck would really feel, Becattini decided to take him to see the puppies at their foster home.
Becattini and her boyfriend ended up falling for one puppy in particular — the biggest, fluffiest one of the group, whom they later named Beau. When Tuck met Beau himself, he reacted in a way that Becattini didn't expect.
"Tuck didn't seem to care either way," Becattini said. "Didn't love him, but also didn't mind him."
Yet Tuck's indifference quickly turned into something else. When Beau came home to live with the family, he immediately glued himself to Tuck.
"Beau was ... obsessed with Tuck," Becattini said. "From day one, he started following him around and would cry if Tuck was not with him."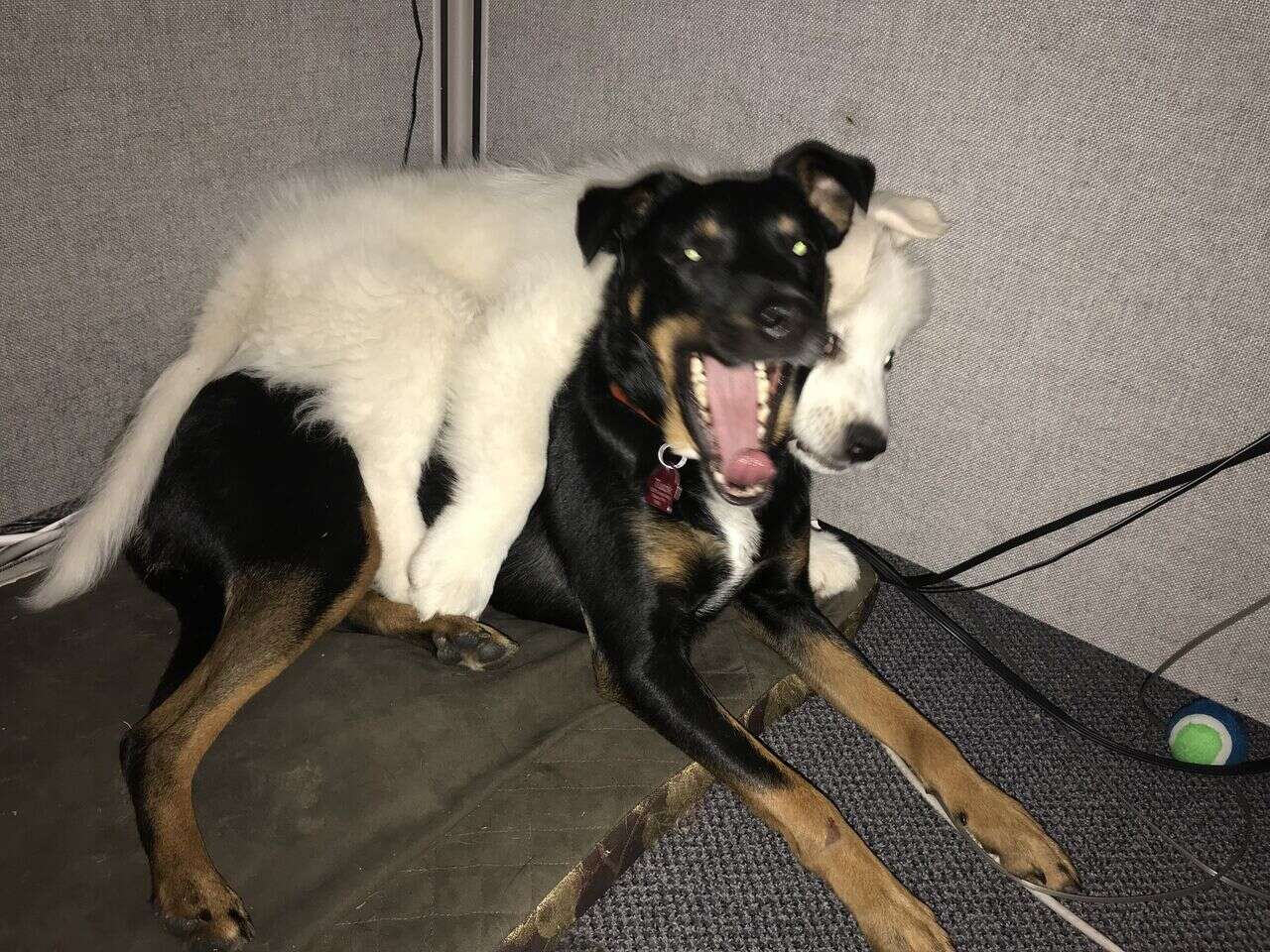 "My fears about getting a second dog quickly went away," she added.
Beau, who was much bigger than Tuck, even as a puppy, enjoyed curling up with his new big brother. In fact, he did this every single day.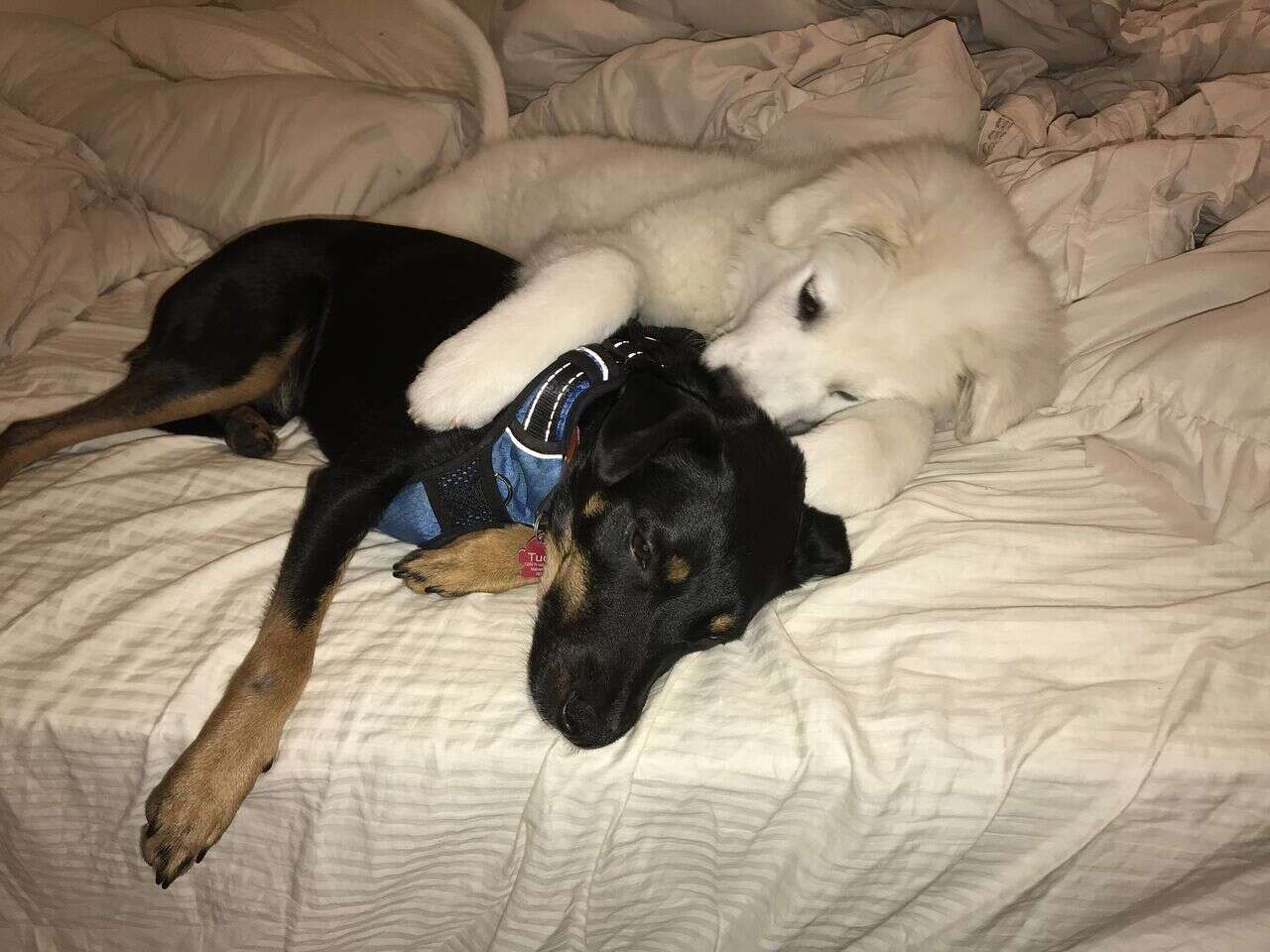 "There are pictures of Beau as a baby cuddling with Tuck and laying on top of him," Becattini said. "I think the best is when I walk in and they are full-on spooning like humans."
Tuck has come to love Beau as much as Beau loves him, and he always tolerates Beau's affection, even when it's over-the-top.
"He lets Beau sit on his head and do whatever he wants," Becattini said. "Mind you, Beau is at least 50 pounds heavier than him."
Becattini has loved seeing how Tuck and Beau have bonded, and her initial worries about getting Beau have all but disappeared.
"I just think it's cool how two dogs who are polar opposites — in looks and personality — are so bonded," Becattini said. "They are such sweet boys."
To see more photos of Tuck and Beau spooning, you can follow their
Instagram account
.
Interested in adopting your own dog? Then meet Dodo Adoptbot, an interactive guide for new pet parents. Get started on
Facebook Messenger
or text HOME to 38349.