Police Open Abandoned Trailer And Find Dozens Of Dogs Inside
It looked like they'd been locked in there for weeks.
When a couple of officers were driving around searching for a stolen car, they came across a parked RV. At first it didn't appear to be anything unusual — until they realized there were multiple dogs peering through the windows.
Yakima Humane Society
The officers, from the Union Gap Police Department, contacted animal control to come and investigate the situation. When the animal control officers arrived, what they found inside the RV was nothing short of horrific. Inside were 34 dogs and two chickens, living in the absolute worst conditions. 
Yakima Humane Society
The animals had clearly never been outside the RV to use the bathroom, and so the entire space was covered in urine and feces, and smelled awful. The temperature inside the RV was 95 degrees, which only made the conditions worse, and the officers could see bugs of all kinds running around.
"There was no clean space for any of the animals to lay on," Annie Flores, communications and events manager for the Yakima Humane Society, told The Dodo. "They had two large bags of dog food available to them, but it too was covered by the feces so their food was also mixed in with the feces. There was no source of clean drinking water, and all the windows were closed with only one small fan turned on in the vehicle." 
Yakima Humane Society
It had clearly been quite some time since the dogs had really interacted with people, and they were all instantly terrified when their rescuers suddenly appeared inside the RV. It took over four hours to rescue all 36 of the animals and finally get them to safety.
"The dogs were all barking and trying to find a place to hide when the animal control officers were trying to get them out of the vehicle," Flores said. "Most of them were free-roaming in the vehicle, but there were a few who were in crates, including two moms with nursing puppies. The chickens were also being kept in a crate."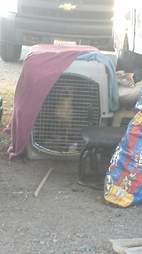 Yakima Humane Society
All 36 animals were taken to the Yakima Humane Society, which immediately set about getting them checked out and cleaned up. Unfortunately, one of the younger dogs ended up passing away, but the rest of the pups made it through, and besides being dirty and hungry, they were all in relatively good health.
The dogs ranged in age from 1 month to 8 years, but most of them were around 2 years old.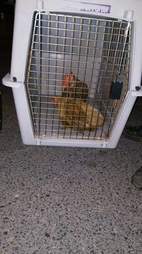 Yakima Humane Society
"Now that they are in our care, most of them are adjusting well to their new routine and to having different people handle them," Flores said. "Many are thrilled to be meeting new people and getting attention. Some of them are still struggling to adjust, but our team is working with them to help them get to a healthier mental state. Every dog recovers at their own pace so our team is making sure to give them the time they need."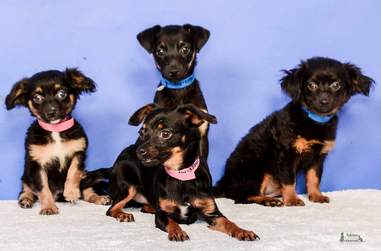 Yakima Humane Society
Most of the dogs will be up for adoption starting Thursday. The dogs who need a little more time to recover will either be placed in foster homes, or transferred to other rescues with the resources to handle their specific needs. The two chickens have already found their forever home on a farm, where they have plenty of space to roam around and be free.
Yakima Humane Society
While these animals were made to suffer through horrible conditions, they're all safe now, and will hopefully be able to overcome their pasts and find the best forever homes anyone could ask for.
If you'd like to help the animals pulled from this hoarding situation, you can donate to the
Yakima Humane Society
.