Huge Cat Too Big For Kennel Gets His Very Own Room At Shelter
He's 31 pounds and looking for someone to love him ❤️
When a new stray cat arrived at the Chatham County Animal Shelter on Monday, the staff didn't think anything of it at first. Stray cats get brought into the shelter all the time — but as soon as they saw him, they realized he was anything but ordinary. 
That's because he was a whopping 31 pounds.
Chatham County Animal Shelter
The staff were absolutely amazed with just how large he was, and were shocked that a cat that big had been a stray. They assumed he had been living somewhere where he had access to food, as there was simply no way he could have gotten so big otherwise.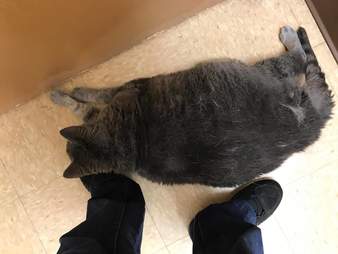 Chatham County Animal Shelter
After posting a picture on their Facebook page to see if anyone knew whom the giant cat might belong to, they got many comments asking if it was Photoshopped, as people couldn't believe such a big cat actually existed.
The shelter is, of course, always happy to take in any animal, regardless of their issues or size, but shortly after the cat arrived, it ran into a bit of a dilemma — the gigantic cat was just a tad too big to fit comfortably in the shelter's kennels.
Chatham County Animal Shelter
Forced to get creative, the staff decided to keep their new cat in the staff break room …
Chatham County Animal Shelter
… and he happily made himself right at home in one of the cabinets, which staff quickly cleared out for him.
He's been very happy in there so far, the shelter tells The Dodo. He doesn't have a name yet, but will be up for adoption starting on Monday, if no one comes to claim him.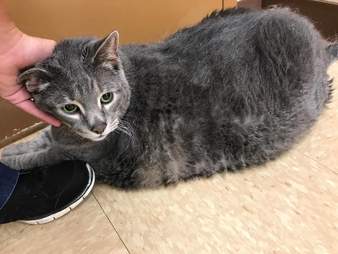 Chatham County Animal Shelter