Chubby Stray Cat Is One Of The Largest This Shelter Has Ever Seen
He's too big to fit in a kennel.
Staffers at this animal shelter in California certainly have their hands full.
This week, a Good Samaritan lumbered through the doors of the Pasadena Humane Society & SPCA carrying a rather heavy load. The person had just found a cat wandering down a busy road, and was now bringing him to the safety of the shelter.
But this wasn't your average stray kitty. This cat was massive — tipping the scales at a whopping 29 pounds.
"He is 29 pounds of love," shelter president Julie Bank told KTLA.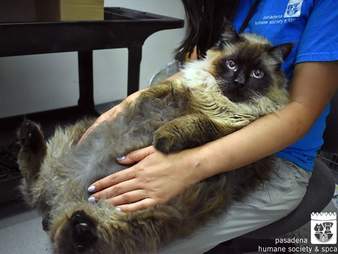 Pasadena Humane Society & SPCA
Where the cat came from is anyone's guess. Unfortunately, he wasn't microchipped or wearing an ID, so it's unclear if he has an owner. One thing is certain, however — this kitty hasn't been underfed. Staffers at the shelter have since dubbed him "Chubbs."
Whatever his past, Chubbs was in need of help. His fur was severely matted, a problem his rescuers at the shelter were able to resolve with a careful shave.
They're hoping to tackle his weight problem next; it's unhealthy, of course, for cats to be so heavy. He's so big, the shelter is barely equipped to handle him.
"Chubbs has taken up residence in a staff office because he's too large to fit comfortably in a kennel," rescuers wrote online. "He has a sweet disposition, but his heavy load makes it uncomfortable to move around freely."
Still, Chubbs is getting plenty of love in the meantime.
Thinking about adopting? Then meet Dodo Adoptbot, an interactive guide for new pet parents. Get
started on Facebook Messenger
or text HOME to 38349.