When Duncan was found as a stray on the streets of Colorado, his back legs were fused underneath him, completely unusable. After he was adopted by the owners of Panda Paws Rescue, his back legs were amputated to avoid them causing him any future pain, and Duncan quickly adjusted to life as a two-legged dog.
Duncan has never seemed to notice that he's a little different, and loves every minute of his life with his adoptive family. Nothing could ever get in his way — until one day, tragedy struck when he and his family were involved in a terrible car accident.
While on vacation, Duncan and his family were driving from Yellowstone National Park to their Airbnb in Island Park, Idaho, around 11 p.m. when they accidentally hit a bison on the highway. After the car rolled several times, Duncan and one of his dog siblings were both ejected from the car, and while his sibling was found quickly, Duncan was suddenly lost.
"We were out of the car and looking for the dogs within five minutes of the crash," Gary Walters, Duncan's dad, told The Dodo. "Duncan was nowhere to be found."
The family was devastated when they couldn't find Duncan, but they immediately knew they wouldn't be leaving the area until he was found. Duncan is such an important member of their family, and they refused to give up hope that he would find his way back to them.
Duncan's family immediately began searching for him on their own, and posted frantically to their social media accounts, calling for anyone who could help. When the police finally made them leave the area because of safety issues, they posted again on Duncan's account and said, "They are making us leave. Bear, wolves and a dead bison. We cant be out there without some sort of shelter. We never found him and we don't have a car to get back there. We are in Island Park, Idaho. Mile marker 403. Highway 87 and US 20. If anyone knows someone here. We could sure use some help."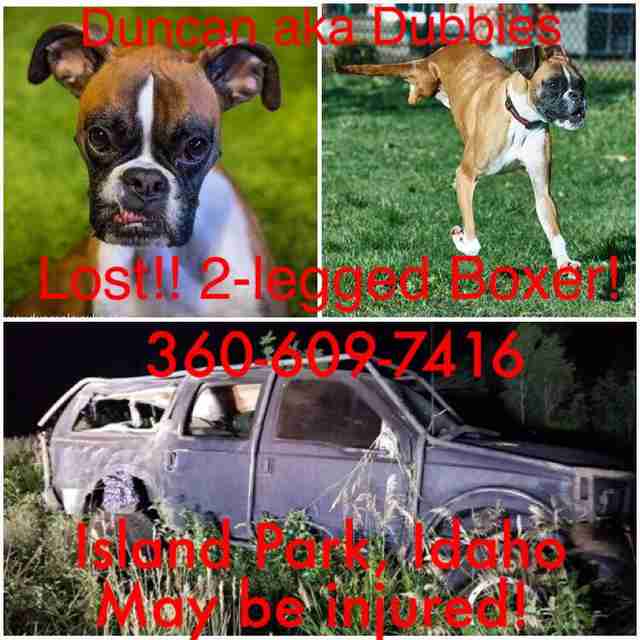 Before long, a search party of 30 to 40 people had been organized, and the group picked up where the family left off, combing the area around the crash site, searching every possible place where Duncan might be hiding. The family hadn't seen Duncan at all after the crash, and therefore had no idea if he was injured or not.
Finally, somewhere between 14 and 16 hours after the crash, Duncan was finally spotted.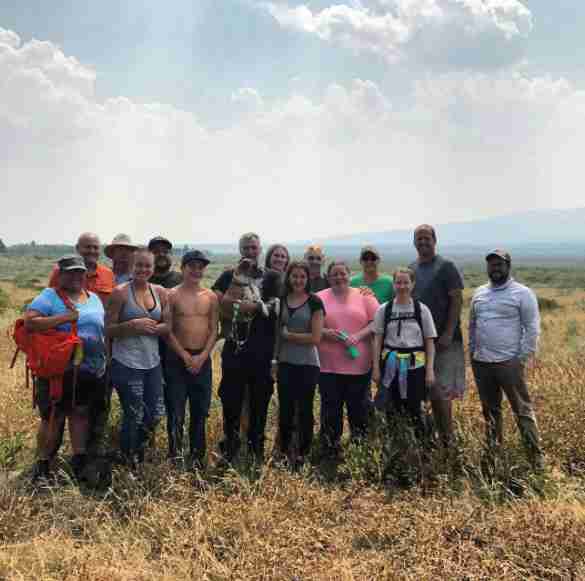 A man noticed Duncan wandering around a rock quarry, three miles from where the crash had happened, and at first didn't think anything of it. When he stopped at a gas station, though, he heard people talking about a missing two-legged dog, looked up an article about Duncan and immediately called Duncan's family to tell them what he'd seen.
"We moved the search team to the quarry and started looking," Walters said. "One of the teams that was searching the far end of the 20-acre area found him and signaled our daughter Jade. She came over and asked Duncan if he wanted a 'cookie ookie.' He perked up and ran to her."
Finally, Duncan was in the arms of his family again, and everyone was overjoyed that the special dog had survived the ordeal. Duncan seemed to have escaped the crash with minimal injury, and is now back home with his family and doing wonderfully. While the crash and losing Duncan was all incredibly scary, the family is just grateful that they're all OK and back together again.
"He is a little beat up and sore, but doing really great," Walters said. "He is super protective of us right now and that is not his typical demeanor. We think he will get past that, but right now he is protecting his people."