People Show Up To Save Couple's Cats — And Find More Than 180 Of Them
"The cats continue to trickle in."
When St. Hubert's Animal Welfare Center in New Jersey got a call about 100 cats living in one home, staffers agreed to help them and gathered up a team to head out to the home. The team was expecting a large number of cats when they arrived at the property on June 26 — but nothing could have prepared them for just how many they ended up finding. 
St Hubert's Animal Welfare Center
The property where the cats were being kept belonged to an elderly couple. When the wife passed away around a year ago, her husband became overwhelmed with caring for all of the cats, and the situation escalated so quickly that eventually he had no choice but to call for help.
"The conditions were pretty dire," Kathleen Schatzmann, senior vice president/COO of St. Hubert's Animal Welfare Center, told The Dodo. "Not only was the rescue during an intense heat wave, but the site had no electric or running water and many buildings were uninhabitable." 
St Hubert's Animal Welfare Center
As rescuers began to explore the property, cats began popping out from everywhere, and they quickly realized there were a lot more than 100 cats living there. As of now, the rescue has taken in 187 cats — and the number just keeps growing.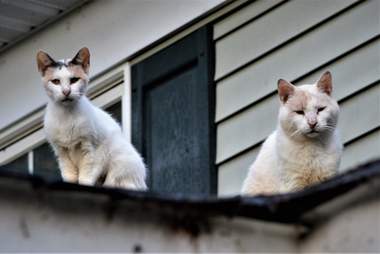 St Hubert's Animal Welfare Center
"The incredible staff from St. Hubert's has been on site virtually day and night setting and monitoring traps over the last four weeks," Schatzmann said. "The cats continue to trickle in. We are committed to bringing every cat in and anticipate an ongoing site check over the next few months."
St Hubert's Animal Welfare Center
Most of the cats were extremely dehydrated when they arrived in the care of the rescue, and also suffered from gastrointestinal issues, parasites and flea dermatitis. A handful of the cats had entropion, a genetic condition in which a portion of the eyelid is inverted or folded inward against the eyeball. Luckily, the cats were in better condition than the rescuers had expected, and most of them began recovering quickly.
After living in such an environment, staff at the rescue were unsure how the cats would adjust to their new life — but surprisingly, most of the 187 cats are doing incredibly well.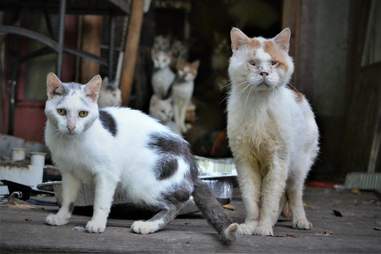 St Hubert's Animal Welfare Center
"To see where they came from to where they are now is extraordinary," Schatzmann said. "Within the first few days at our facility many of the cats began to exhibit more natural behaviors such as cleaning themselves, using litter boxes and even playing with toys. We have also provided vertical space so they can climb and hide, brushes and scratchers, aromatherapy and piped in classical music. It is so calm and quiet, you would never believe so many cats were even in the facility!"
St Hubert's Animal Welfare Center
Even though the cats are all safe now, the rescue is urging everyone to remember that animal hoarders have a nearly 100 percent chance of doing it again, according to St. Hubert's, and while it's important to help the animals, it's also important to help the people who put them in that situation. 
"It is time to begin to address the human health component — both physical and psychological," Schatzmann said. "It is important for animal control, social service agencies and health and housing agencies to work together. If we are to break the cycle, we must have multiple agencies play a role, including those specializing in psychological evaluation and treatment — to come in at an earlier stage and provide a course correction. We hope people will remember to 'say something if you see something' so intervention can happen to help the people as well as the animals."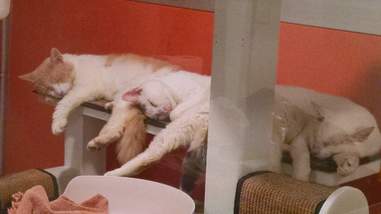 St Hubert's Animal Welfare Center
While the majority of the cats are doing well, they're all adjusting to their new life at different rates. They will all be up for adoption eventually, but some will become available sooner than others based on when each individual cat is ready. Most of the cats will be placed in homes, but some may need to be barn or farm cats.
On Friday, St. Hubert's will be holding an adoption event for the cats who are ready, and are hoping that all 187 cats will go off to find their loving forever families very, very soon.
If you're interested in adopting one of the 187 cats, you can email St. Hubert's at info@sthuberts.org.
If you'd like to help the rescue continue to care for the ever-growing number of cats, you can
donate to St. Hubert's Animal Welfare Center
.