Ava, a sweet and gentle golden retriever mix, crouched in a pile of straw, attempting to shield her last remaining puppy. As a man reached into her wire cage, she shied away, unsure of what was to come next. Once she was securely in her rescuer's arms, she finally relaxed and received a kiss on the top of her head.
"She's really soft and fluffy. She's going to be really popular," her rescuer said in a live video on Facebook. "I think she's going to make a great family member for someone."
Ava is one of 170 dogs in the process of being rescued after Humane Society International (HSI) negotiated the shutdown of one of South Korea's notorious dog meat farms. The dogs living on the farm had spent their short lives in filthy wire cages, exposed to the elements, with little access to food or water.
"We found many dogs with eye and skin infections, as well as sores on their paws from having to walk on the [wire] cage floors," Raúl Arce-Contreras, public relations manager for HSI, told The Dodo.
The shutdown is coming just as area temperatures drop, saving the dogs from further suffering in the freezing November weather — which could have meant death for some of them.
The farm, located near the northeastern city of Namyangju, is just one among the hundreds of dog meat operations tucked away in the scenic country hillsides. The Animal Welfare Institute estimates that as many as 2 million dogs are slaughtered each year as part of this unregulated industry in South Korea.
The farm's shutdown is part of a greater push to end the dog meat trade in Asia, largely fueled by younger South Koreans and advocacy groups like HSI. As demand for dog meat decreases in popularity among younger generations, some farmers are looking for a way out of the cruel work.
"HSI was introduced to the current farmer by a previous farmer we worked with in closing his farm," Arce-Contreras explained. "Our discussion with this farmer began in early October, but was not solidified until later with a contract for the closure."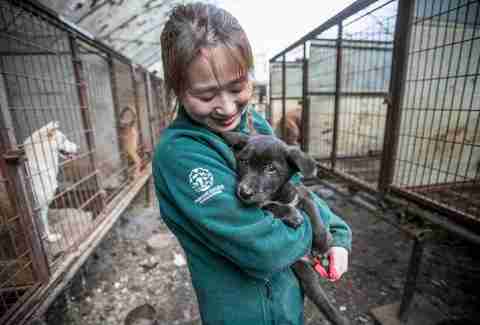 HSI lends a helping hand to farmers who agree to a close their dog farms, working with them to transition to alternative and more humane livelihoods, along with providing the startup capital needed to get their businesses off the ground.

"In the past farmers have turned to growing fruits and vegetables on their land. Others have gone into the water distribution trade and the scrap metal business," Arce-Contreras explained. "HSI follows up with every farmer to ensure they are no longer raising dogs for the meat trade, as part of their agreement. The latest farmer is going into the construction business while converting his land to grow vegetables."
After a lifetime of deprivation, the dogs removed from the meat farm will finally know what it is to be loved and cared for — they just have to travel a few thousand miles first.
After the dogs are assessed, the majority will be transported to the U.S. and Canada, and 13 of them will travel to the UK, where they'll have a greater chance of finding real homes. Due to limited transport space on airlines, the complete removal of all 170 dogs is expected to take three weeks.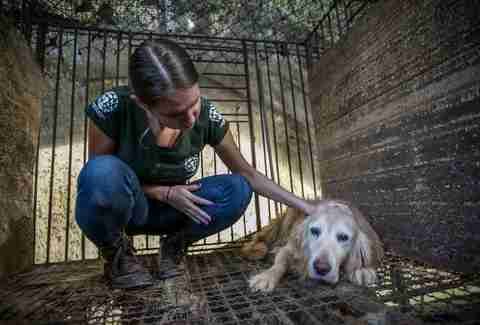 Ava and her fellow golden retriever friends will be heading to Delaware Valley Golden Retriever Rescue, where they will soon be available for adoption. For Ava, a second chance at life means everything, and there is no doubt whatever loving family she joins will be lucky to have her.